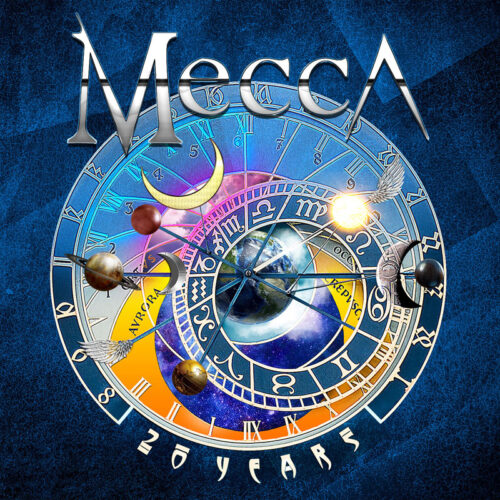 Review | Mecca – 20 Years
Frontiers Music srl
If you call yourself a connoisseur and fan of AOR/melodic rock and West Coast rock and you have not heard of the band Mecca, led by singer Joe Knez Vana, you have really missed the boat big time. Okay, I admit that the band with only three studio-albums in twenty years has not been super active perhaps but that still is no excuse. If you have missed out on their albums 'Mecca' (2002), 'Undeniable' (2011) and 'III' (2016) and also a 2 CD compilation with demos and alternative mixes called 'The Demos' (2017 released by Melodic Rock Records) you are getting a second chance.
TOTO/SURVIVOR CONNECTION
Meeting Survivor ace Jim Peterik at a young age turned Joe into music. It took him years though to discover his own voice but when he did, he started working with Peterik as his in-house demo singer. It led to a project with Peterik that grew out to be the band Mecca. In the mean-time Joe had become friends with several Toto musicians. It led to a first album simply called 'Mecca' where Joe shared the vocal duties with the late great Fergie Frederiksen, ex-Toto and also ex-Trillion. I mention the band Trillion (only two albums but both also a must have for AOR-freaks) as Joe also learned a lot from Thom Griffin, the man who replaced Frederiksen in Trillion on their second album 'Clear Approach' and spent a lot of time with Joe as sort of a vocal coach.
SLOW PACE
Joe Knez Vana has always taken his time. The first Mecca album did not become a huge success but received a lot of praise by insiders, applauding the freshness of the compositions, the beautiful arrangements and the immaculate execution. But Joe took it at a slow pace and some nine years later the second album 'Undeniable' came out, this time with only Joe singing. Again the album got rave reviews and rightly so with the superb title track leading the way followed by melodic gems such as ,,Did It For Love'', ,,Ten Lifetimes'' and ,,Closing Time''. In 2016 'III' followed. I reviewed that record for this magazine with the only complaint that the total playing time was a bit on the short side. Yet again Joe Knez Vana and his musical team (including his son Joey) delivered the goods that a fan of this genre was dreaming of.
Australian music freak Andrew McNeice of Melodic Rocks Records, who worked closely with Joe, then struck a deal with Joe to come up with a compilation album with all demos, re-mixes and other rarities that where in the Mecca vault. Man, that 2-CD sounded great for just demos. I believe it was only released as a limited-edition of 1000 copies at the time and boy, am I glad I ordered a copy quickly as I believe it is now a collector item.
SECOND CHANCE
Now AOR-fans who have missed the Mecca boat until now are getting a second chance as Frontiers was able to reach an agreement with Joe to re-release the three Mecca albums as one set with a few bonus tracks added to each and every album. My advice is simple: get 'Mecca 20 Years' and you will most likely not hear any better AOR/West Coast rock this year. Really? Well, maybe Joe Knez Vana has something to say about that as later this year he will release a new album. Not under the Mecca banner but under the name Vana.
He has been working together with son Joey and David Browning and has already published some very promising snippets. Earlier in 2021 he was also working on an album with his close friend Tim Akers who then completely unexpected passed away during the recording process. I am not sure what will happen with the material they recorded. It might appear in a later stage we will have to wait and see. But all you connoisseurs who missed the ride for whatever reason, Frontiers now offers you the chance to get on board and enjoy some timeless music that has stood the test of time. Don't miss out this time!
Release date: 18 February 2022