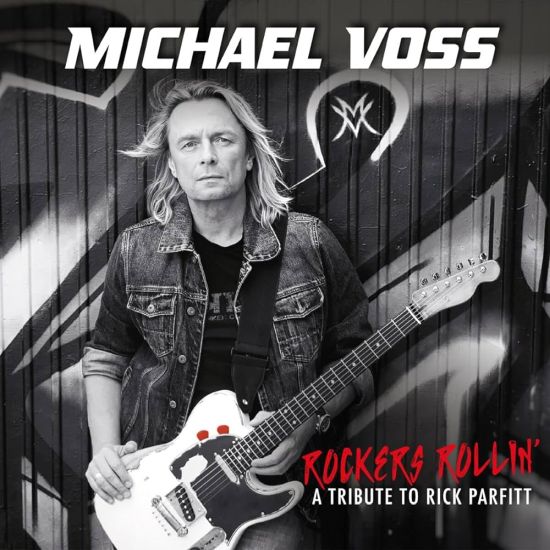 Review | Michael Voss – Rockers Rollin' (A Tribute To Rick Parfitt)
Massacre Records
As a young boy German guitarist/singer/producer Michael Voss (Mad Max/Casanova/Michael Schenker and several other acts) went to a 1979 Status Quo concert somewhere in Germany and there he saw the performance and appearance of Rick Parfitt, guitarist and second vocalist of the band. Without a doubt armed with a Telecaster and dressed in a white shirt and wearing blue jeans Parfitt made a big impression on the young Michael, who from that day on had a new idol.
THE QUO
Personally, I never had a real love affair with The Quo. Sure, albums such as 'Blue For You', 'Hello!', 'Piledriver', 'Live!', 'Quo' had their charm (and should be in the collection of every rock fan) and their hard rock/boogie was worldwide well received to say at the least. But after that successful time their energy levels went down and the music changed, also because of the addition of keyboards. They kept scoring hits but for me the charm was long gone and I completely lost interest.
The only time I took notice was when the news broke out that Parfitt, after a tumultuous rock and roll lifestyle with wine, women and song plus drugs, died at the age of 68 on December 24, 2016. At the time Parfitt had already left the band after the relationship with band leader Francis Rossi had gone downhill, and Parfitt was struggling with his health after a couple of heart attacks and some other issues.
HISTORY
Whatever you feel about Status Quo, nobody can deny that this band has been an important part of rock and roll history. They are still going today but their activities have slowed down. I am sure Francis Rossi knows that the successful times are behind him but the band has been a big influence and have inspired numerous bands and musicians to try to follow their path. Like that once young German kid Michael Voss who has made a nice career for himself now with his own studio and a discography that is quite extensive, mostly inspired by that one concert back in 1979.
TIME FOR A TRIBUTE
For Michael it was time for a tribute, time to honour his hero. Most of the Status Quo hits have been sung by Francis Rossi but also Rick Parfitt did his part, singing, writing, and laying down some remarkable riffs as rhythm guitarist. Michael Voss decided to focus on the songs Rick Parfitt contributed instead of taking the easy way out by re-recording the biggest hits of Status Quo such as ,,Down Down'' (just to name one).
BIG GUESTLIST
Michael Voss has quite a big guestlist on this musical adventure. Original Status Quo drummer John Coghlan has played drums on one track while Rick Parfitt Jr. (the son of) sings lead vocals on one track as well. Further names that you might be familiar with are those of Primal Fear bassist Matt Sinner, Gotthard's Marc Lynn (bass) and guitarist Andy Susemihl. But there are a lot more people helping Michael out here like his wife Eva.
RESPECT
Michael Voss shows a lot of love and respect on this record. He is sticking as close as possible to the original versions of the songs. With ,,Rain'' and ,,Again And Again'' the two most popular Parfitt-songs are opening the show and from there on the record moves on with tracks like ,,Don't Drive My Car'', ,,For You'' and ,,Rockers Rollin'' with a total of ten songs. It is a great effort I must say, as Voss is a good singer himself and he tackles the songs with a certain ease. Quo-fans should lend this record their ears and while they do that think about that blonde rocker with his white shirt, his blue jeans, and his characteristic pose with his wide spread legs, rocking all over the world in the good days.
Release date: 13 October 2023