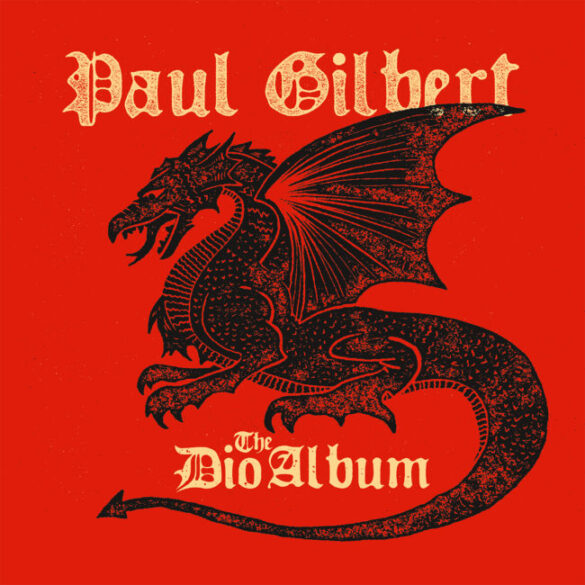 Review | Paul Gilbert – The Dio Album
Musical Theory Recordings / MLG
Although it has been close to thirteen years since Ronnie James Dio died from cancer, his reputation and his achievements as musician and as human being have never been forgotten. Several artists have paid tribute to his musical legacy (like for instance Jorn) and I cannot recall anyone that had a bad word to say about the man who in his lifetime already became a musical icon and an inspiration to many.
NOT ANOTHER TRIBUTE
This release by Mr Big guitarist Paul Gilbert is so much more than just another tribute. It not only sums up Dio's career in Rainbow, Black Sabbath and his own Dio albums, it adds something extra. When compiling and recording the songs Paul Gilbert must have thought that it would be an enormous challenge or task to find a singer for his project. Could he do it himself? Would his voice be good enough? Or should he ask a singer with a big reputation that would be able to do the job in a decent manner? He surely had the contacts in the rock scene to do so. Or should he go all instrumental like he had done for most of his own albums? Paul Gilbert chose the instrumental approach.
EXTRA SAUCE
By going instrumental Paul added the extra sauce by replacing the singing with his virtuoso guitar exploits. Songs like ,,Kill The King'', ,,Starstruck'', ,,Long Live Rock And Roll'' and ,,Man On The Silver Mountain'' (all Rainbow tracks), ,,Country Girl'', ,,Heaven and Hell'', ,,Neon Knights'' and ,,Lady Evil'' (Black Sabbath songs) gave Gilbert also the challenge of stepping into the shoes of guitar heroes such as Ritchie Blackmore and Tony Iommi. Gilbert (responsible for all instruments) added drummer Bill Ray to the mix and decided to stay as close as possible to the original recordings that were made so many years ago.
HUMMING ALONG
Together Gilbert and Ray nailed it, as also the Dio songs ,,Holy Diver'', ,,Don't Talk To Strangers'', ,,Stand Up And Shout'' plus album closer ,,The Last In Line'' can count on a breathtaking execution. I caught myself humming and singing along with these tracks that have played such an immense role, not only in my life but in that of everyone who is fan of Ronnie James Dio. Gilbert has put thought, feeling, respect plus heart and soul in his performance and Ronnie will be smiling from above and I even think that Mister Blackmore and Mister Iommi will give this effort the thumbs up. A job very well done!
Release date: 7 April 2023