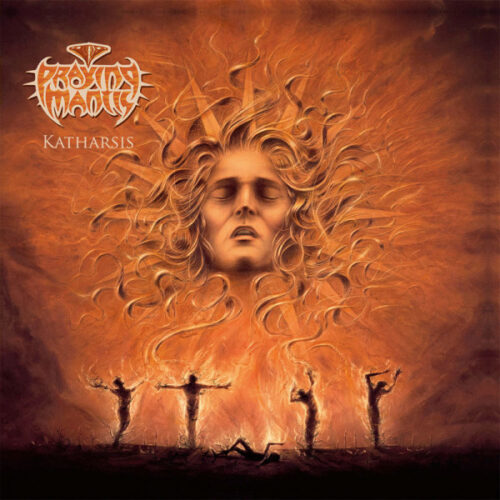 Review | Praying Mantis – Katharsis
Frontiers Music srl
It has been a little over 40 years since Praying Mantis released their debut-album 'Time Tells No Lies', in a time that The New Wave Of British Heavy Metal was roaring its head. Praying Mantis was seen as part of that movement but just like the formation Trespass the band around Tino and Chris Troy sounded different from the rest constructing melodic songs with sensitive choruses and heavy guitars. It was a trademark then and now releasing their 12th studio-album in January 2022 it is still their main trademark.
THE DUTCH CONNECTION
Although Praying Mantis is British based with Tino (guitar) and Chris Troy (bass) plus guitarist Andy Burgess since 2014 there is a Dutch connection when drummer Hans In 'T Zandt (who recorded his drum parts for 'Katharsis' in his home studio) and singer John 'Jaycee' Cuijpers joined the ranks. Since their entrance the band has produced two excellent albums ('Legacy' and 'Gravity') in the studio and in 2019 they surprised the world with their very solid live-album 'Keep It Alive', recorded during a gig in Milan, Italy. Praying Mantis never reached the status of some of the NWOBHM groups they started out with such as Iron Maiden and Saxon, but the Troy brothers have always kept their ship afloat (although the band went on hiatus for a while).
CONTINUATION OF STYLE
On 'Katharsis' is it safe to say that Praying Mantis has chosen for a continuation of style. Led by the power house voice of John 'Jaycee' Cuijpers the band offers a very solid, melodic and very balanced song repertoire where, as always, their love for melodic choruses and layered back ground singing is an important part of the picture. The balance between power and more melodic rock songs is as par usual carefully guarded and there are also some absolute highlights to be heard on 'Katharsis'.
The start is with the tracks ,,Closer To Heaven'' and ,,Cry For The Nations'' (no, not the MSG song) just outstanding and on these songs the characteristics of Praying Mantis are already fully displayed. The whole album is for me as solid as the bank of England, has a rich and balanced sound (production by Tino Troy and Andy Burgess in cooperation with Jean Pierre Kerkhofs) and does not let up when it comes to having quality songs.
One other highlight is the melodic rocker ,,Wheels In Motion'' that is being sung by Chris Troy, which gives the album a different touch. The boys in Praying Mantis realise as no other that the big-time status is not possible but a solid consolidation of their position in the current rock world is with this album guaranteed as these lads know how to put a good melodic heavy rock album together. They are professionals, they are seasoned musicians and 'Katharsis' is more proof of their expertise in this trade.
Release date: 28 January 2022