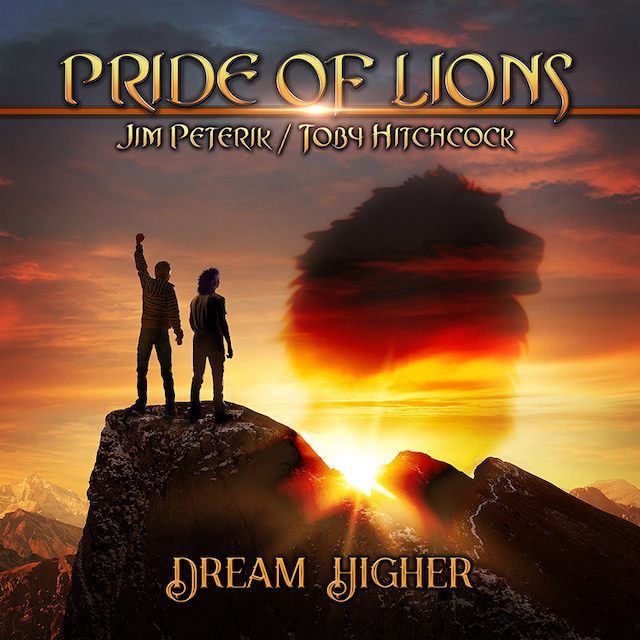 Review | Pride Of Lions – Dream Higher
Frontiers Music Srl
Pride of Lions doesn't need an introduction. The collaboration between melodic rock songwriter and musician Jim Peterik and powerhouse vocalist Toby Hitchcock celebrates its 20th anniversary with studio album number 7, `Dream Higher'. Two decades of fingerlicking sweet melodic goodness behind their belts, the new album brings us more of the same.
THE BEST INGREDIENTS
Some might label it 'predictable', yet fans of A-graded melodic rock with gigantic hooks and nesting melodies will tell you otherwise. Pride of Lions have never failed fans of the genre, nor will they on `Dream Higher'. The album is a concoction of the best ingredients from the passed melodic decades, mashed together into 10 graceful executed brisk rockers and attracting (power) ballads, brought to us by a talented batch of musicians and recorded with the keenest eye and ear for detail.
Pride of Lions is so pitch perfect it can be graded 'Flawless' following the GIA Clarity Grading System for diamonds. ,,Blind to Reason" lifts off with the brisk clarity Peterik is hailed for. Sterling slick melodic lick pulls the song forward over a steady beat and great bass licks enhancing the interplay between guitar and bass. Hitchcock belts out his echoing trademark vocals with Peterik adding the rougher edge in the back-and-forth execution of vocals. Keys start pitching up towards the slick and nesting chorus in which everything collides with wailing perfection.
Each note perfect, the fusion in perfect balance, and production powerful, but crystal clear, emphasizing the finest detail. Aquino's brings a wonderful sharp solo to the front that ignites a lasting tenure lasting towards the songs end, switching between nice melodic phrased licks and another solo making the song die out on a melodic high. The extend the longevity of this potion on ,,Renegade Heart" and the pulsating ,,Generational".
TOBY HITCHCOCK
There's a slight dynamic change as bass is more dominant in the mix and fused to the guitar melodies and hooks. The dominance injects a different range and vibe igniting mid paced rockers like the anthemic title track that could easily inflame and new Rocky soundtrack with its glorious 80s galore. The same eighties cinematic vibe is found on the appealing ,,Through it All".
Going all in Pride of Lions delivers some AOR 'Schlager' like tunes like ,,Find Somebody to Love" tilting the balance of tackiness and slickness. The slow-paced rocker ,,Another Life" has immense power ballad hit potential with hauling, while ,,Driving and Dreaming" is piano driven with jazzy subnotes, Toby displaying a different side of his range, slowly crafting towards a benchmark (lush) bridge and chorus. Brisk and interesting.
MEMORABLE POWER BALLADS
Perhaps no one is better in penning memorable power ballads than Peterik. His antics creating the most alluding melodies moulded into dramatic outpours of emotion are unmatched, and with vocal powerhouse Toby Hitchcock at the helm, he is granted majestic delivery on all accounts. ,,My Destiny" collides the enormous range with majestic hooks and pompous string arrangements, making the song well with emotional drama. ,,Everything to Live For" has a glorious opening and melodic licks underneath its attractive vocal delivery and welling emotion, Peterik extending reach to the Broadway musical segment.
Some might call it 'repetitive' or 'predictable', but Pride of Lions and Peterik certainly keeps upping their hand. Injecting wide ranged ingredients to make their style fluctuate, Hitchcock and Peterik are a driving force behind one of melodic rock's most traditional AOR bands. Songs nest on the spot and the vocal interaction and brisk melodic guitar licks are benchmark, while `Dream Higher' sees a more bass dominated output that adds a different dynamic. Needless to say: must listen!
Release date: 16 June 2023