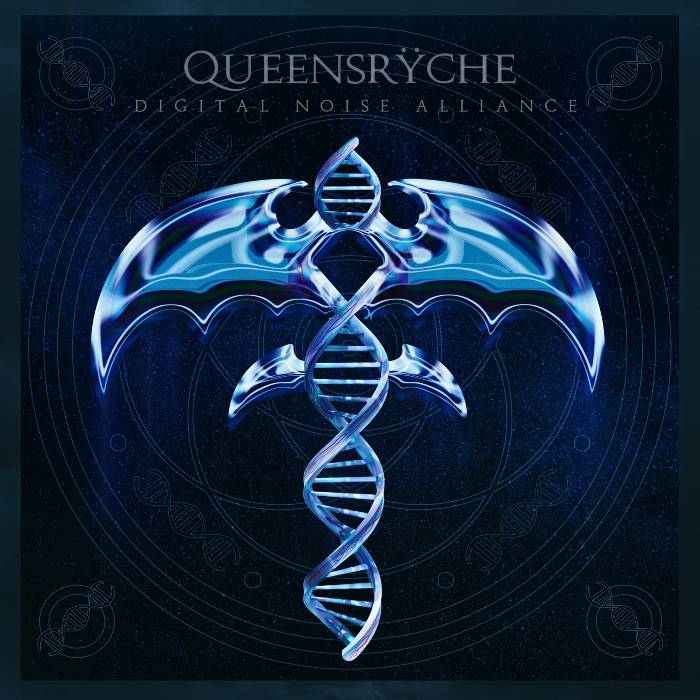 Review | Queensrÿche – Digital Noise Alliance
Century Media Records
After selling more than twenty million records up to date Queensrÿche returns with a remarkably strong album called 'Digital Noise Alliance'. It is the fourth album with vocalist Todd La Torre and the follow up to their also excellent album 'The Verdict', which was released in 2019. That album proved that Queensrÿche was still a metal force to be reckoned with and it featured impressive tracks like ,,Portrait" and ,,Bent".
'Digital Noise Alliance' is Queensrÿche's 16th album and yes, I know it sounds like a cliché, but it is their best with La Torre at the helm as the eleven tracks on this album echo the classic musical elements of the good old Queensrÿche sound. Think 'Empire', 'Promised Land' and even 'Operation Mindcrime'; this is of course due to the fact that two founding members, Eddie Jackson (bass guitar) and Michael Wilton (guitars) are still in this fantastic metal/rock band, hailing from Bellevue, Washington.
THE GOOD OLD DAYS
,,In Extremis" opens this album in a formidable way, being a great rocker and 100% pure Queensrÿche indeed! Follow ups ,,Chapters" and ,,Lost In Sorrow" are extremely melodic, with formidable vocals of La Torre and really bring back the good old days of 'Empire' and 'Promised Land'. Especially the latter mentioned is a highlight with soaring guitar work from Wilton and Stone, also check out that utterly addictive chorus! ,,Sicdeth" is a fast, but melodic rocker, followed by one of the highlights of this album ,,Behind The Walls". This song clocking in over six minutes features all that defines Queensrÿche. Passion, great melodies, awesome vocals, soaring guitar work, interesting lyrics and lots of musical variety. In fact, this melodic metal gem really reminds me of their 1986 album 'Rage For Order', so a soon to be QR classic indeed and a live staple for sure!
SILENT LUCIDITY
,,Nocturnal Light" and ,,Realms" are two melodic up tempo tracks, while ,,Forest" (the second single) is a ballad-like introspective song, featuring an almost romantic guitar melody and really smooth, not so high as usual vocals from La Torre. This one brings back memories of their superhit ,,Silent Lucidity", but then again, also not really… ,,Hold On" is again a 100% pure Queensrÿche song, just listen to that "familiar" guitar intro and you know what I mean!
THE HIGHLIGHT
However, Wilton and Co. definitely save the best for last, as ,,Tormentum" is THE highlight of 'Digital Noise Alliance' It is a complex, bombastic epic metal song with also some progressive passages. La Torre's high-pitched vocals really shine here, but it is the musical diversity of this track that makes this one a metal gem for sure. Just check out the melodic twin guitar solos at 4:19 and 5:17 and the progressive metal passages in the middle of this track. ,,Tormentum" ends with a soaring and awesome guitar solo before it fades into oblivion with an emotional twelve string guitar outro.
What a fantastic way to end this amazing album, being a MUST for Queensrÿche fans and lovers/fans of excellent, melodic, experimental metal/hard rock! By the way, skip the awful bonus track ,,Rebel Yell, yes, the Billy Idol one indeed….. Other than that, just enjoy this great album. One of the metal highlights of 2022 already; again, my advice: Play it LOUD !!!
Release date: 7 October 2022