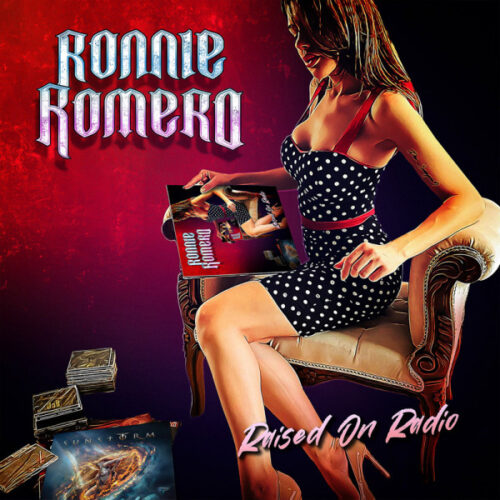 Review | Ronnie Romero – Raised On Radio
Frontiers Music srl
Chilean power house singer Ronnie Romero has been extremely active in the last couple of years. Some people might find he has been too active, hopping from band to band, from project to project. Overkill? When you are in demand and you have to make a living with your singing you might (maybe) not be too critical and take the opportunity when it comes onto your path. And let us not forget that the man can sing.
COVER ALBUM
'Raised On Radio' is a cover album. The people of the Frontiers label discussed the possibility of Ronnie doing a cover album and within no time the singer had a selection of songs close to his heart by artists that inspired him throughout the years. Produced by Alessandro Del Vecchio and with his former Lords Of Black team mate Andy C on drums 'Raised On Radio' turns out to be a very versatile album indeed.
SURPRISING CHOICES
Ronnie selected the songs all by himself and he has come up with some very surprising choices. All aspects of his vocal abilities are being used and all together (at stages) it paints a pretty impressive picture. What speaks for Ronnie is that he has not chosen a bunch of well-known or popular covers. I mean ,,Black Dog'', ,,Stairway To Heaven'' or ,,Rock And Roll'' by Led Zeppelin would have been a logic choice but Ronnie Romero went for the bluesy track ,,Since I've Been Loving You'' and he is killing it.
The songs that he has selected from Russ Ballard (,,Voices''), Grand Funk Railroad (,,Sin's A Good Man's Brother''), Queen (,,I Was Born To Love You''), Survivor (,,Backstreet Love Affair''), Bad Company (,,No Smoke Without A Fire''), Elf (,,Carolina Country Ball''), Foreigner (,,Girl On The Moon''), Kansas (,,Play The Game Tonight''), Bob Dylan (,,All Along The Watchtower'') and Uriah Heep (,,Gypsy'') are certainly not the most popular tracks of those artists and bands, but they do show that Ronnie Romero can sing basically any genre that is connected with rock music.
In most cases he nails it, only the pepped up version of ,,Voices'' by Russ Ballard sounds out of place in my opinion. And what does appeal is that here and there some songs have some twist and turns like the intro of Heep's ,,Gypsy'' for instance. Romero and his musicians play around a little instead of sticking as close as possible to the original.
MATTER OF TASTE
At the end of the day, it all comes down to taste. Romero has chosen not to follow all songs to the letter and in most cases his plan has worked out rather nicely. I can imagine that this is not everyone's cup of tea as you might prefer Ronnie as you know him as a power house. But there is more to this man than you might have expected and 'Raised On Radio' gives you an example of that. Up to you to take it or leave it but at least have a listen. Oh yes, next month you can hear Ronnie on the new MSG-album 'Universal' and I am sure that won't be the last we hear from him in 2022.
Release date: 15 April 2022