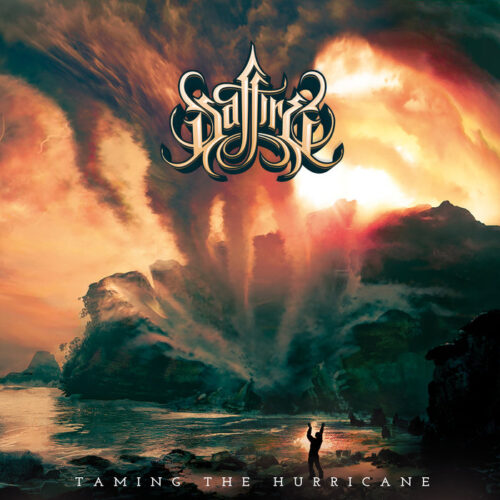 Review | Saffire – Taming The Hurricane
Rock Of Angels Records
With 'Taming The Hurricane' Swedish rockers Saffire present the fourth album in their career. And to start things with the conclusion that the band around guitarist/composer Victor Olsson (also the brain behind Gathering Of Kings) and singer Tobias Jansson is firing on all cylinders is the more you hear the album just an understatement.
A MODERN DEEP PURPLE
Saffire is a band that has been progressing per album. Olsson, bass player Magnus Carlsson and keyboardist Dino Zuzic have been together since 2005 and were joined by singer Tobias Jansson in 2010. We can say that the core of the band has been together for a while being joined by new skin basher Efraim Larsson who joined somewhere in 2020. Especially the addition of Efraim Larsson has given Saffire an extra dimension of power. The roots of the music that Saffire has been producing on their albums can be situated back to the seventies and the eighties.
On their three previous albums 'From Ashes To Fire', 'For The Greater Good' and 'Where The Monsters Dwell' I heard a certain love for a band like Deep Purple in the way guitarist Olsson and keyboardist Zuzic interacted with each other in the vein of Blackmore and Lord or Morse and Airey with the main difference that Saffire also has some progressive rock elements in their sound. Combined with that classic approach it gives the band somewhat of a different face, a style of their own and with the added power of their new drummer the band these days sounds like a modern version of Deep Purple with the same depth but heavier and even more compact.
RIGHT INGREDIENTS
The playful tandem of Zuzic and Olsson is at it again on the eleven tracks that are featured on 'Taming The Hurricane'. The interplay of these two guys is one of the trademarks but also singer Tobias Jansson has a key role with his expressive and super strong voice. For me all eleven songs have the right ingredients a 'classic yet modern day' hard rock outfit should have, with plenty of variety in the songs with ,,Read Between The Lines'' as most outstanding for me.
STELLAR ALBUM
If you are not too familiar with Saffire I would suggest to check them out on YouTube first as there are three promotional clips of this record available to look at (plus some older material as well). These songs, including ,,Read Between The Lines'' give you a perfect indication of this stellar album that should appeal to fans of classic hard rock who like an extra punch in their music. Saffire provides that on 'Taming The Hurricane'.