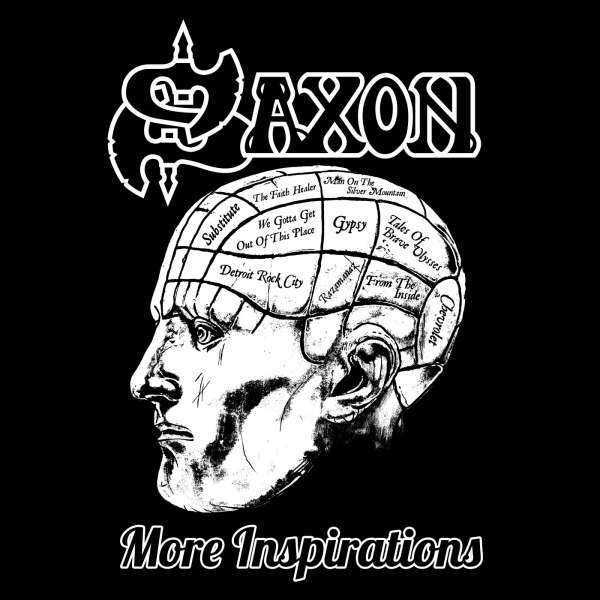 Review | Saxon – More Inspirations
Silver Lining Music
Active as ever Saxon has produced a second 'cover'-album with songs that inspired them all those years ago. The first one called 'Inspirations' was released in 2021 and was followed by a regular studio-album 'Carpe Diem' in 2022. In between that the band toured and is already on the road again in Europe together with the German veterans of Rage (playing in Germany, Austria, Poland, Switzerland, and Luxembourg only) before starting preparations for a new studio record scheduled for the year 2024.
A DIFFERENT SOUND
In how far has 'More Inspirations' a different sound in comparison with regular releases such as 'Carpe Diem'? Fact is that the band around singer/producer Biff Byford sounds less heavy but that has all to do with the song choice the band made for this record. Songs from Alice Cooper, Cream, Rainbow, The Who, The Sensational Alex Harvey Band, The Animals, ZZ Top, Uriah Heep, Kiss and Nazareth have been chosen and are different to Saxon's normal metal material. Most of them you should be able to recognise as ,,Detroit Rock City'' (Kiss), ,,Razamanaz'' (Nazareth), ,,Substitute'' (The Who), ,,We Gotta Get Out Of This Place'' (The Animals), ,,Gypsy'' (Uriah Heep) and ,,Man On The Silver Mountain'' (Rainbow) are tracks that were pretty popular in their day and in some cases still are.
Just as on 'Inspirations' Biff and his mates put their own stamp on things, giving the songs a bit more 'crunch' and 'bark' while sticking reasonably close to the original although the band deviates a bit here and there with some slight alterations. Several songs give Biff the chance to show different ranges of his voice. Like the old The Animals hit ,,We Gotta Get Out Of This Place'', a vintage pop rock song from the sixties, originally sung by Eric Burdon but now to be heard coming from a more finetuned sounding Biff.
SAXON STILL ROCKING OUT
But it is not that on this record Saxon is just toning it back. They are still rocking out with ,,Razamanaz'', ,,Man On The Silver Mountain'' and ,,Detroit Rock City''. You can just hear how much the band enjoyed doing this record, there are no lacklustre performances here. No recording on the automatic pilot. Critics might say that this release is not strictly necessary perhaps and maybe they have got a (small) point. At the end of the day Saxon has built up so much credit throughout the decades that they can just follow their own rules. And that is exactly what they have done by celebrating their youth examples and inspirers once again with 'More Inspirations'.
Release date: 24 March 2023
About
Saxon were the leaders of the new wave of British heavy metal [NWOBHM] and are successfully active for over four decades now.
Photocredit: Steph Byford
Genre
heavy metal, new wave of British heavy metal
Website
https://www.saxon747.com/
Social
Tags