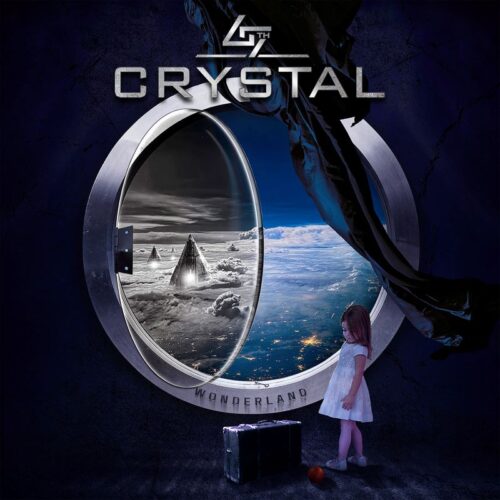 Review | Seventh Crystal – Wonderland
Frontiers Music srl
In 2021 the Swedish rockers Seventh Crystal established themselves with a fantastic melodic rock album entitled 'Delirium'. To put it bluntly that album made it into my top five of that year. The band around vocalist extraordinaire Kristian Fyhr produced a whirlwind sound and combined that with energetic songs of which most melodies without fail stuck themselves into my brain. I have played 'Delirium' that many times and am still (even two years later) so impressed that it seemed sheer impossible to top that album.
THE NATURAL FOLLOW-UP
In the last two years Kristian Fyhr had several contributions as song writer on other Frontiers releases. I believe he can also be heard on the next Magnus Karlsson Free Fall release. Furthermore, let us not forget last year's Ginevra album 'We Belong To The Stars' with Kristian singing. Now we are dealing with 'Wonderland', the second release of Seventh Crystal on Frontiers. I must admit that even after writing about rock music for over 40 years I still get excited when a band that impressed me so much comes with a new record. 'Wonderland', at first glance, sounds like the natural follow-up of 'Delirium'.
RICH ON MELODY
The ten songs are all rich on melody and luscious rhythms. It took me several spins to really get into this record (there were 'Delirium' floored me right from the start) and I am glad I invested some time. 'Wonderland' continues not completely in the spurs of 'Delirium'. The overall production is heavier and the fact that Seventh Crystal recruited Gustav Linde as second guitarist next to Emil Dornerus definitely contributes to the slightly heavier sound of 'Wonderland'. That does not mean that the album is completely overrun by guitars as keyboardist Johan Alvsang has his spots as well. He is not just there to add some colour to the proceedings.
POP STRUCTURE
'Delirium' had a specific way of approach. Kristian Fyhr used a poppy melody to start off with, working on that while the other musicians added their input later. Several songs on 'Wonderland' seem to have been written by the same formula. ,,My Own Way'' has a poppy structure but has developed into a fresh sounding melodic rock song. Some other songs have that characteristic as well but the overall impression is that 'Wonderland' is just a bit more 'beefy' through and through. There is not much to complain about 'Wonderland'. Again, the band has written good songs, executed them well, the vocals and vocal melodies are top notch. It is a natural progression of that already so impressive first record.
Release date: 11 March 2023