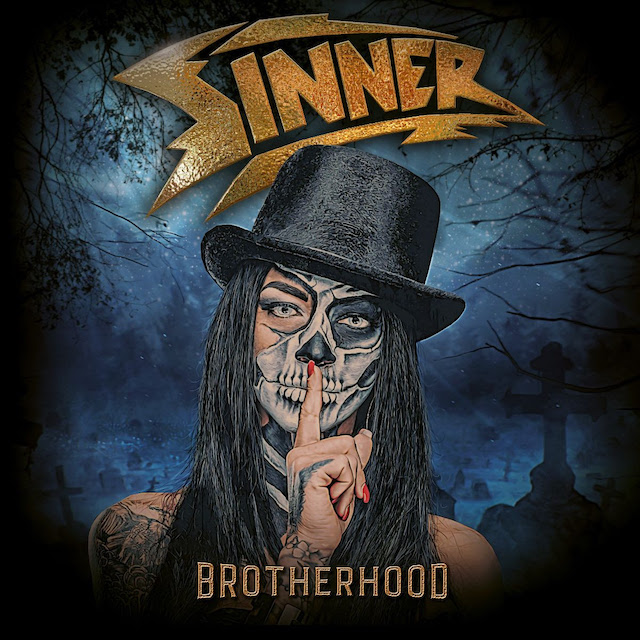 Review | Sinner – Brotherhood
Atomic Fire Records
If you have been a hard rock/heavy metal fan for many years, then you certainly must have a couple of albums of Sinner in your record collection. Mat Sinner (vocals, bass guitar) has fronted his band Sinner since 1982 and 'Brotherhood' is Sinner's 20th album, however it is the first album released by Atomic Fire Records. So, a label debut for Mat Sinner so to speak…
SINNER IS 100% PURE METAL
In 2019 Sinner released 'Santa Muerte', but this new album is definitely much better; read: heavier, louder, as 'Brotherhood' is classic heavy metal/hard rock 100% pure!! Kicking the album off with the killer track ,,Bulletproof" is a masterstroke of Mat Sinner, as this, in your face, kicked in the teeth song, really grabs you by the balls right from the first guitar riff; actually, ,,Bulletproof" sounds like a mean Judas Priest song to me! ,,Refuse To Surrender" is also an excellent heavy song, but the tempo is a little bit slower, while ,,The Rocker Rides Away" makes you want to bang your head throughout the entire track.
GUEST APPEARANCES
All the eleven songs feature lots of guitars (thank God for that), beautiful twin leads, powerful riffs and melodies and also orchestral passages (by Ronnie Romero (Rainbow)) galore. Mat also has invited a couple of great guest singers, such as Dave Ingram (Benediction), Ralf Scheepers (Gamma Ray, Primal Fear) and Tom Englund (Evergrey) and they make this album even better! The absolute highlights for me are: ,,The Last Generation," being the longest one on the album, this one is really dark, a great composition and it almost sounds like a semi-ballad indeed! The "almost" bluesy ,,40 Days, 40 Nights" is probably my favourite one as it is filled with more than impressive guitar picking by Tom Naumann and Alex Scholpp; check it out and play it loud so you can practise your air guitar moves!
'Brotherhood' is the best Sinner album I have heard in an awfully long time, as it really is a killer metal album which should find its place in a every serious rock collection indeed!
Release Date: 15 July 2022