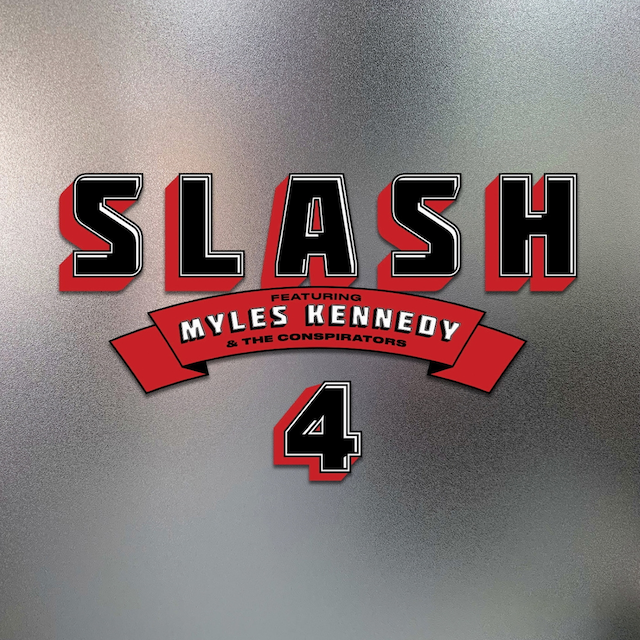 Review | Slash ft. Myles Kennedy & The Conspirators – 4
Gibson Records
Last year the first single ,,The River Is Rising" from the forthcoming album '4' by SMKC went viral and I was hooked to that song right from the start. So, I was really looking forward to Slash's new album. ,,The River Is Rising" is a monster track, a badass, fast, heavy rock song, featuring a great, huge chorus, a speedy and punchy guitar solo and besides that very intriguing lyrics; dealing with how easily we all can be fooled and misled… It's a more than excellent opening song, in other words: a super rock anthem and a live staple for SMKC for sure. Love it! 
GUITAR DRIVEN ROCK AND ROLL
Seeing the fact that Slash is a more than excellent guitar picker and Myles Kennedy (his last solo album 'The Ides Of March' was one of the best records of the year 2021 by the way…) one of the best rock singers on the planet, I could not wait to hear the new album called '4' in its entirety. The 5th solo album of Slash was recorded in Nashville, produced by no one less than Dave Cobb and all the songs were recorded live, that is to say without any overdubs. What the guys played is what you get. Meaning: pure heavy guitar driven rock and roll with fabulous vocals and soaring guitar solos galore!! 
Slash himself stated: "We did it more or less live, and the mistakes are all in there, it's the sound of the five of us just jamming together in one room." This new album '4' is the very first album from the new Gibson Records Label, a BMG partner.
A MILESTONE
My favourite song on this awesome album, without fillers by the way, is the last epic song ,,Fall Back To The Earth", clocking in at over six minutes this is a fabulous track with lots of speed changes and guitar solos that give me goosebumps all over. It is also a rather dark song with cinematic and even dramatic elements, but the song stands out due to the brilliant vocals of Kennedy and the awesome guitar work. I think that the band has set a milestone with this almost psychedelic rock monster!
,,C'est La Vie", pardon my French, is a gritty, cool track with again lots of tempo changes and a true anthemic, addictive chorus, while ,,The Path Less Followed" is a rather country blues song, really smooth and calm. On the other hand, you can enjoy ,,Call Of The Dogs", the 3rd single from this album, being the heaviest and fastest track of the entire album. Here the band is completely on fire, featuring Slash's speedy guitar shredding, pounding drums and bass guitar in the best veins of old Guns 'N Roses material; neck breaking stuff indeed.
AN OVERWHELMING STRONG ALBUM
Another highlight is the eighties power ballad ,,Fill My World", which kicks off with the most famous Slash riff/melody (,,Sweet Child O' Mine") ever. Kennedy croons this one more than brilliant and the guitar solo is again notorious. ,,April Fool" is filled with chugging riffs/hooks, and I would call it a funk fueled blues rock track, reminding me of good old Joe Perry.
Well, all in all, '4' is a very lively album, or better said an overwhelmingly strong album in the true spirit of heavy rock and roll. But I also must say that every song on the album contains nothing that we have not heard before, but it is so fucking well played, recorded, and produced that you just gotta love it and play it all over again. Not to be missed this album and to end with a cliché: play it F…. LOUD!!!
Release date: February 11, 2022