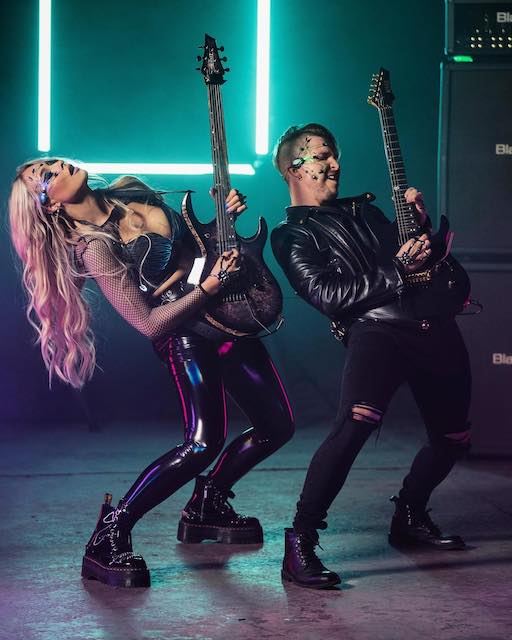 Review | Sophie Lloyd – Lost (ft. Cole Rolland)
Sophie Loyd YouTube Channel
Celebrating her signing as signature artist for the renowned Kiesel Guitars, English shred vixen Sophie Lloyd unleashes a blistering video showcasing her skills and talents, performance and radiant looks. The multi-talented guitar slinger has established her name rapidly touring with Machine Gun Kelly and being voted 'Best Rock Guitarist of 2022' by Music Radar readers. Sophie is the 27-year-old virtuoso player that touches the crystal-clear extravagant registers like Vai and Satriani, while embracing powerhouse hammer-ons from the elusive George Lynch and Eddie van Halen. With her debut `Imposter Syndrome' in the making, Lloyd aims high with an all-star cast supporting her, and ,,Lost" is one of those pitch perfect calling cards.
COLE ROLLAND
Amassing millions of views with her renditions of movie themes and game scores, Lloyd established herself in the classic shred genre as much as bridging to a brand-new audience. Crossing bridges, the skillful guitar wizard managed to rise to fame rapidly, not in the last for her astounding looks. As sexy as Lloyd there's only a handful, or it must be her signature Kiesel Sophie Lloyd signature guitar, celebrated in this video. The translucent purple beast is her subject for torture, bending the strings and speeding up and down the fretboard to unload her graceful style. 
Together with Cole Rolland, also known for his guitar videos drawing millions and online drum monster Christopher Painter, Lloyd injects true metal shred in this video. Though online artist per say, the trio radiates musical excellence, with Rolland and Lloyd featured in the spotlights. Futuristic eye pieces like Vai once used with lasers strapped on, both players interchange licks and riffs in finest harmony. Where Rolland's reminiscent to Hungarian shredder Tamás Szekeres' classic toned style, Lloyd injects more swing and swagger. Both rich in tone, the players elevate the songs which phrases like it is sung. The slick melodies and great harmonies are executed, with blistering solos that nest on the spot.
The exchange of lead duties and sublime twin sections with wonderful phrased interplay reverb like Scholz best work with Boston. The theme sticks instantly and maintains its appeal long after hitting stop. It all builds for the grandiose finale in which both players find themselves challenged by each other's bedazzling skills on the fretboard. They fire sharp rounds on target!
SOPHIE LLOYD – A NEW ERA
It is Sophie herself who dominates the video with her astonishing looks. The platinum blonde uses her radiant looks to her advantage dressed in skin-tight latex and leather, making it an enticing showcase of beauty and grace. With a stage presence to die for and talents at her disposal, who is she to blame? 'Her Sexiness' swings and struts in the spotlights, making a statement displaying her skills bringing the new era right to the front with ,,Lost". A trick she repeatedly pulled on the magnificent ,,Hanging On" with Canadian powerhouse Lauren Babic on vocals, and even better; in the ,,Do or Die" video with Inglorious' Nathan James at the vocalic helm and fire dancer Lula creating the new outline of hotness, in which Lloyd dances with her translucent (lighter) purple Kiezel. It all adds up….
Keep your eyes skinned and your ears open for Sophie Lloyd!