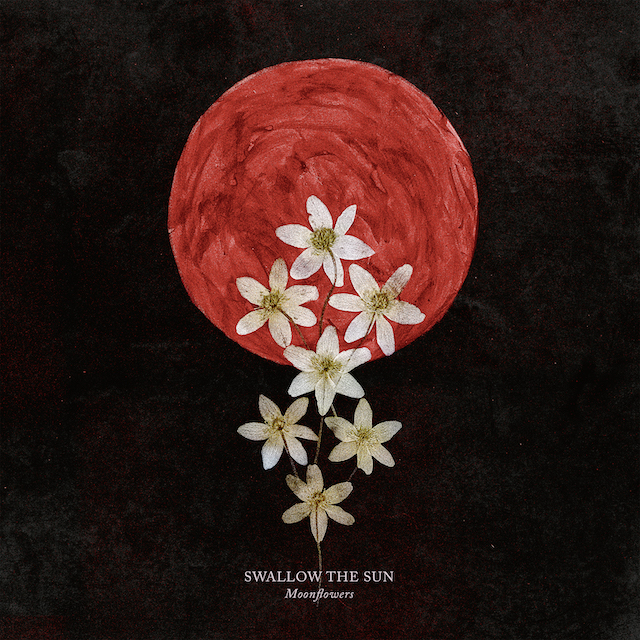 Review | Swallow The Sun – Moonflowers
Century Media Records
`Moonflowers' is the 8th studio album of heavy melancholic metal band Swallow The Sun. It is (again) a true milestone in their now twenty plus years musical and personal journey.
The moment opening track ,,Moonflowers Bloom In Misery'' takes off, I am completely drawn into it. The doom and gloom atmosphere is overwhelming and touching and you can immediately sense this all comes from deep within. From a dreadful place full of pain and hidden emotions that gently unfolds to those who are willing to listen. A beautiful sensitive guitar melody and string arrangement that magnifies the melancholic feeling, are ruling this song. They are a straw to hold on to if you don't dare to drown fully in the somber clean vocals and explosive desperate sounding growls of Mïkko Kotamäki yet.
A PERSONAL STORY
The mournful journey and deep personal storytelling continues flawless with the heavier sounding ,,Enemy'', again supported by a sensitive string arrangement. ,,Woven Into Sorrow'' is a remarkable track that in some parts leans towards dark wave and old school goth but also connects with filmmusic. Also this song has comforting lingering doom rhythms and intriguing emotional heavy outbursts.
,,Keep Your Heart Safe From Me'' has more up tempo phrases that add up to the dynamics of the entire album. In some of the calmer parts are 70s elements subcutaneous observable and it brings a different character to the sound. But the perspective changes again when guitar duo Juha Raivio and Juho Räihä release intense howling guitar melodies and solos. Oceans Of Slumber singer Cammie Gilbert appears as guest vocalist in the weeping song ,,All Hallows' Grieve''. The sorrow in Cammie's vocal lines and performance matches great with the way Mikko pours out his heart. It is a beautiful song that kind of reminds me of the early days of Antimatter.
,,The Void'' has a certain, more up tempo, drive in which bass player Matti Honkonen is having the lead and makes sure it sticks. But I cannot shake off the impression there is also an overall light aura present. It makes the song less gloom and gives the album a fragment of hope somehow.
BLOOD AND DRIED FLOWERS
,,The Fight Of Your Life'' is a stunning acoustic based song, fragile and emotional, but it also features amazing depthful heavy outbursts along the way. Again, with this song the Finnish band transcends itself on all emotional levels. In the closing piece ,,This House Has No Home'' Swallow The Sun leaves the door fully open for intense death/black metal riffs, screams and blast beats, accompanied by Stam1na's vocalist and guitarist Antti Hyyrynen. It is a grim but great ending of an intense, dark, emotional journey, written and performed by outstanding musicians.
The artwork for `Moonflowers' is extraordinary and special, done by guitarist and main songwriter Juha Raivio. Juha even used dried flowers he had collected as well as his own blood to paint the moon. This release also comes in a version with the bonus CD `Trio N O X plays Moonflowers Live At Sipoo Church' that is definitely worth buying. `Moonflowers' is not only a must have for the current fans, but also highly recommended to followers of Amorphis, Katatonia, Anathema and Crippled Black Phoenix for instance.
Release date 19 November 2021