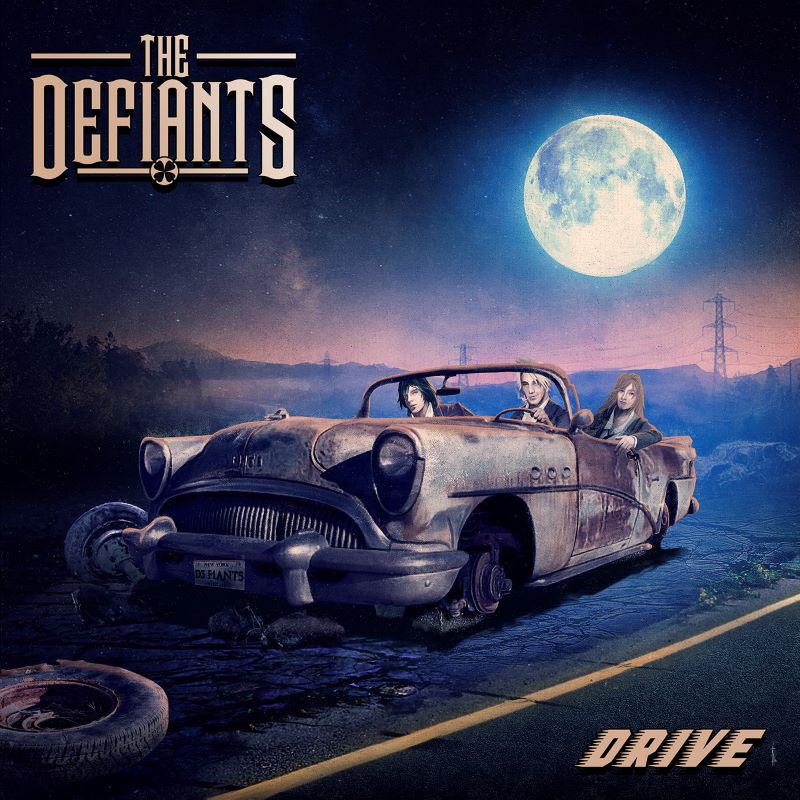 Review | The Defiants – Drive
Frontiers Music srl
Four years after their second album 'Zokusho' we welcome back melodic heavy rock trio The Defiants. Paul Laine (vocals/guitar), Rob Marcello (guitar) and Bruno Ravel (bass) all have a past and present with the formation Danger Danger and, just as on the first two records, those influences can also be noticed and heard on 'Drive'.
UPBEAT AND ENERGETIC
With the help of drummer Van Romaine the experienced trio this time sound a lot more upbeat and energetic on 'Drive'. The tempo has been uplifted and at times The Defiants sound like a real Arena rock band with big choruses, outrageous guitar parts and all the other trimmings including a prime production courtesy of Laine and Ravel. That this duo knows how to produce a rock record became even more evident when Australian rockers Wicked Smile launched their first album 'Wait For The Night' in 2021 where Laine and Ravel were heavily involved with.
COHESIVE
It is not that The Defiants has completely shifted style and approach as 'Drive' sounds as a logic follow-up to 'Zokusho'. But as a whole this record sounds more cohesive, has bigger hooks and contains at stages gigantic guitar chops where Rob Marcello has his say. As always Laine's vocals are crystal clear and, in your face, and the band has been able to come up with eleven songs that fit together well and are put in the right sequence insuring maximum variation. The only track that is a tiny bit mediocre is the ballad ,,Miracle'' but on the second ballad ,,Another Time, Another Place'' (starts of with spacy sounding keys) the band has found the right formula again. This is surely one of the better songs on this album.
THE DEFIANTS ARE HARD ROCKING
The other nine songs are piece by piece hard rocking melodic tracks, with a classic Danger Danger bite, and they are a real joy to hear. Especially the two openers, ,,Hey Life'' and ,,Go Big Or Go Home'' have that typical Arena rock approach. Sounding loud and proud the band is clearly in its element. Summer in Europe and other parts of the world (except Australia where I reside) is knocking on the door and 'Drive' is the ideal soundtrack to have in your car cruising along on the motorway. But stick to the speed limit people as this record with its Arena rock character and good vibes might urge you to step on the gas pedal. Enjoy!
Release date: 9 June 2023