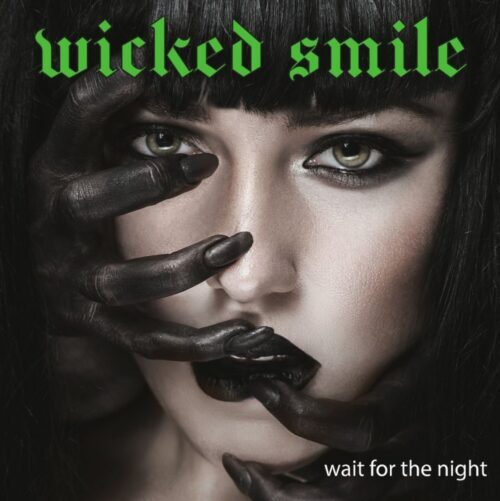 Review | Wicked Smile-Wait For The Night
Independent/Cargo Records
Already last year we made you aware of the existence of Melbourne, Australia based band Wicked Smile. They released their debut-EP 'Delirium' by themselves and this magazine gave that EP the thumbs up. The EP contained four excellent melodic metal songs showcasing the voice of Danny Cecati, a guy with a rich past in the Australian scene having worked before with bands like Pegazus and Eyefear. It also featured relentless guitar work provided by Steve Janevski, another experienced Australian rocker, being also involved with the formation The Radio Sun. Steve and Danny managed to work together with The Defiants duo Paul Laine (production, co-writing some songs and some instrumentation) and Bruno Ravel (mixing). The EP sold out very quickly, encouraging the duo to add some people to the line-up. By the way, all four songs featured on that EP are now on the album.
EUROPEAN & JAPANESE DEAL
Guitarist Dave Graham, bass player Glen Cav and drummer Jason Tyro stepped up to the plate and the band was able to do some gigs as well before the lockdown limited their activities. Wicked Smile concentrated on recording their first full album. Originally pressing only 500 (hand signed) copies for sale in Australia (I believe they are already sold out in the pre-order phase) Wicked Smile signed a European deal with UK label Cargo that will officially release 'Wait For The Night' on October 15, while also a Japanese release is secured via Bickee Music on October 27.
THUNDER STRUCK
I was completely THUNDER STRUCK when I first heard all ten songs on the album. This album sounds like hell on earth. The production is just awesome. Wicked Smile sounds loud and proud but has also a keen eye for melody and variety. Working with Paul Laine and Bruno Ravel has surely paid a handy dividend. I don't know where to begin. Should I mention the enormous range of Mr. Cecati who combines reach, power and melody like there is no tomorrow? Or what about the powerful rhythm section who fires up proceedings to the max? And let us not forget the killer riffs and razor sharp guitarwork by Australia's deadliest duo Steve Janevski and Dave Graham.
KICK ASS SONGS
The best thing is though that these boys have managed to bundle all their goodies into good songs as well. It does not matter if they speed it up on tracks like ,,Last Goodbye'', ,,Date With The Devil'' or ,,Killer At Large'' or concentrate on pure mid-tempo power metal (,,Sign Of Times''), it just kicks ass all the way. And do not think that Wicked Smile is all about pure power and force. The semi-acoustic ballad ,,Don't Wait For Me'' showcases a softer side to the band and Danny Cecati has a mesmerizing warmth in his voice on this one. And how about that subtle didgeridoo that opens the hard rocker ,,We Fall''? No doubtful songs present on 'Waiting For The Night' people!
INFLUENCES
It is obvious when you hear the songs and sound that Wicked Smile has been influenced by some great classic rock bands varying from Rainbow to Judas Priest. But the album also makes clear that these five dudes have put their own stamp on proceedings. If you think this review might be a bit on the euphoric site (is it?), I would suggest to have a look on the band's web site where several clips are ready and waiting to be seen and heard. There you can judge for yourself if Wicked Smile could be of interest to you. For me 'Wait For The Night' is the best album from Australian soil in a long, long time!