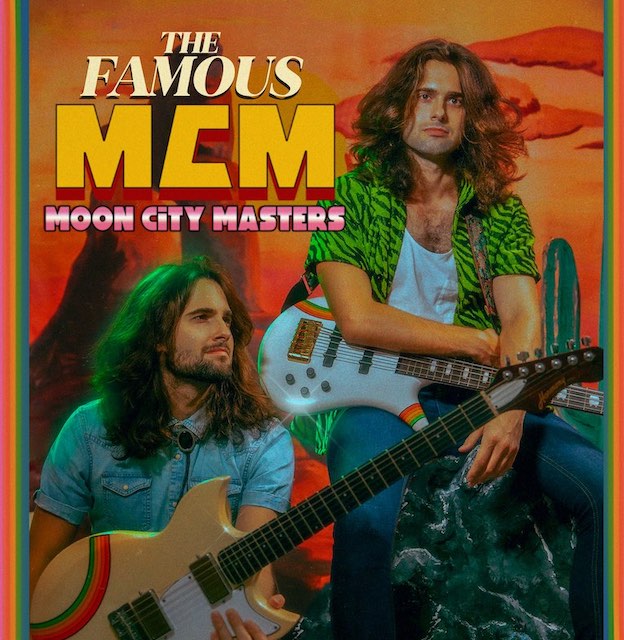 Review | The Moon City Masters – The Famous City Masters
Independent Release
'Never judge a book by its cover'; a phrase that caught up with me frequently over the last few weeks. The cover judged would make me miss out on some darn good albums, like this `The Famous City Masters' release by Brooklyn based rockers The Moon City Masters, with its glam-packed cover. Fronted by twin brothers Jordan and Talor Steinberg, MCM slowly but surely builds their career, and has shared the stage with illustrious acclaimed names, among which are Sheila E and Robby Krieger of the Doors. That being said, it immediately raises the question of how much of the needed rock poise the duo packs. Well; I don't shy away from pop, but this band certainly doesn't shy away from rock either. Their blend of rock, pop and funky notes is insanely addictive, as are their impressive vocals.
THE MOON CITY MASTERS DELIVER!
Bordering with pop, their rocking tracks are engaging and instantly nesting. Solid rocking beats and a funky side line make the songs swing like a tit. Not inflated by silicones, this stuff bounces off the waves. The natural 70s vibe is attractive and reflects of their music. Modern organic production and no face-lift necessary, `The Famous City Masters' rolls with the tide. Sure, Nelson comes to mind. The 90s rock Barbies' pop injected rock made waves as much as their guise at the time. Both Steinberg brothers however aren't goldilocks poster models for Andrélon, but it is very likely the girls will pack the band's front rows. By all means, let it happen.
Album opener ,,Takin' It Back" immediately invokes the dance vibe while rocking its anthemic riff smoothly. The blend of Talor and Jordan's vocals is impressive, perfectly adding to one another. Their tone is what lures you in. Funky notes reminiscent to that of Richie Kotzen, Glenn Hughes and Jeff Scott Soto's solo work, their vocals also ooze the wonderful tone of the first. Kotzen's slightly nasal but smoky soaring rock tenor with lighter pitch 'n stretch of notes. There's an unrefined rasp that adds to the clean notes of both, vocal harmonies and guitars. The song nests on the spot and the album swings forward with the same funkiness. Whammy guitars and reverb set off ,,Spinning Wheels", that wells with appeal.
STICKY AND SWEET
Lush in instrumentation ,,Draw The Line" reveals interesting interplay with high pitched guitar melodies and strumming bass. The progressive light drum shuffles boost the atmosphere and the chorus flourishes in high 70s pace. Crisp and clean, with wonderful vocal interaction that borders with Night Ranger at times. The latter's mega melodic towering vocals is also dominating the great ,,Send It On", marked by wonderful vocal interaction between Talor and Jordan.
Rocking out with Southern rock vibe and sharp riffs, ,,No Warning" morphs with refrain vs bridge and chorus. Sticky and sweet, with loads of reverb. Chorus welling with soulful vocal interaction, the song sticks, poppy and rocking. More roasty, the vocal delivery of ,,I've Got A Feeling" wields. Raw and in your face the boys belt in different registers. Freddie Mercury's drama welded onto the Kotzen soar.
A low roaring bass line and Americana vibe meander forward on ,,Starstruck", a display of exquisite vocal trade-off between the twins. The song strums with oozing wonder, blooming with echoing 70s psychedelic instrumentation.
SOME BLUES AND FUNK
,,Trust Someone" draws from a bluesier lush 70s register, with vocals closer to Richie's, blend with Kelly Keaggy's melodic phrasing. There's a bit of Venice in the harmonies, as well as Kotzen on a Moody Bluesroad trip (pun intended). Absolutely wonderful! Wonderful is the popping high pace bass line, balancing out the clean guitar strut in ,,Over Now". Funky driven, exploding with subdued funk, the song orbits with its vocal interaction. It is clean and crisp, sticky and poppy. Exploring this direction further the dominant bass tones up for the guitar pulled ,,Real Thing", again with pristine vocal variation and multi-layered chorus.
Hammond wells underneath the picking guitar notes when vocals take the front. Lush and with impressive guitar hook, the song's groove is appealing and powerful. The brother's vocals are versatile adding to the lush atmosphere and seventies vibe. The song closes ,`The Famous City Master' in style.
70S ATMOSPHERE
The Moon City Masters deliver a wonderful album full of memorable tunes. Driven by its pumping 70s atmosphere, it is laden with melodies and hooks that nest on the spot. The Steinberg's vocals are the focal point of the album and their interaction is sublime. Blessed with alluring voices and complementing vocal tone, their delivery is powerful but gracious. The harmonies are pitch-perfect, supported by the excellent guitar hooks and basslines. The swing it packs is funky and soulful, not lacking the punch and kick of rock. Reminiscent to Little River Band and Venice, all songs are exquisitely crafted and instantly attract.
Mellow rock for a mellow mood. Check it out!