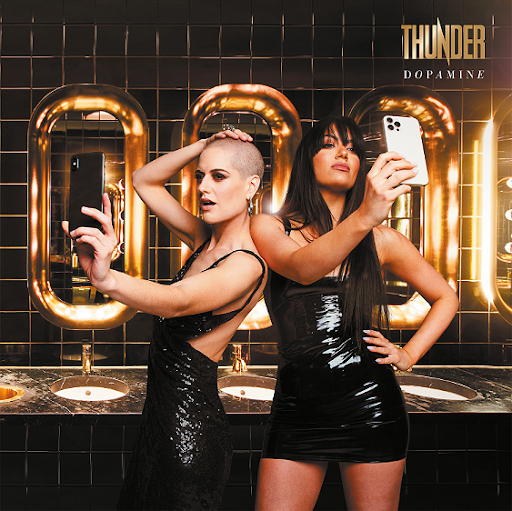 Review | Thunder – Dopamine
BMG
Seeing the fact that I am a die-hard Thunder fan, it is always a pleasure to hear that these guys come up with a new album. Of course, every self-respected rock fan should own a copy of Thunder's iconic debut album 'Backstreet Symphony', released in 1990. Now 32 years later Morley and Co. release their 14th studio album called 'Dopamine'; that "medicine" is often portrayed as the main chemical pleasure indeed… By the way, it is just a year ago that Thunder released their previous album 'All The Right Noises', which was again a must have hard rock album of course….
LESS APPEALING SONGS
'Dopamine' is a real scoop as it is Thunder's first double album ever, featuring sixteen brand new tracks, clocking in over 71 minutes of great music. 'Dopamine' is a classic Thunder hard rock album with brilliantly constructed, traditional and experimental songs, but also with some ups and downs as not all of the sixteen tracks are on the same high musical level. Let's start with the songs that do not appeal that much to me, being ,,Unraveling", ,,Just A Grifter" and ,,Is Anybody Out There?"
,,Unraveling" starts acoustically and is in fact a rather mediocre (read: boring) ballad which is kind of "saved" by the melodic guitar solo at 2:58…., ,,Just A Grifter" (a grifter is a swindler or a dishonest gambler by the way..) is a kind of folky song featuring accordion and violin, while ,,Is Anybody Out There?", is a piano led ballad with emotional vocals of mister Bowes.
THE GREAT SONGS
So far, so quite all right, now let's talk about the great songs on this album, starting with the opening track ,,The Western Sky", being a mid-tempo super Thunder song with a catchy melody, big beats, and great guitar work by Morley. ,,Black" is again classic Thunder hard rock with a mean guitar riff, evolving into a very intense song with even some seventies glam rock vibes. ,,The Dead City" is another favourite of mine, filled with chugging guitar riffs and a blistering Morley solo; indeed, a soon to be live staple for sure!!
,,All The Way", filled with "dirty" riffs is classic arena rock and even reminds me of Queen's rock anthem ,,We Will Rock You". Still, the best is yet to come with e.g., the outstanding ,,Big Pink Supermoon", featuring impressive vocals by Danny and sublime guitar picking by Luke, or the other arena rock track ,,Across The Nation". 
MILESTONES
,,I Don't Believe A Word", with very sharp lyrics and ,,Disconnected" are two other milestones on this amazing album; the latter filled with heavy riffs, a catchy chorus, and a Beatles-like vibe, deals with life during the pandemic. The closer of this album is called ,,No Smoke Without Fire", which is a dark and moody track with really "angry" vocals and an original and rather unexpected super bluesy outro; a terrific way to end this fantastic album indeed! 
The "heritage" rock of Thunder with influences from The Free, The Who, Led Zeppelin and UFO on their 14thalbum is again extraordinary; super creative, variety galore and probably Thunder's most ambitious album ever. So, check it out, play it LOUD and you might find out that 'Dopamine' is maybe the best hard rock album of 2022??