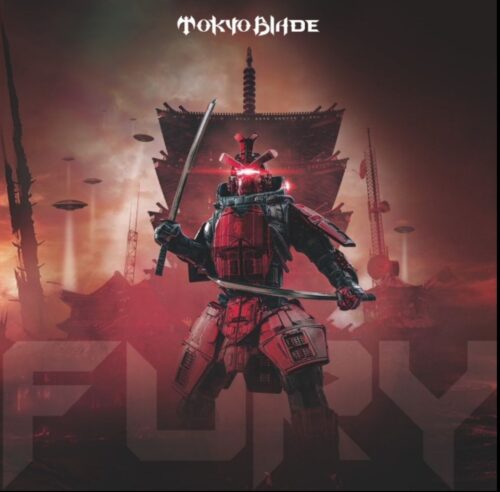 Review | Tokyo Blade – Fury
Cherry Red Records
You have to admire Tokyo Blade co-founder Andy Boulton (lead guitar) for his perseverance and stamina. Some 40 years after starting this classic UK outfit he is still at it, although there have been numerous changes in personnel, a hiatus of several years, lots of changes in their musical style and a long journey past several record companies, eventually ending up with Cherry Red Records, a small but long-lasting English label.
CLASSSIC LINE-UP
Since 2016 with the return of singer Alan Marsh you can say that the current line-up of Tokyo Blade is as close to the classic and original line-up as can be as bass player Andy Wrighton, second guitarist John Wiggins and drummer Steve Pierce have all been back since 2009 but also played a part in the first years of Tokyo Blade.
DWELLING ON THE PAST
It does not make much sense dwelling on the past on this occasion though the return of Marsh brought a return to their familiar style. During the years Boulton has built himself a small studio and has learned enough skills to be able to oversee the recording of the new album 'Fury'. With no less than 15 tracks 'Fury' sure is an example of the work the band did during the last two years, being convicted to no live-activities. You can hear that the recording budget and possibilities were not huge but Boulton and company have learned to deal with the circumstances. 'Fury' is a decent melodic metal album, but certainly not more than that.
Marsh has his limitations and 15 songs on an album can be too much of the same as is the case in this matter. The material is not so much different as what the band put on their last two records 'Unbroken' (2018) and 'Dark Revolution' (2020) but at stages it sounds more mature like for instance the hard rocking track ,,Cold Light Of Day'' where Boulton lets his guitar do the talking. For the genuine fan of Tokyo Blade 'Fury' will be a welcome record to add to the extended collection. The general hard rocker will most likely hardly take notice as the material on 'Fury' is a bit too one dimensional. Maybe a few songs less would have been a better move.
Release date: 21 January 2022