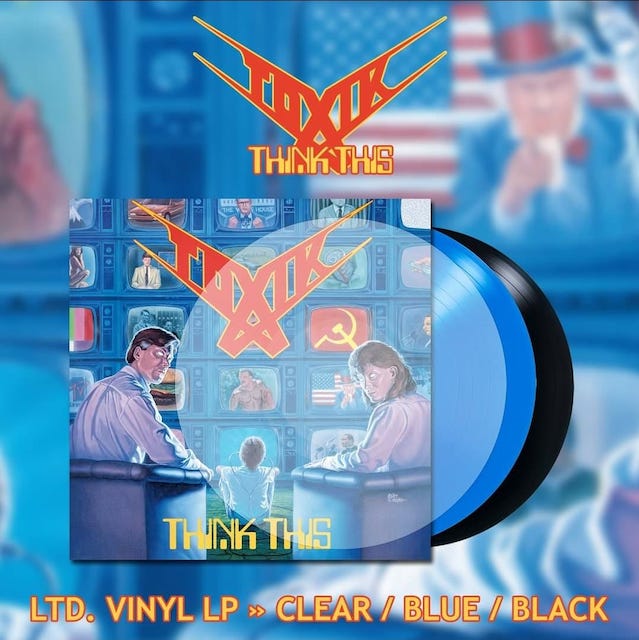 Review | Toxik – Think This – Vinyl Reissue
Soulfood/Massacre Records
These are brutal days for metal fans collecting vinyl. With tons of classics that never saw a wax issue it is an assault on our wallet, especially when they are released on different colored wax editions, or special anniversary editions containing additional tracks or special graphics.
LIMITED NUMBERS
As most of these albums got released on the threshold of the cd era, vinyl editions were pressed in limited numbers or got released on cd only. The crystal-clear sound of the compact disc being superior I remember playing the Impellitteri self-titled EP on cd instead of vinyl for the first time revealing a lot of ferocious fired notes and fretboard magic that went under on its vinyl counterpart.
Thus, those limited vinyl numbers only found their way to vinyl aficionados or fans sticking to vinyl in the early days. Let's not forget cds contained price tags with numbers of 35-50% higher than its vinyl counterparts. Thus, vinyl issues during the heydays of heavy metal are scarce making them rarities in the present as vinyl regained its dominant position in the market with fans collecting physical copies instead of compressed files of bytes firing through your stereo. 
TOXIK – WORLD CIRCUS
I've always been a collector of the physical copies, whether it was on vinyl or on cd. Heck, I sometimes even bought the releases on tape to play in my car stereo.
One of my favorite metal albums is Toxik's `World Circus' which recently got re-issued in a limited edition of 1.500 copies on matching green vinyl by the prestigious Music on Vinyl record label. Their impressive debut came on heavy 180 grams audiophile vinyl opening the door to their critically acclaimed second album `Think This' re-issued on Massacre/Soulfood (2021), with whom they inked a deal for their brand-new album, in no less than 3 editions. Toxik's second album found its way to the fans and collectors on pristine black and two blue editions, baby blue (!) and artwork matching sky blue. As if that wasn't enough, the album sees a second run in February 2022 on white vinyl (limited to 500 copies), assaulting my funds.
TOXIK – THINK THIS
Though `World Circus' is considered the band's masterpiece, I strongly lean towards the groundbreaking tendencies of their second album, `Think This'. The album, its artwork and content about the state of the world, where as relevant in 1989 as they are now. Being dominated by tv feeding us mis-information and used as propaganda to run up profit for the big corporates only expanded the reach of media with social media dominating the world. Censorship and mass control by influencing what we get fed is the actual theme propelling this current p(l)andemic, driven by big Pharma and big corporates shifting the gears of democracies towards globalism (my opinion).
The band was certainly ahead of its time with `Think This' slowly taking shape in the opening self-titled track. Meandering guitars sustain tranquility, slowly building tension pressuring underneath intensifying news fragments and ads before diving into double bass pumped extravaganza. "I've been watching for years and years. Programmed by money, sex and darker fears", Sabin whales over Josh Christian's intense riffs. Pulling forward with breaks and dynamic drumming the song unleashes sheer terror. The techno thrash starts to radiate with the band belting ,,Watch it! Believe it! Receive it!" and breaks scattering all over the place. Christian injects some short soloing to pump up the song's dynamics with Sabin whaling towards the explosive solo and thunderous outburst.
TECHNO THRASH
Returning to form the narrative of the song becomes awfully accurate for present times and opening towards the cacophony of ,,Greed" with insanely dynamic drumming pressurizing the outline of the track. Tad Leger lays down oppressing foundations with insane drive and unexpected twists and turns. Exquisite is the guitar interaction between Christian and John Donnely before their raging riffs take the front end of the mix with a myriad of chugging riffs and acoustic overlay pressing momentum. Sabin switches registers frequently and borders with Geoff Tate's extraordinary vocals of Queensrÿche's `Warning' album. Standing tall over the techno thrash spawning he pitches high when needed, adding insanity at times. 
,,Spontaneous" aggressively fires onwards displaying Brian Bonini's throbbing wild bass lines more dominantly. He fuses the dynamics of Leger's intense drums and the ravishing guitar duels. The technicality and intensity of riffs switching scales gelling with the insane melodic way solos and licks follow up in highest gear. Christian and Donnely create sheer magic in speed and skill contrasting with the immense powerful melodies of the choruses. It all gels perfectly as Toxik offer the most intense breather ever recorded in metal: ,,There Stood The Fence". This churning ballad enrolls sheer magical lyrical content all of us can relay and unravels with keys pushing underneath it's melody. The song displays Christian's feel for drama and melody more than anything.
80s CLASSICAL AND NEO-CLASSICAL SCALES
But hey; this is Toxik intoxicating capability of interacting with the listener. Just check out how they skyrocket with ,,Black And White" again. Offering a cacophonic cocktail of robust bass and drums, it hits the manic note as well as it injects comfort with its catchy melodic bridge. Midway, the song explodes with one of techno thrash' finest guitar duels recorded. Fierce notes fired in intense speed duel to simultaneously explode and shoot into the stratosphere. ,,Burn Jim/In God" is propelled by great stop 'n go motion from Leger with Sabin belting at helium-height aligning with the piercing arpeggios of Christian and Donnely. The solo captures Josh' wide varied array of styles. Not scaring away from the 80s dominated classical and neo-classical scales he twists the melody around before shooting up the scale with jazzy elements and bluesy tinged notes unravelling back into oppressing riffage.
Commanding keys welling, ,,Machine Dream" whales with oozing chorus but fires on all riff-driven engines. It is Charles whaling vocals echoing providing the song's hypnotizing edge of stirring emotion. The anti-drugs track ,,Shotgun Logic" is the most thrashy track on the album. Propelled by Bay Area signature speed it ponders onwards with immaculate thrive while casting some technical exclamations with proggy technical breaks. Calling out ,,shot" rousing to emphasize the helium-height of pitches by Sabin is adding to the poise of the song.
SOME BLUES AND JAZZ
Double bass fires up the high pitched ,,Time after Time", Toxik returns to their techno-thrash form embellishing it in their trademark melodies. Though Sabin is not always belting in excellence, he delivers a solid job but misses he raffling edge to inflate aggression in this song. Josh lays down sterling solid riffs propelling the song and trades off duties with Donnely over the dynamics of time changing eludes. Soling on the border of madness switching from a bluesy tinged scale into jazz-driven fusion tone, unloading captivating and mind-boggling guitar escapades, both players are performing at an insane high. With ,,Think That" shutting down the tv and its mind-control on us,`Think This' dies out with accolades of perfection.
Skipping ,,Out On The Tiles" and ,,Technical Arrogance" on the vinyl release, the album's running time shortens but packs a lot more pace. Stylistically a good decision although ,,Technical Arrogance" is an absolute wonderful metal track that explodes with psychedelic prog timing, much like Pink Floyd's on thrash acid.
TOM MORRIS
`Think This' is my personal favorite Toxik record and I am well aware of the diverse opinions towards it. As a fan of Rush and melodic rock, it paws much deeper in my personal preferences with Sabin's higher register appealing more to the frantic concept of the album. `Think This' currently also adds a lot more posture with its intellectual and thought-provoking lyrical content and (Ed Repka) artwork. 
Christian's song writing was certainly on par, redefining the genres boundaries and adding a new dimension to their own unique sound. Technically radiating perfection, the guitarwork lines up perfectly with the technical bass and drum interaction, creating a frantic cocktail of techno thrash uplifted by Sabin's piercing vocals and melodic timing. The contradiction of speed and overly technical breaks is enhanced by ear mingling melodies that ooze comfort on the listener and instantly reminiscing classic rock's memorable melodies. It all is produced with keen ear for detail by Tom Morris who managed to capture Toxik's intensity as well as enhancing the overall concept with the addition of ads and announcements on tv, with every track switching channels. Mounted onto the thrash background of heaviness, Morris and Christian inject a clean and crisp sound still standing tall today.
This is now, better `Think This'.