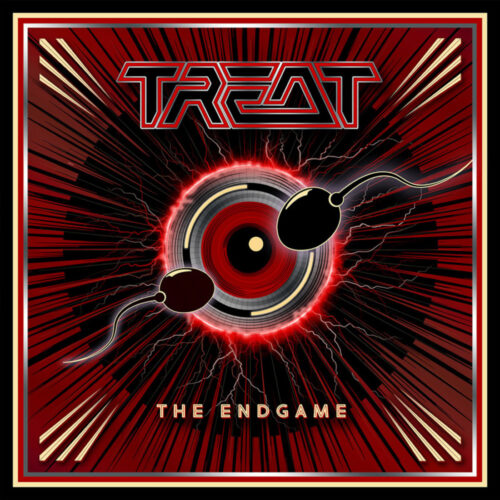 Review | Treat – The Endgame
Frontiers Music srl
After 41 years in existence Treat from Sweden still manages to deliver great melodic rock albums. 'The Endgame' sounds fresh and up-to-date.

Singer Robert Ernlund and guitarist Anders Wikström have been Treat's backbone from day one. Drummer Jamie Borger has been a permanent member since 1987, keyboardist/guitarist Patrick Appelgren has been in the band since 1989. Bassist Nalle Påhlsson is present again after an absence of almost 7 years. The fact that the men have been making music together for many years [except from 1993 to 2006, when the band was inactive for a while] is no guarantee for success, but 'The Endgame' has turned out to be a pretty successful project. I have never been a big fan of the band, especially not during their first run in the 80s, but I have great respect for the fact that they have been on the melodic rock stage for all these years.
MELODIC ROCK OF THE HIGHEST QUALITY
The first track is the uplifting ,,Freudian Slip'' that has a great chorus. The kind that nestles in your head for the rest of the day. ,,Rabbit Hole'' even picks up the pace a bit more and has a catchy riff from Mr. Wikström. ,,Sinbiosis'' has yet again a killer melody and 'über' catchy chorus. ,,Home Of The Brave'' starts with a short key intro and unfolds into a Europe-like song. This track is just excellent. I have no other word for it. Melodic rock of the highest quality. ,,Both Ends Burning'' yet again contains great guitar riffs, while the rhythm section delivers a solid foundation (like they do to all the songs).
GREAT PRODUCTION
The fact that the album has a great production, also tributes to the listening experience. ,,My Parade'' is the first slower song on the album, that has a few country influences. ,,Wake Me When It's Over'', ,,Jesus From Hollywood'' and ,,Magic'' don't match the level of the first 5 songs on the album. However, ,,Carolina Reaper'' manages to wake me up again. Yet another up-tempo song with a signature Treat chorus. ,,Dark To Light'' is a song that grows on me. It is a bit heavier and has a quite slow tempo. The drums and bass drag you through the song and the guitar riff is also a bit darker in tone compared to the rest of the album. The album closer is ,,To The End Of Love'', a typical 80s rock ballad with another catchy chorus.
NEW FANS
So except for some songs in the middle part of the album `The Endgame' has turned out to be a more than excellent record. Fans of the band certainly won't be disappointed with this record. Treat might even gain some new fans of melodic rock, like myself. Treat 2022 is very much alive and has certainly delivered.
Release date: 8 April, 2022