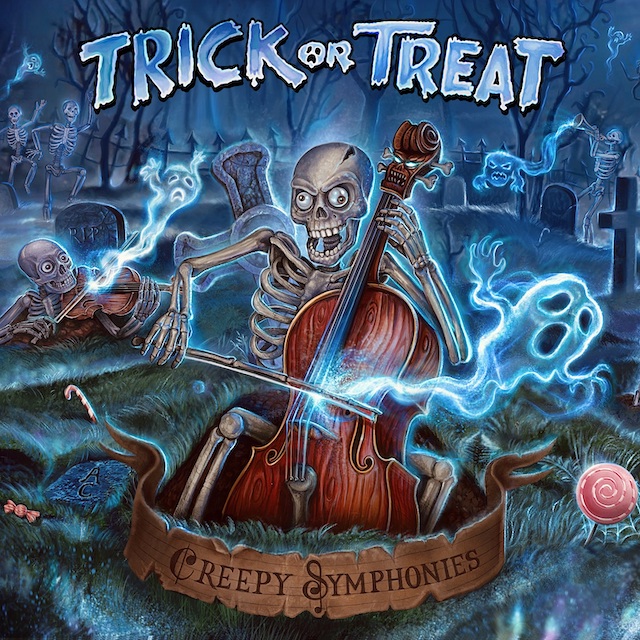 Review | Trick Or Treat – Creepy Symphonies
Scarlet Records
Two years after `The Legend of the XII Saints' (2020), Italy's Trick Or Treat comes with a brand new album, named `Creepy Symphonies'. Main songwriters Alessandro Conti [vocals] and Guido Benedetti [guitar] have created a 7th chapter to the album discography of the band. Formed in 2002 as a Helloween tribute, the band has built a more than decent track record. And you can think what you want about this band, but there is absolutely nothing wrong with their work ethic.  
HAPPY POWER METAL
`Creepy Symphonies' contains 9 brand new songs, which are preceded by the 1:09 minute intro ,,Trick Or Treat'' and is provided with a great sounding production and songs that will give the enthusiast of traditional "happy" power metal a positively elevated heart rate. This music style has similarities with bands like Freedom Call or the aforementioned Helloween. And that is where they have managed to conquer their unique place over the years.
Singer Alessandro has a fine voice for this genre and the rest of these gentlemen also know how to play their instruments. Trick Or Treat knows exactly how to craft their songs, without coloring outside the lines. What we get to hear isn't all that original, but I don't think the fans are waiting for that either.
SOLID AND GOOD
`Creepy Symphonies' has become a fine record, on which the band continues their musical course. I'm not going to highlight songs from the album, because the quality can actually be called very consistent without any real highlights.
Are you a fan of the band or a enthusiast of this specific genre, then you will certainly enjoy the album and you can buy it without hesitation. A solid and good, but not very original album by these Italian men.