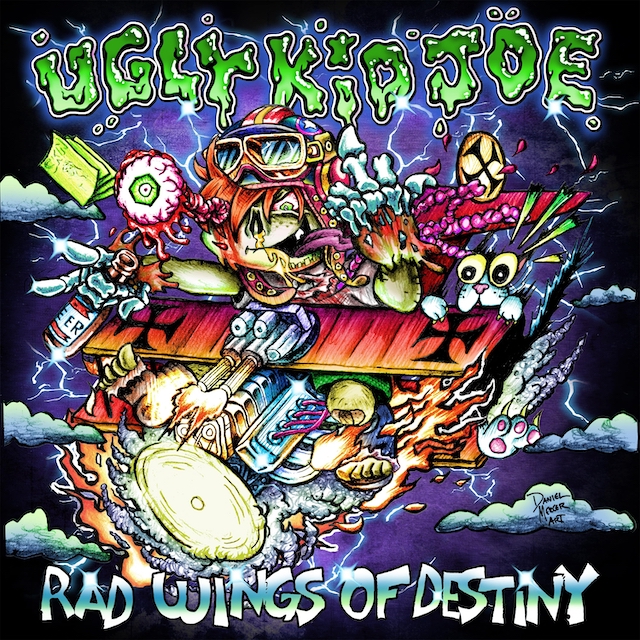 Review | Ugly Kid Joe – Rad Wings of Destiny
Metalville Records
Much like their name is an allusion to Pretty Boy Floyd, after being stood up to gig together, `Rad Wings of Destiny' seems a playful pun to the Priest's `Sad Wings of Destiny'. Returning to the fold is producer Mark Dodson who turned the knobs on their multi-platinum debut `America's Least Wanted' (also packing the band's typical wordplay). `Rad Wings of Destiny' sounds like the follow-up to the acclaimed debut of Ugly Kid Joe yet also packs a different roast.
A MUSICAL COCKTAIL
Blending styles in their cross over cocktail of music, Ugly Kid Joe again mixes up their musical cocktail on 10 new tunes. ,,That Ain't Living" crunches with glam styled hair metal allure. Arena pumped rock with typical UKJ blends. Sticky chorus, rad rousing grit it spits with classic 60s strut and 80s pump. ,,Not Like The Other"mixes up the funky palette and rouses with outcalls, blending ,,Tie Your Mother Down" with ,,We will Rock You" over a sturdy thrust. Drums roll and guitars scatter, with Withfield Crane rousing his chants. A comparable hitting beat kicks ,,Dead Friends" into action. Hoarse vocals, steep riff and hook, pulsating bass and rocking beat, it delivers with a sleazy edge, until the psychedelic vocal interaction briefly hits.
Subtler is the wonderful melodic ,,Everything's Changing". The song packs welling emotions and appeal, with Crane delving deep. Building up the song displays the band's emotive character, emphasizing its lyrical content. Cordell Crockett lays down a low-end bass line over which Dave Fortman and Klaus Eichstadt bring forward fine-tuned guitar interaction. ,,Living in the Pain" feels to follow its predecessors tracks with its lush opening, before plunging into the hard rocking, fist raising chorus, evoking the 90s and blending it with psychedelic heavy accolades like Saigon Kick.
BAR 'N GRILL ROCKER
,,Up in the City" progresses with a funky tone and RHCP vibe. Crane's vocals are almost narrative before hitting the chorus, blending 70s psyche with funk. It perfectly bridges towards ,,Drinkin' And Drivin". The slow meandering track is a bar 'n grill kinda roots rocker. Bluesy guitar plucking, farm fiddling-like with slide guitars taking over, the song stomps. Very melodic, tongue in cheek, setting the atmosphere. ,,Hooked On A Feeling" from Blue Swede lies lurking, with its recognizable vocal line. ,,Long Road" is a wonderful song with great harmonies and vocal interaction. There's a soulful groove and rap-like short vocal taps channelling towards the '… long road coming home'. Great track!
Taking things up a notch, ,,Failure" is propelled by a loud riff and hook, with Crane moaning out his refrains. Bursting into anger the chorus nests with its pristine power. There's a Cult vibe to the song, without coming across as a rip. The song goes back and forth in emotion and empowers the lyrics. Covering Kinks' classic ,,Lola", executed without adjustments to its arrangements and execution, ads little to no extras, but matches the band.
THE FINAL VERDICT
Ugly Kid Joe's 30th anniversary of `America's Least Wanted' is celebrated with an album packed with great new songs. Not instantly hooking onto their illustrious chartbuster, `Rad Wings of Destiny' channels a different vibe, but feels very much like a follow up thanks to its production. The albums diversity and 70s psychedelic vibe is very attractive and engaging, with all songs emphasizing the lyrical content; a key feature of Crane and his men, making waves. On top the blend of styles is more gradual and comfortable, and the album rolls naturally. The slower paced songs are dominant, but let's face it: they are all superb.
Moody and frail, Ugly Kid turns pretty!
Release date: 21 October 2022