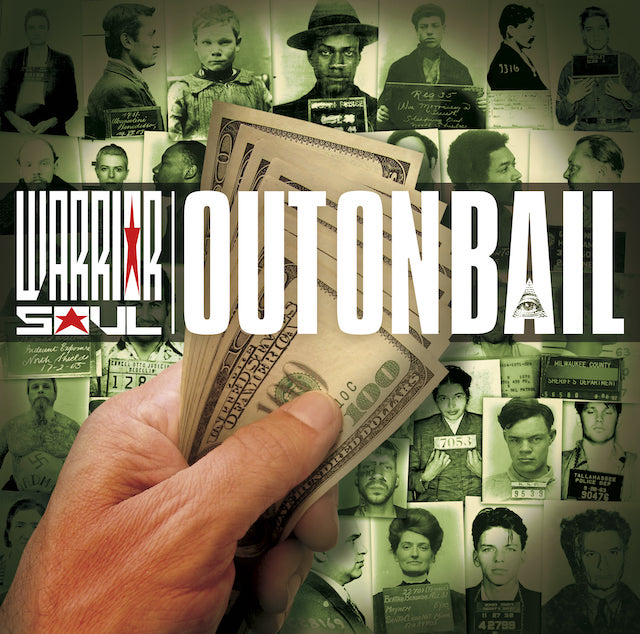 Review | Warrior Soul – Out On Bail
Livewire/Cargo Records UK
Two years after the 2020 cover album `Cocaine And Other Good Stuff' and three years after `Rock'n'Roll Disease', Warrior Soul, led by singer, visionary, producer, songwriter Kory Clarke, delivers their latest brainchild `Out On Bail'.
KORY'S TRADEMARK
Clarke's signature sound is a benchmark on the album. Of course, you first have to expose your vocal cords and pull over a mile of sandpaper, to get his vocal sound. His trademark voice also predominates on this album for the immediately recognizable sound of this band. But not only his voice stands out. The production of the album is also very good. For this album, Clarke wrote songs with a slew of musicians, including guitarists Dennis 'El Guapo' Post, John 'Baby H' Hodgson, Adam Arling and John 'Full Throttle' Polachek. Bassist Christian Kimmett and the drum tracks by Kory himself, John Besser and Ivan Tambac.
SLEAZY ROCK 'N ROLL
But what can we expect from this album? Well, Kory and his mates have delivered another album in the style we know Warrior Soul from. Sleazy Rock 'n Roll, which has gone through a good mix of punk and 70s rock. Here and there you can even hear a hint of the old [early 70s] Alice Cooper Band.
Those who are familiar with the band will be delighted after hearing `Out On Bail'.
Unfortunately, the party is over after a little more than 30 minutes, because that is the time that this album clocks. It is what it is, but that is a bit on the short side to me. I would have loved to hear some more tunes.
This album is a must for fans of the band! If you're in for a poisonous cocktail of the aforementioned music styles, then you should definitely check out this album.
My favorite tracks on the album are the opener ,,We're Alive'', the groovy ,,One More For The Road'' and title track ,,Out On Bail''.
Warrior Soul 2022 is most definitely alive and kicking.
Release date: March 4th, 2022