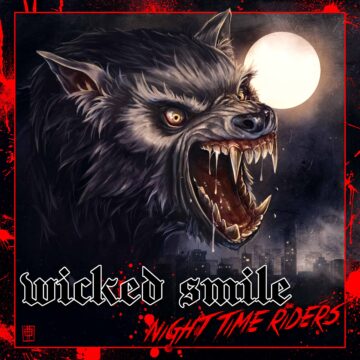 Review | Wicked Smile – Night Time Riders EP
Independent Release
On November 17 Melbourne based melodic metal rockers Wicked Smile will embark on a UK tour and since their first album 'Wait For The Night' hails from 2021 it seemed handy to have a new product to promote on that upcoming tour. So, singer Danny Cecati, drummer Alex Rogowski, bass player Tom Nugera and the guitarists Dave Graham and Steve Janevski (whose daughter Cassidy Paris will release her first album on Frontiers Records very soon) decided to record four fresh songs and also show how the band has developed since the release of 'Wait For The Night' which for me is still one of the best metal records of Australian soil in the last decade.
WICKED SMILE TAKING NO PRISONERS
The songs ,,Night Time Riders'', ,,Edge Of Madness'', ,,Never Surrender'' and ,,Scream 'N' Shout'' are taking no prisoners. These songs are rocking harder, faster and more aggressive in comparison with 'Wait For The Night'. Janevski and Graham have come up with some crunchy riffs, Cecati uses all aspects of his impressive voice and the rhythm section fires up the tempo where they see fit. No ballads, no bull shit but bone crushing rocking hard tracks with the necessary melodic guitar acrobatics. Produced by Chris Themelco this 4-track EP confirms what 'Wait For The Night' already indicated. These boys have come to rock and they do it with mucho gusto, class, and style. If you want a copy and might not be able to get it through the normal channels visit their website. Well worth having.
Release date: 17 November 2023