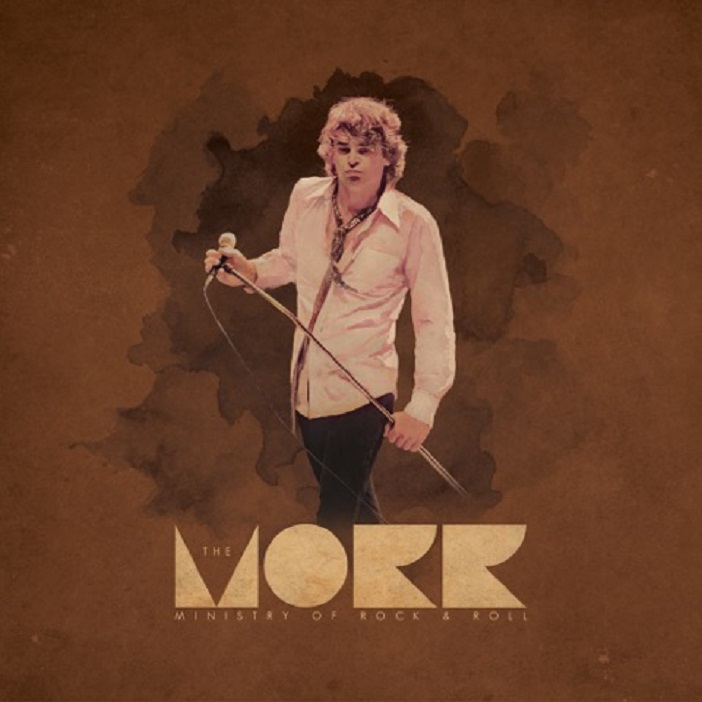 The MoRR-Now's As Good A Time As Any
Independent
Jan Hoving made a storming impression as vocalist of Vandenberg's Moonkings adding his raspy soulful voice to the bluesy rocksound of the former Whitesnake guitarslinger. Both albums were A-graded rock gems with tons of crackling rock tunes in the classic rock vein. After disbanding his band and Adrian picking up recording the first Vandenberg record in decades, Hoving went on sabbatical. Reviving his bond with former Stonefly bandmate Carlo Gentenaar lead to the formation of The Ministry Of Rock 'n Roll, short: The MORR!
Southern Roots
Thick as a brick 'Now's As Good A Time As Any' picks up both gunmen's return to their Stonefly era reinvigorating previously penned songs 'supplemented with a bunch of new ones'. The album also continues in the direction of Moonkings' 2nd album but sees more soul with Hoving laying down impressive vocal work. More subdued in tenure and refraining from the louder hard rocking power howls, Jan and The Morr confidently drizzle in a different, more Southern Roots tinging direction.
The bodywork of songs is classic and driven. Great riffs and more bluesy than ever before, Hoving and Gentenaar delve from 70s bluesrock and contemporary rock predominantly. ,,Marbles" has a welling Hammond, dry profound Fender riff and more than once inflicts a ,,Hush" vibe on the listener. Former Moonkings' colleagues Sem Christoffel [bass] and Mart Nijen Es [drums] add their great vibe to the album, rocking solid. The whole album rocks out like a clockwork and packs an organic vibe with Jan Hoving's impressive vocals in the spotlight. ,,I Ain't Feelin' It" is memorable with pitching beautiful guitar licks and welling organ from Mart's brother Menno. ,,Maybe In The Morning" has the same build and oozes wonderful contemporary vibe with impressive musical interaction. Bass and drums are intense but subtle added to plucking guitarwork. Tasteful.
Twist
,,Jane" has a throbbing groove with tasteful slide guitar and intensifying pre-chorus building towards tasteful close harmony-chorus. ,,Nickels And Dimes" is opened by an appealing short riff morphing into the typical colorful jazzy playing of Gentenaar. Very soulful it is erected by its nesting chorus and melody. Striking bass opens the swinging ,,Turn Every Stone" with its predictable chorus and over the top background vocals. Breaking midway briefly for a great twist, the song is tremendously appealing. Whaling into action with demanding guitar ,,Kick Like A Mule" gradualy builds with whaling Hammond keys and riff flourishing with soul towards the intensifying chorus.
Impressive is the heartwarming ,,Heartstrings". Colorful plucking acoustics and altsax opening. Timid and warm it progresses and Hoving tapping from old days' Coverdale register. Another heartwarming ballad is ,,Scars", with exquisite interaction between Jan and Carlo. Frail vocal delivery adding posture. Beatles-esque keys open to whaling guitarlicks with Christoffel's bass subtly dominating in the low end. ,,Hanging Onto You" is another slow mover with frail lyrics and ditto vocal execution by Hoving. There's a distinct sniff and tear imposing pain.
A-Grade
The pedal goes down for another 70s soulful rocker with dominating bass and welling Hammond. There's a little funk and swing in the track making it standout. The chorus is impeccable and Hoving displays his impressive voice belting a memorable performance that will certainly raise the roof performed live. Colorful the album is brought to its end with great guitar and vocal interaction while bass howls and drums shuffle a beat. Staccato breaks impact on the song's dynamics perfectly. Short-lived chorus dies out with memorable glance. Jan Hoving and his men deliver an A-grade bluesy rock album that wells with emotion and soul.
Campfire
Contemporary with bits and pieces from the classic rock era and 60s. Organic sound with transparent mix and production enhance the impact of the songs. Sterling is the musical interaction and exquisite musicianship making the songs ooze confidence. Nijen Es and Christoffel tap from a different vein and stray from the loud delivery making it a perfect fit for Gentenaar's varied and intense guitarworks with Mart's brother Menno adding the Hammond and key tones for maximum impact. Music crafted for the amazing vocals of Hoving who delivers his finest work to date. Wonderful moments for your campfire!