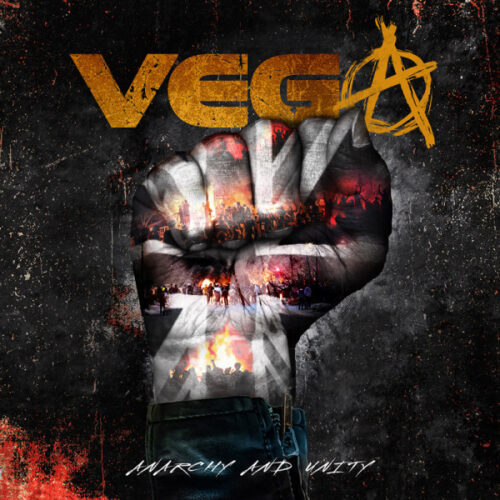 Review | Vega-Anarchy And Unity
Frontiers Music srl
UK band Vega is a formation that was (and still is) a pure joy to follow. The band nowadays consists of the twin brothers James (keyboards) and Tom Martin (bass), vocalist Nick Workman, guitarist Marcus Thurston and the latest recruits Pete Newdeck (drums) and former Inglorious guitarist Billy Taylor. Pete and Billy joined the group after the release of the sixth album 'Grit Your Teeth'.
Kiss Of Life
An awful lot has changed since the release of the first album 'Kiss Of Life' in 2009. Starting out as an AOR rock band slowly but surely Vega integrated into a much harder rocking band. More recent albums like 'Stereo Messiah', 'Only Human', 'Who We Are' and 'Grit Your Teeth' were showcases of the subtle changes in the sound and approach of Vega. But one thing always stayed intact and that was a big portion of melody.
The core members (The Martins and Workman) always guarded that key ingredient with their lives but allowed themselves to further develop in the song writing department, bringing in new elements. It has been an intriguing journey for fans of this band to follow. Often bands just stick to a certain formula, as it was proven successful but not Vega. The music, sound and production always progressed into heavier regions leading ultimately into 'Anarchy And Unity', album number seven.
Robust
The total sound on 'Anarchy And Unity' is now more than ever guitar orientated, also helped by the super energetic rhythm section of Pete Newdeck and Tom Martin who really create swing but first and foremost more power and force. Taylor and Thurston really profit from that extra bundle of energy with their riffs, fills and solos while Workman keeps improving per album. Keyboardist James Martin is now more the man who adds the extra colour. I think it is safe to say that Vega sounds more robust than ever before.
There is a world of difference between the group that started out some twelve years ago and the group that is now active. But then a song like the gorgeous ballad ,,Live For Me'' could have been on 'Kiss Of Life', I guess, although the song halfway through changes into a furious heavy rocker with some classy guitar work before changing back again. Just more proof that the band always will put that huge portion of melody in their songs, no matter what.
Explosive
By improving on the writing, the playing and the production (I believe they kept that into their own hands for most parts) Vega has used the time that was available throughout the lockdown extremely well and now they are ready to take this show and songs such as ,,2Die4'', ,,End Of The Fade'', ,,Beautiful Lie'', ,,Sooner Or Later'', ,,Had Enough'' and ,,Glow'' to the stage for some explosive shows. I would not be surprised if 'Anarchy And Unity' as a whole will be played on stage as this record is their most mature in their history so far. But then you do not want to dismiss your past, do you?