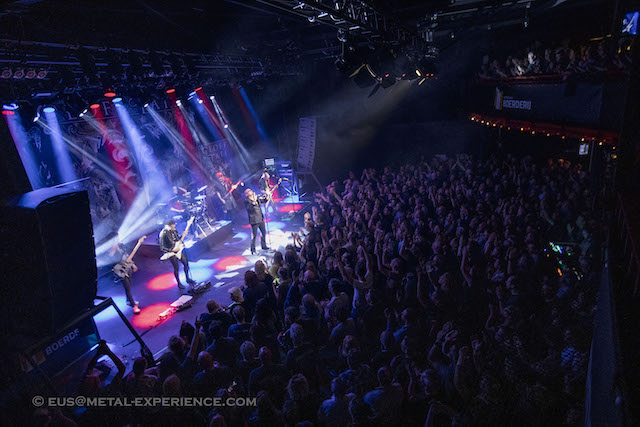 Exclusive | Geoff Tate's guitar aces on tour – Road Trip
March 22, 2022 - Boerderij, Zoetermeer [NL]
Called back into action only two days prior to this concert, I look forward to the day. Geoff Tate and his band commit to performing no less than two albums in its entire during this world tour. Queensrÿche is arguably their most mainstream anticipated album. Following the immense success of acclaimed metal classic `Operation: Mindcrime', that reset the boundaries of the genre with its mind-boggling concept and top-notch musical marksmanship, `Empire' pushed them towards world fame selling out arenas all over the globe, and in their homeland. My absolute favourite however is the dark and ominous predecessor `Rage For Order', of which the first set will be comprised. An album bold as brass fitting the current state of the world.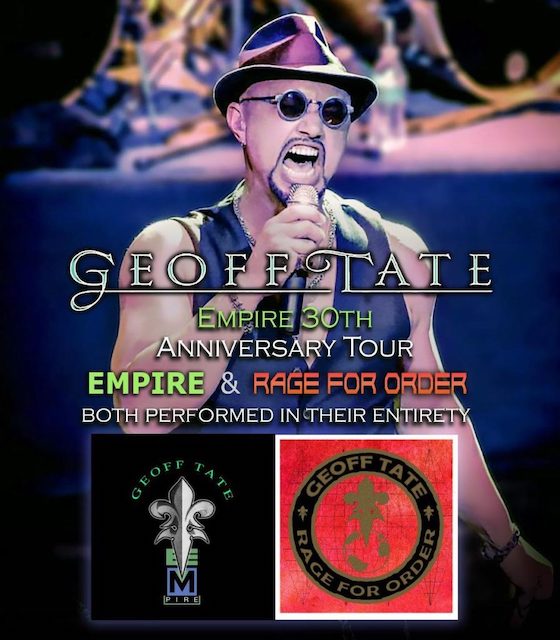 HEADLESS AND WARWICK
Invited by Tate's European guitarists Walter Cianciusi and Dario Parente to hang out and spend time together with Dutch bass player Martin Helmantel (7MTP, Elegy), with whom they play in Headless, recently releasing their 2nd album `Square One'. Commuting together I meet Martin at his home for a quick coffee and a brief update on a possible new 7 Miles To Pittsburgh record. A conversation which continues later in the car, but first I get to see his brand-new bass guitar. Being endorsed by Warwick basses since his Elegy days, he grabs the newest loot of the family, a customized Streamer model with gold plated hardware and pick-ups, and personalized inlay in bright pearl.
Most impressive is the bodywork crafted out of rum barrel finished oak. To enhance its depth and rich colour, Warwick used a special charcoal finish emphasizing the rich toned wood structure. An amazing piece of art that, according to Martin, also sounds as vibrant as it looks. Guess what: I believe him.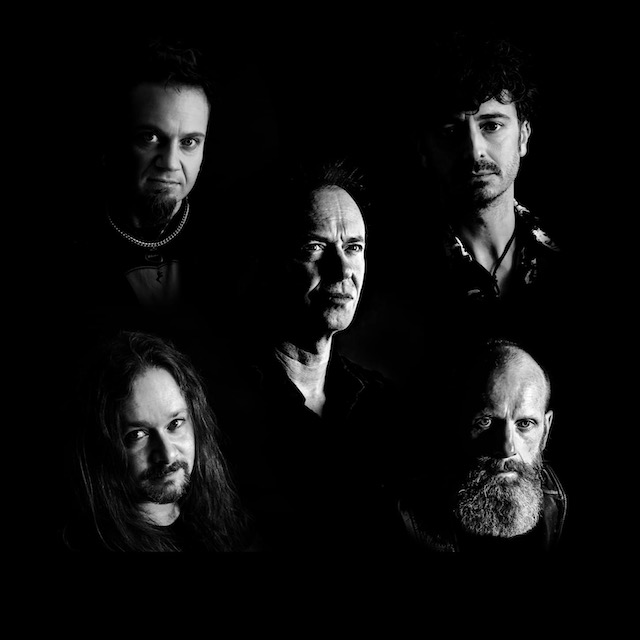 7 MILES TO PITTSBURGH
On the road to Zoetermeer the new 7MTP album is hinted once more. "We're working on it and tracking recordings for the songs", to continue; "…with the world returning to form and bands picking up their tours again, we soon found Andrew (Elt, singer) to hit the road with again with his Zep cover act (Physical Graffiti). Aside, Walter Trout and Kenny Wayne Shepherd came knocking, setting us back a couple of months". As to why they didn't record an album during the pandemic lockdowns when all musicians had zero touring obligations, his answer is somewhat surprising; "Why would we? There was no possibility to perform the new material onstage, making it less interesting. When we release an album, it is key to tour and support the new material. Get on stage and perform, it is key."
It is an unexpected answer as many bands and performers found time to record and release new material. A different approach, but certainly one that holds up. 7 Miles To Pittsburgh is a true at heart live band that belongs onstage.
In hindsight it depicts the current record business in which bands are only rarely signed to a label, or have to actually pay their own recording in full upfront. "We invested an amount of money each. This enabled us to record our music the way we want it. We keep control of the master recordings and have creative freedom. By doing so we managed to recoup our investments with every album. Our distributor, Suburban, does a good job making it accessible to the fans out there. It pays the bills and by playing live, we make some money selling our merchandise. For us it is an ideal situation. Sure, the old days are over, but it also enables bands to get back to basic."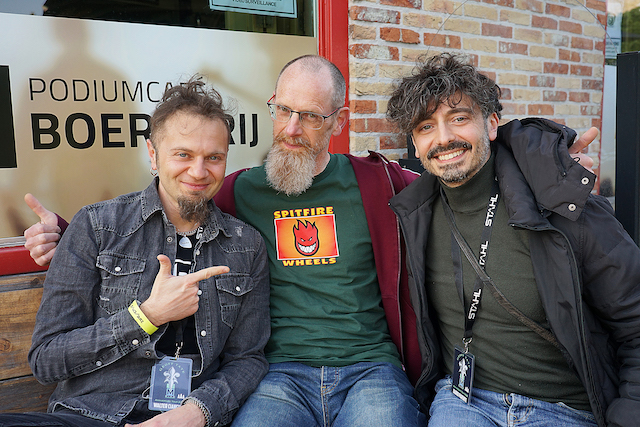 WALTER AND DARIO
It is these facts that also come by later when we meet with Walter and Dario. With their 2nd Headless album awaiting a vinyl issue, the guitar tandem is eager to get on stage to perform their new tracks as a band. That being said, they have some news to share. They have been opted an opening slot for a possible European tour early 2023. It all depends on the availability of the other members of the band. With Martin immediately acknowledging his participation, key is to get their singer Göran Edman (Malmsteen, Madison, Street Talk, Kharma, etc etc.) on board for these shows, which possibly mean a full month of touring: "We only have to convince his wife…."
This brings the story of the Headless video shoot, when Göran walked into the coffee bar for breakfast ordering a JD, needed to crack the day as it was going to be long and intense. "At least I now know how to get a smile on his face", Martin adds. And hot it was according to Walter. "The video crew assured us the old factory we were filming at was safe when a section of the roofing came crashing down." Laughter by all. "We didn't fear for our lives, but didn't feel safe either", Walter adds. Pointing out how hot it was back then, much like today enjoying the sun. It sets the tone for stories about touring. "Sharing the tourbus with no less than 18 people must be a new record."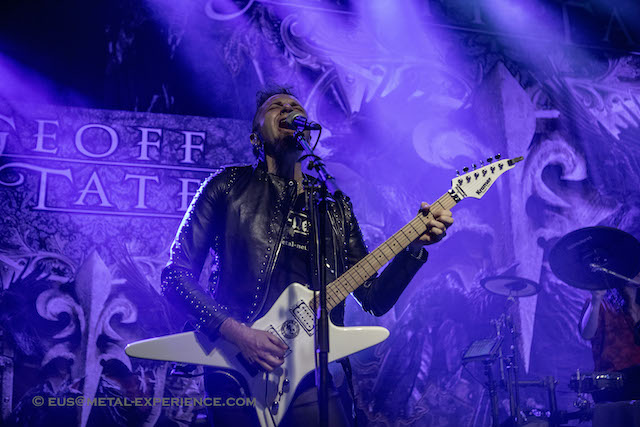 LAUNDRY DAY
All three bands are in the bus and it is packed. With the washing machine fixed, they have to keep an eye out for their clothes to be transferred to the dryer. It sets off the memories of touring with Elegy and their guitarist and band leader Henk only bringing one set of clothes, buying socks and underwear on the road. Shirts? "He picked one up every night at the merch boot", Martin adds. It triggers an abundance of tour stories from the band's heydays. Performing for sold out venues in Japan and returning home to play in front of only 30 paying visitors. How to get by on the road. Hours spent at tour buses and not visiting renowned sites based around the corner. "Only the Parthenon in Greece we visited as a band. The picture featured on the 'Lost' reissue perhaps is the only band shot with all of us in it, on the road. But this massive structure was based right next to the venue. Or at least, that's what it looked like. It was a freaking climb to get there. Probably why we all went our separate ways on tour afterwards", bursting into laughter again.
It brings back fond memories that Walter and Dario enjoy. It is actually how they came up with Martin as the bass player for Headless, Walter admits: "We both were Elegy fans and simply got in touch with Martin. When we asked him to record with us, to our surprise he immediately committed", bringing him to the question what is taking Dirk Bruinenberg to arrive. Bruinenberg, the former Elegy drummer living nearby and promised to join us. Countless phone calls and messages follow. It will be an after-show meeting, he promises.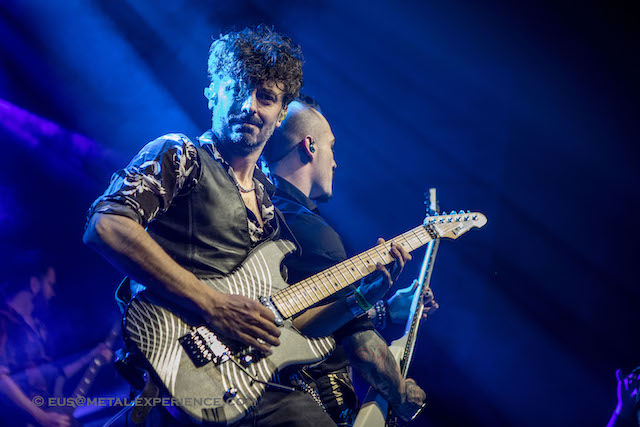 STATE OF THE ART
Enjoying the sunny terrace and a beer from the tour bus, Dario and Walter go deeper into touring with Geoff Tate's entourage. With no less than three guitarists (Kieran Robertson as well) it is a true wall of sound, Walter admits. When we get deeper into the matter of playing, it soon comes clear that the shows are state of the art. All players relay on in-ear devices and tracks ensure a perfect performance. "I still have one of my earbuds out to feel the feedback and kick from the audience", Dario admits. All of this technique brings these state of the art Queensrÿche album to live. 'Rage for Order' and 'Empire' are albums packed with digital effects and large choruses that need to be triggered in the sound board. "Daniel (Laverde, drummer) plays on a digital kit so we feel no kick on stage". As a fan of music and organic sounds, I push to mention that I don't like the sound of these generic drums. However, I can imagine the deep sound of 'Rage for Order' comes to live perfectly with this digital sound.
Both guitar players embrace technical equipment to bring out the best in their performances. Not relaying on soundchecks like in the old days, the mix is always spot on. The listener benefits from a perfect show.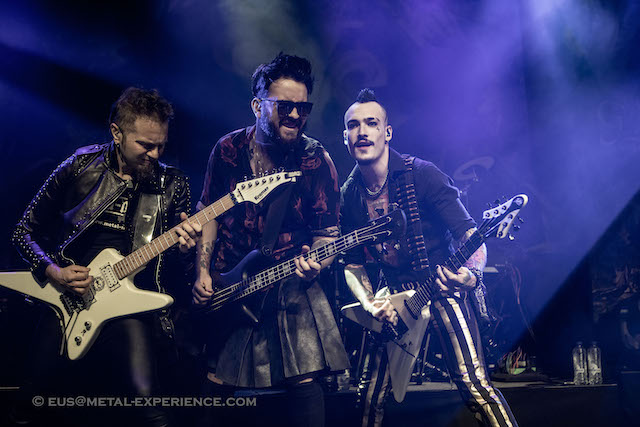 ROCK ROYALTY
Dirk joins us just prior to Walter and Dario taking the stage. Sharing a beer at the upstairs bar, we see the remaining part of Sons of Sounds gig and Darker Half performance on the bar's screen. Rock royalty in his own area, Dirk is the most modest person one can meet (much like Martin himself). Always in for a joke, and he literally seems to know everyone in the sold-out venue. It is an off and on of friends and fans, in the bar where we hang. Impressive to see how a modest man can be so appreciated. "Man, you should have seen Aquiles Priester (Angra, WASP, DragonForce, etc.) meeting with Dirk. He got on his knees", Martin recalls. A drummer Dirk emphasizes to personally admire as well. "Awkward moment", Dirk laughs. "These guys grew up with Elegy and loved what we did, can you imagine?". It is a moment he'd better keep in mind as it would happen again this same day. "Things have certainly taken a turn when I signed the endorsement with British Drum Company. At NAMM I met so many people. Hanging with all these people also endorsed by BDC was just awesome. Exchanging stories, meeting mutual friends and contacts. You get in touch with so many fellow musicians and fans of your work. It amazed me."
It is amazing to see Dario and Walter after the show putting Dirk on a pedestal. Definitely Dirk and Martin are childhood heroes, but it is especially wonderful to see their mutual respect.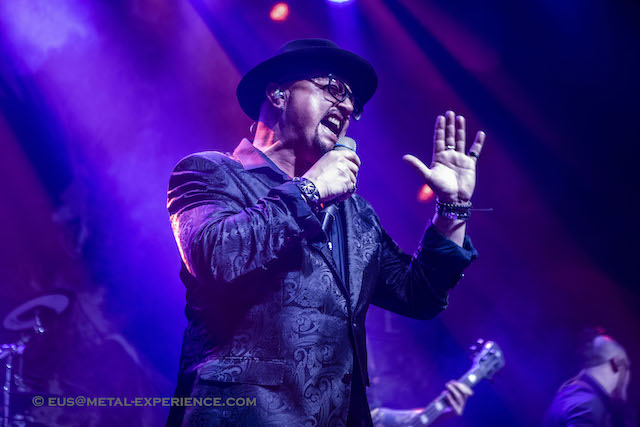 THE CONCERT
Witnessing the integral performances of 'Rage for Order' and 'Empire' was high on my bucketlist. Especially 'Rage for Order' came to live vividly and the deep and dark sound was recreated perfectly. A wall of sound was laid upon the audience enjoying the performance. The interaction with Walter, Dario and Kieran was excellent, with the latter also being a true at heart frontman rousing the audience. The foundation of drum and bass was impressively heavy. Tate himself was the characteristic showman we know and love so much. Interaction with the audience was high and he admitted one of the things on his personal bucketlist was the performance of 'Rage for Order' in its entirety.
The ominous and gloom of the record perfectly fitting the current state of the world Tate revives the deep sound of their heydays. On top of his game with suggestive hand gestures and short one liners he takes the album afloat easily.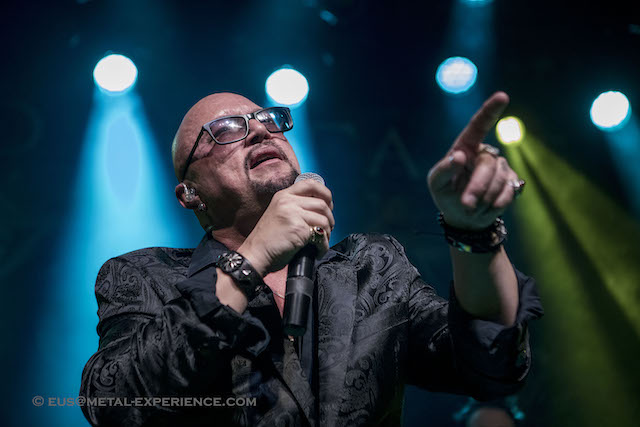 HIGHLIGHTS OF `RAGE FOR ORDER'
The technical aspect of the show is high with backing tracks being keenly implemented where needed. The massive choruses are multi layered and triggered, sound effects are all in place and perfectly timed. Geoff's voice toned down slightly he interacts with the backing tracks perfectly. Well-orchestrated he refrains from the extreme high pitches, backed on tracks running with him. I'm not sure how much of his performance was tracked, but the sections he performs live are all still on par.
Highlights of the 'Rage for Order' set are in my opinion the amazing thriving powerhouse set opener ,,Walk In The Shadows", and the rousing hard ,,Surgical Strike" driven by the wall of guitars and impressive soloing. Walter and Dario not missing one lick and are spotless in performing DeGarmo and Wilton's guitar interaction and impeccable twin solos. Kieran joins frequently in the interaction enlarging the guitar potion or laying down a jaw dropping solo when he is not making fun with the audience and his peers. ,,Gonna Get Close To You" and ,,I Will Remember" show the sophisticated side of the band that performs the album integral with no weak spot in place.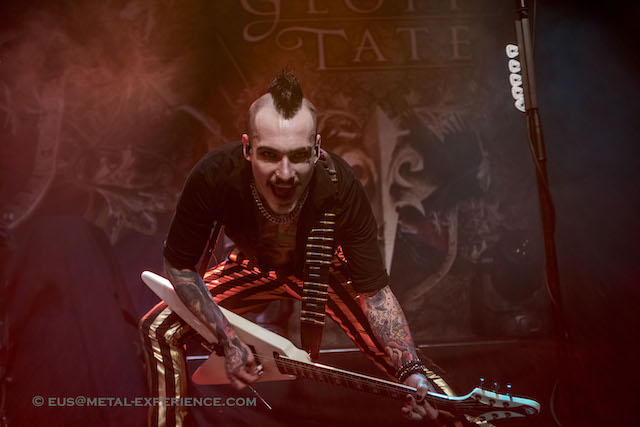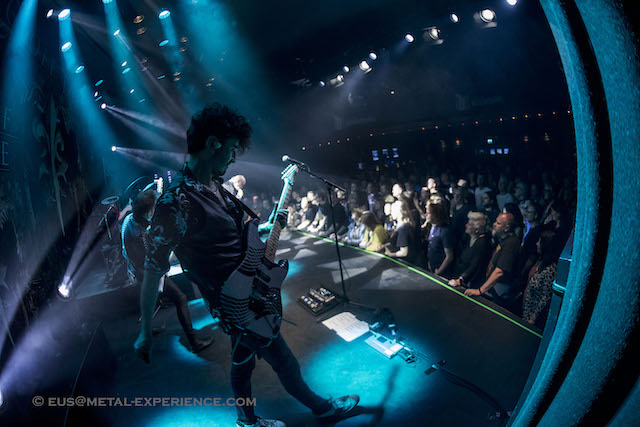 EMPIRE
After the intermission Tate and his men take the stage for the performance of 'Empire', the Ryche's bestselling album. More reliant on vocal tracks and large choirs, this chop is a more clinical sounding experience, but the performance of the band is spotless. ,,Best I Can" sets the 'Empire' in motion and all songs are sung along too loudly by the large audience. It is a celebration of memories. All 'hits' pass by in rapid motion and with load orchestral tapes backing. ,,Jet City Woman", ,,Resistance" and album's powerful melodic title track. With my eye on Larverde's drumming I miss the deep splash strokes. The resonance of 'Empire' suffers and gets somewhat distorted and disorganized. The complexity of Rockenfield's drum structures and dynamics seems to smother in the overall drum sound once or twice. Technical issues likely?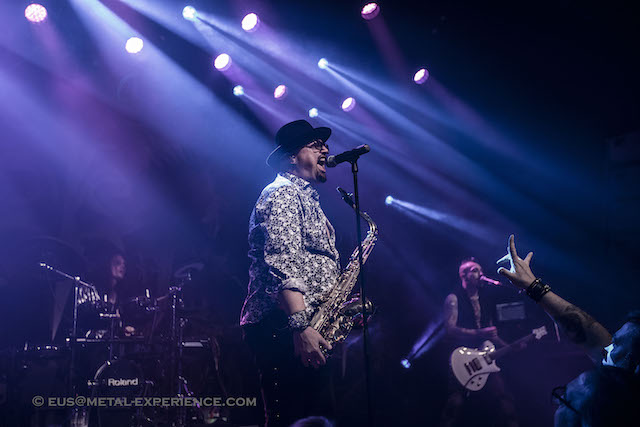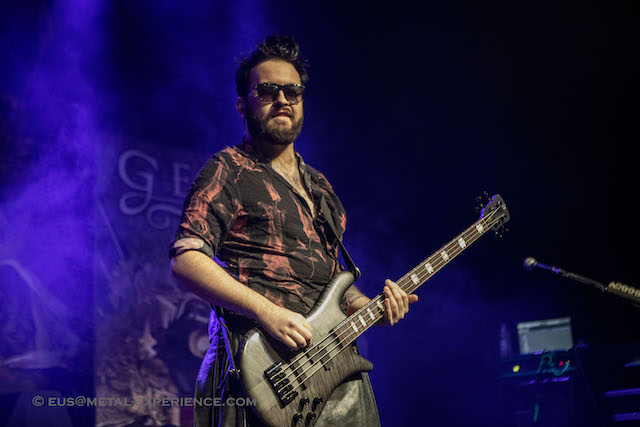 STORYTELLING
Tate takes a moment to share the story of him being sent to shop for groceries for the first time in decades. Being tugged away at home he was suffering from the pandemic and shopping was a whole new experience. Meeting a fan in his hometown gives the story a nice twitch. The man asking if he wants to take a selfie sharing the story of how much Tate's song helped him through a bad period in life. Geoff remembers the awkward story of two guys in the aisle hugging, much to laughter of the audience. But which song it was that took such a prominent place in life for this fan, he forgot to ask. He went back to ask, to hear it was "Silence In Tennessee", as he burst into genuine loud laughter. The Ryche's ,,Silent Lucidity" follows and is performed in a timid setting.
When the song hits the pompous loud section, the band displays sheer power. Walter and Dario switched places handling solos in the 2nd set we also see the mutual respect and Tate's praise for these great players. ,,One And Only" and ,,Anybody Listening" wrap up the performance of 'Empire' much to dismay of the audience screaming the band back to the stage for mandatory encores.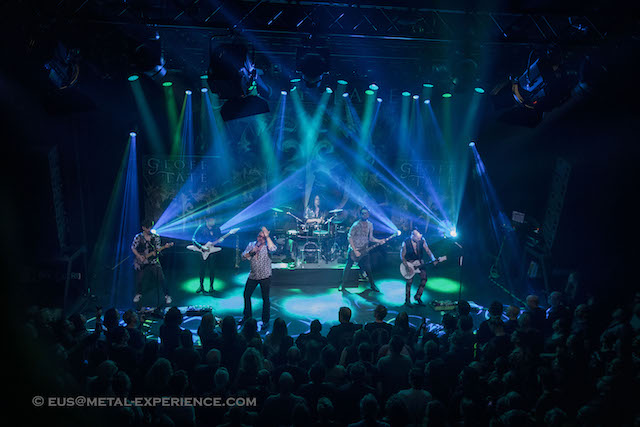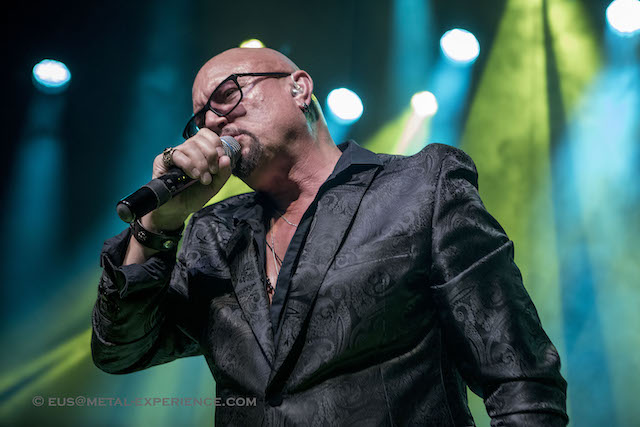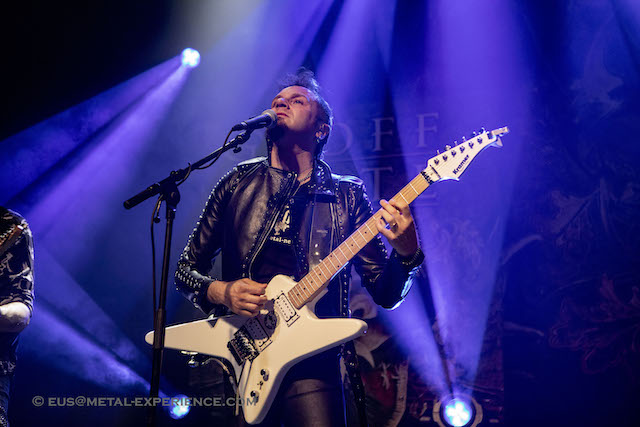 A NIGHT TO REMEMBER
Geoff reflects on touring the globe again and his visit of so many countries. All the experiences canalized into lyrics he recalls fond memories of his time spent in Paris and writing the lyrics for ,,Last Time In Paris", from the 'Empire'-sessions that became a B-side extra track later on. It flows into ,,Take Hold Of The Flame" the perfect show closer that put a mark on his career and recording days with Queensrÿche. Geoff Tate has proven that technical assistance and putting up a live show tonight go hand in hand. With the tracks at help the band managed to revive the larger-than-life sound of both records creating a spotless rendition of these ground-breaking songs.
Not always my cup of tea (I admit) it was certainly a night to remember and memorable performance. The intermission took the speed out of the performance which wasn't helping. 'Empire' was welcomed by the audience and clearly favoured by most. 'Rage for Order' to me won hands down, but that is personal.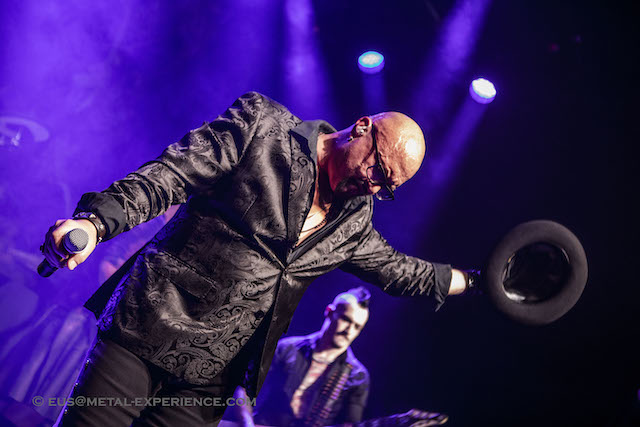 THE SUPPORT BANDS
Both support acts put up a solid performance with the audience participating. The German band Sons Of Sounds took the stage early and made the best of it. Only partially filled, Boerderij gave enough feedback to make an impression. Packed with enthusiasm the band won the hearts of most, even though the gig felt somewhat disorganised. No harm done.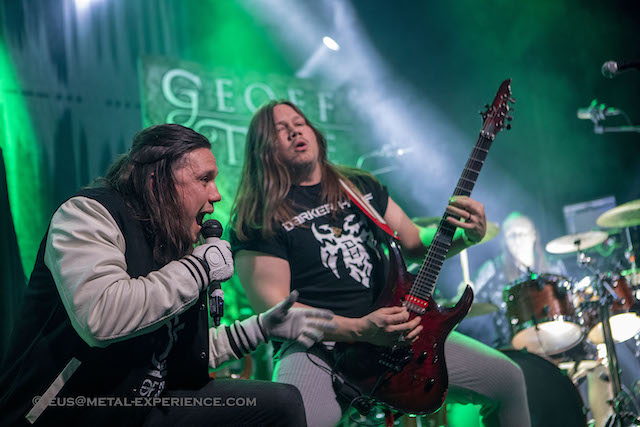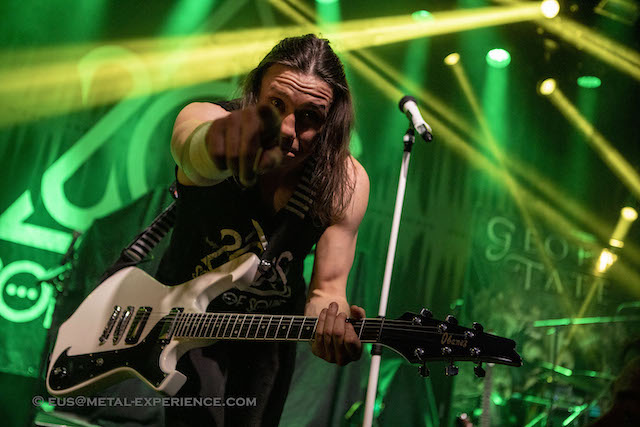 Darker Half brought a different game to the plate. Largely focussed on their music, these Aussies took their technical metal to a different level. Powerful and with impressive harmonies performed by a seasoned band that clearly had the odds in their favour. Powerful metal and great varied vocal work dominated the band's performance, and they were blessed with an excellent sound, making the gig a pleasure to experience.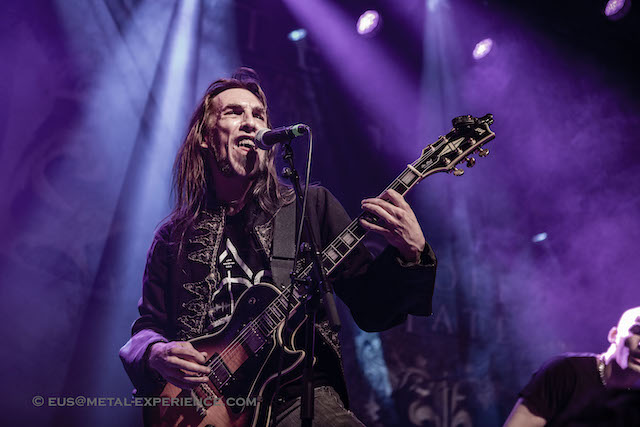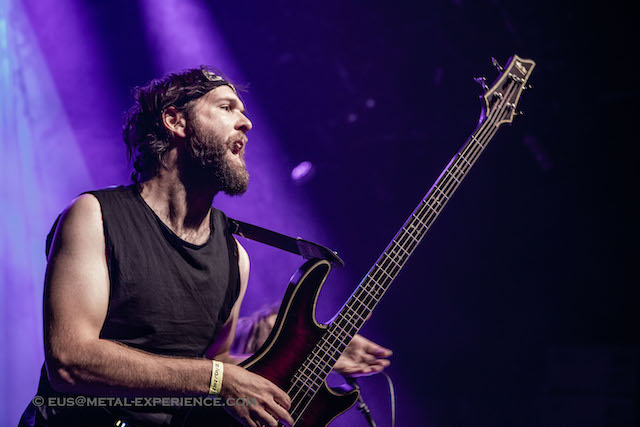 A more in-depth review of Geoff Tate's anniversary tour will be featured on our HBLS pages covering their upcoming show at German Rockfabrik on May the 1st.
All Live Photos by Eus Straver of Metal Experience