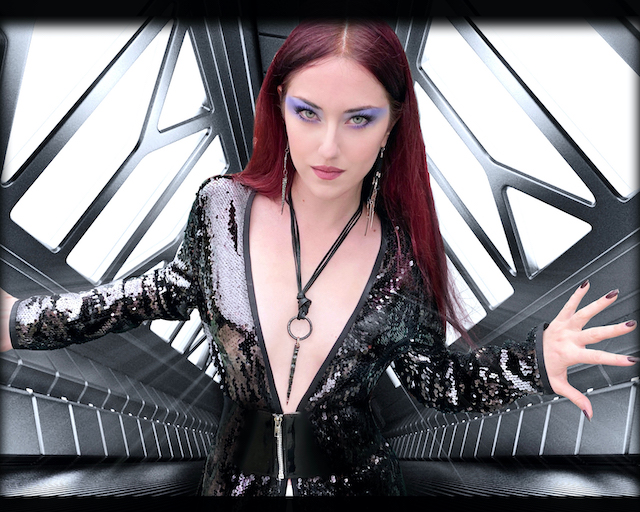 Spotify | 10 Favorite Songs Of Margarita Monet
Singer of Edge Of Paradise
Recently HeadBangers LifeStyle's Lilo had a video interview with the very talented Margarita Monet, singer and co-founder of the American metal band Edge Of Paradise. The reason for that interview is the upcoming release (July 14th, 2023) of their new, fifth studioalbum `Hologram', their best work yet.
Exclusively for HeadBangers LifeStyle, Margarita selected ten of her favorite songs, which you can find on this week's HBLS Hotlist on Spotify. Including a short comment on each track.
LISTEN TO MARGARITA MONET HER PERSONAL HOTLIST HERE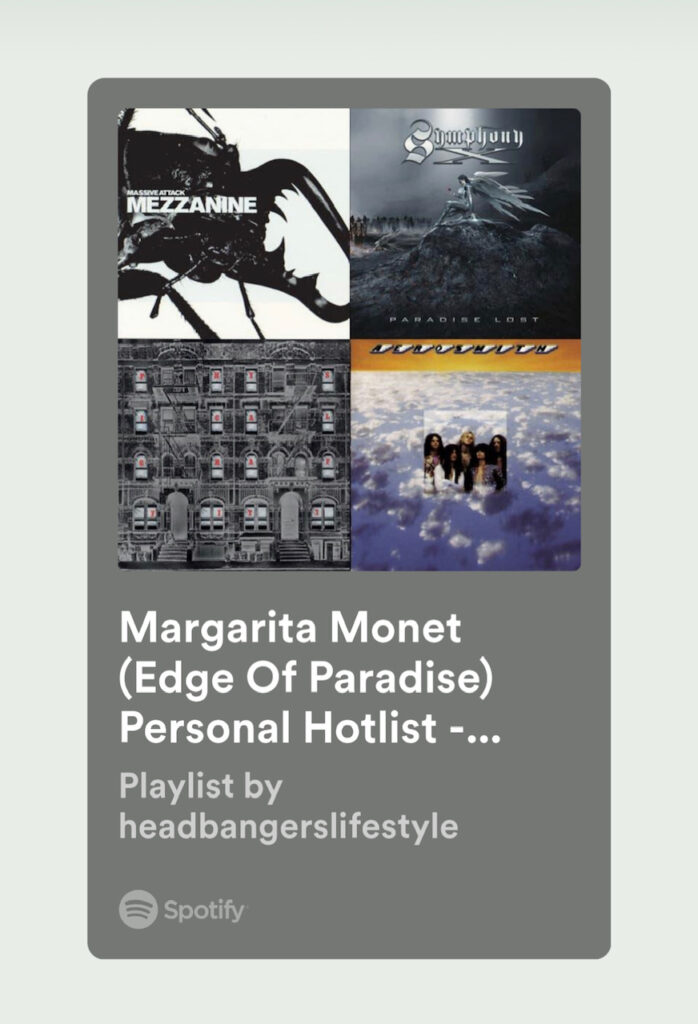 MARGARITA MONET EXPLAINS
KASHMIR – Led Zeppelin
This was probably one of the earliest memories for me, hearing rock music, as grew I up playing classical piano, so I wasn't really exposed to much heavier music till later. But my parents had VHS tapes of Led Zeppelin live concerts and seeing them play this song, it was so epic, made such an impact on me, and I remember thinking I could never in a million years do anything like that!
SERPENT'S KISS – Symphony X
I remember moving to NYC for college and coming across this band on YouTube. Since I was a pianist, I thought those keyboard solos were the coolest thing 🙂 Just the back and forth between guitars and keys and such powerful vocals, I fell in love with this song and with the band!
ANGEL – Massive Attack
Such a classic, I absolutely love the atmosphere this song creates! I love music that can transport you to a different world, and this song definitely does that. One of those songs I could listen on repeat over and over again!
DREAM ON – Aerosmith
Such a powerful song! I always listen to the words and the lyrics in this song are so personal and honest and the melodies carrying the words just get right to the heart!
HURRICANE – Thirty Seconds To Mars
I always loved how this band created music videos for their songs that are almost like short films, and this song is a perfect example if you've seen the music video for it. I love the atmospheric drums, the keys, the melodies, the lyrics… I love a song that leave you thinking about it as it ends!
CHILDREN OF THE SEA – Black Sabbath
I absolutely love Ronnie James Dio, his legendary voice as always been an inspiration. I love this song and we've covered it before! I love how the lyrics paint such a vivid world, the story, the grooves, everything is interlaced in an epic way!
STILL LOVING YOU – Scorpions
One of my favorite voices in rock! And I love the lyrics, the emotion behind it, the music! I love songs that make me feel something and this definitely evokes emotion and I could listen to this song over and over again!
WELCOME TO THE JUNBLE – Guns N' Roses
I love this song, it's so much fun and it has a significance to me since I met Dave Bates, who's my co-founder of the band, I remember I walked into the music store and he was doing a guitar clinic, and first time I saw Dave, he was playing this song! And of course, we had to cover it with Edge of Paradise and put our own spin on it 🙂
ENGEL – Rammstein
I love Rammstein, the industrial sound, the heavy grooves and of course, the fire!!! 🙂
SHOW ME HOW TO LIVE – Audioslave
This song just goes straight to the heart, for many reasons, so let's turn this one up and appreciate the power of music!
Header photo: taken from the `The Unknown' press kit
About
Edge Of Paradise is an American hard rock/heavy metal band formed 2011 in Los Angeles, California. Founding members are vocalist/pianist Margarita Monet and guitarist Dave Bates.
Genre
Hard Rock, Heavy Metal
Website
https://www.edgeofparadiseband.com/
Social
Tags