Interview | Thundermother
Back on Track
End of January news broke that history was repeating itself for a second time in the career of Thundermother. Leading rock lady, guitarist Filippa Nässil again faced the task of regrouping her beloved band and preferably as soon as possible because the 2023 dates for the 'Black and Gold tour' had been fixed for some time. Including joint dates with the Scorpions, with whom the band had already done a successful US/Canada leg in the fall of 2022. In no time Filippa managed to bring back on board bassist Majsan Lindberg, who quit the band about a year earlier for personal reasons. Linnéa Vikström who we know from Therion and the At The Movies project was announced as the new singer and shortly it was revealed that French born Joan Massing would become the new member behind the drum kit.
Of course, I'm glad the Thundermother ship is back on course so soon, but what would the new line-up be like? What would the band's chemistry be like now? The gig in Dortmund was the 4th in this new formation. High time to have a chat with the ladies and fortunately these good-humoured ladies [all four of them] took the time to speak to Headbangers Lifestyle shortly before their gig in Dortmund. Since it was also Mother's Day, we renamed it Thunder Mother's Day.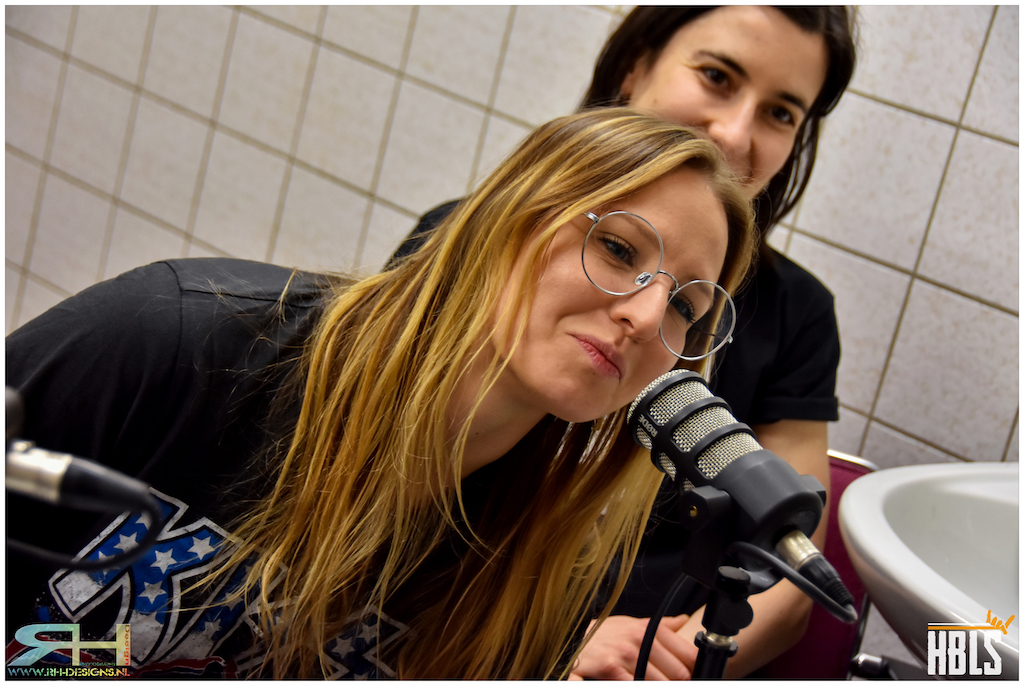 FULL BLOWN ROCK 'N ROLL
Ladies, of course we all know Filippa and Majsan is the other familiar face in the band.
,,Yes, that is correct, you are looking at Majsan I suppose…''
We got the new singer Linnéa.
,,That would be me, Linnéa from Stockholm."
And we have Joan from France.
,,Hello."
Happy to see 4 smiling faces before me, how are the shows going?
Filippa: ,,Really, really good. We had a headline show yesterday and ….. we still can't believe what happened. It was amazing and it is going so well and we're having a great time. And tonight, it will be a set of 40 minutes of full-blown rock and roll without a break so hold on to your chair, or even better stand up, because we are gonna make everyone ready for the headline act. And get them pumped, so they will scream even higher when the Scorpions enter the stage tonight.''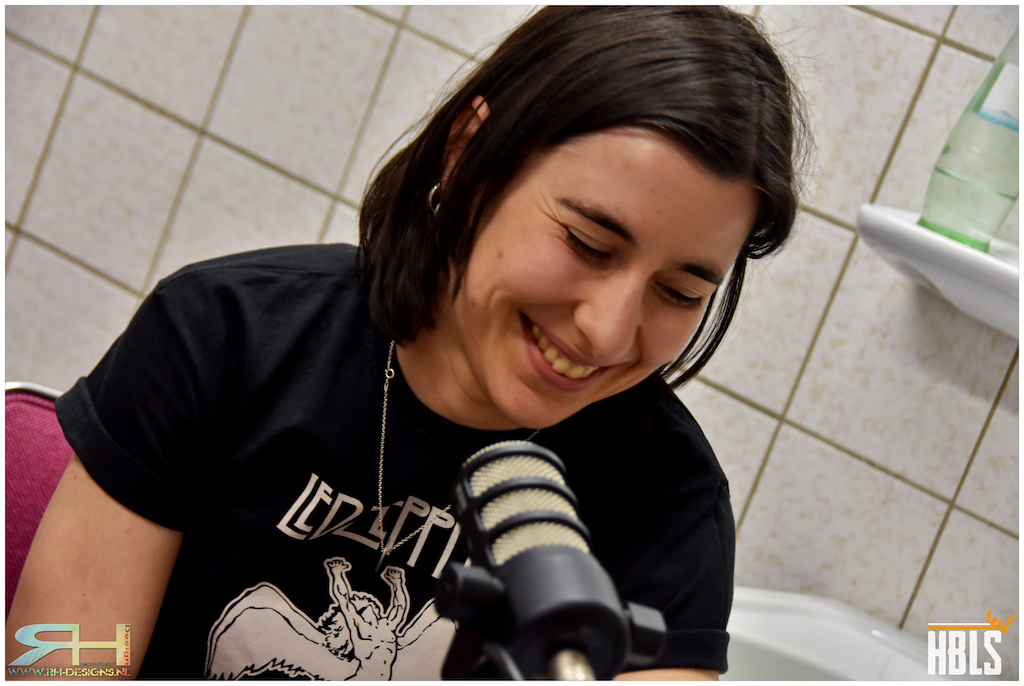 THUNDERMOTHER BREAK-UP
To go a little bit back in time Filippa, you had to regroup, how difficult was that and to ask Majsan back in the band was maybe the easiest move, but for the rest, was that a logical choice for you?
Filippa: ,,Yeah, I mean, we had some difficulties and a painful breakup last year, which was announced end of January, but Majsan came back. She was an obvious choice to call and she knew about everything, as we remained still close friends during her year off and she really wanted to come back. So that was perfect timing. And then Linnea, the amazing singer next to me, she got asked to be in Thundermother 7 years ago, but she was too busy then with Therion.'' 
And more recently from At The Movies, with great renditions of classic (pop)songs.
Linnea: ,,Yes, that helped a lot of people during the pandemic.'' 
Filippa: ,,And of course we also have Joan Massing on drums now.''
Yes that is a good question. How did they find you?
Joan: ,,Oh, it was very simple actually. I texted Filippa on social media, started to have a little chat by texting each other and very quickly we decided that I had to come to Sweden, so we could play together and see how it would fit between us. Because we were looking for the same thing, so that means we need to be a good fit humanly and musically. And I think it works great. So, it was very simple, but that's the truth.''
So she texted you Filippa, 'I want to be your new drummer!'
Filippa: ,,Yes that was all of it.''
Joan: ,,I texted, I'm ready to be the new drummer of the band.'' 
Filippa: ,,Loved the confidence and I checked her out  and it appears she has the same musical taste, which is something I really appreciate and having a female drummer that's into classic rock. That's really cool.''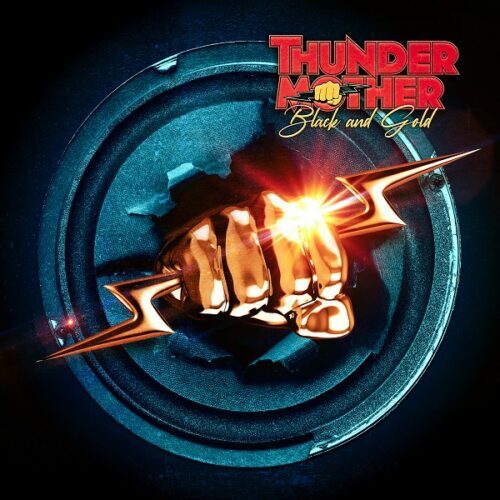 THUNDERMOTHER – THE TOUR
You already played before with the Scorpions last year.
Filippa: ,,That was fantastic!''
I can imagine, but how did you arrange something like that, to be the support act for the Scorpions for the US/Canada leg of their world tour?
Filippa: ,,Well, we were lucky to get an e-mail from their LA booking agency, that they wanted to sign us on, because they really liked us. And they wanted to put us on as support for the Scorpions. They actually work with a lot of cool bands, like Beyonce and AC/DC so we are very happy with this new agency we have got signed to.''
Next tour will be Thundermother and Beyonce?
Filippa: [laughter],,Or Lady Gaga!''
What songs can we expect in your show tonight?
Filippa: ,,We're gonna do a kick ass show with ,,Loud And Free'', ,,Try With Love'' and ,,Driving In Style'' among others. You will see.''
Majsan: ,,And we will have a day off tomorrow, so we will also enjoy the Scorpions show and party along with the audience.'' 
You toured a lot during the whole pandemic period and always looked for possibilities, like the gig in Rockfabrik Ubach Palenberg. With an almost big German beerfest setting, where everyone had to sit anyway.
Filippa: ,,Yes, and it actually thanks to that we played during that time in our own way, that the US booking agency discovered us. Because there were no bands gigging in the world and we were out there, like gigging 4 tours during lockdown. It was crazy but fun!!''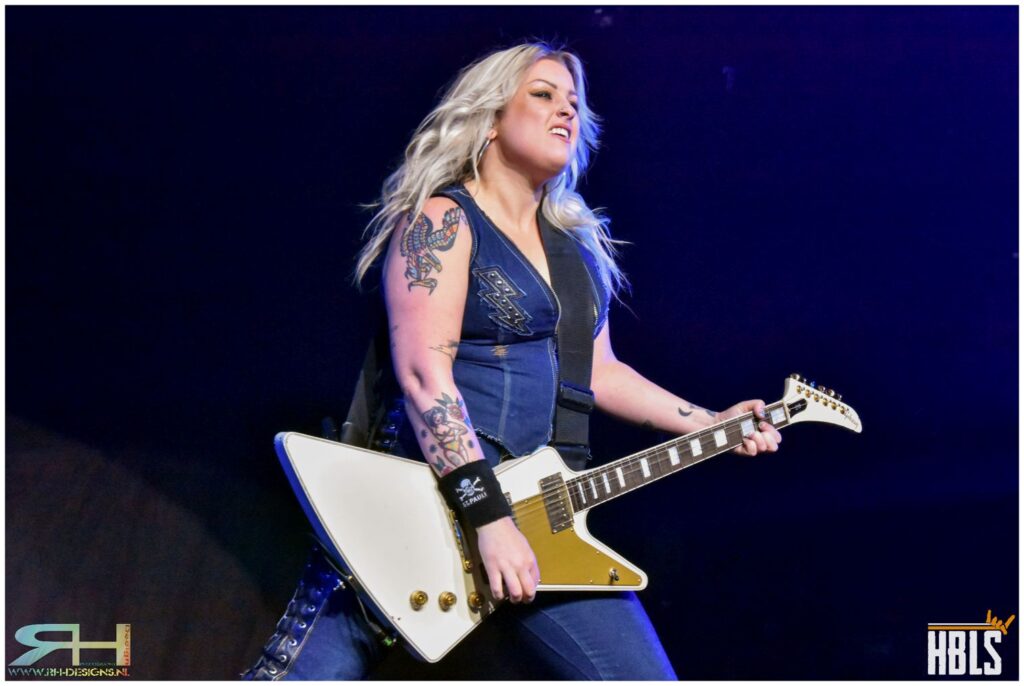 THE NEW ALBUM
This tour is going to be finished, are you already working on new material?
Filippa: ,,We are already writing and working on ideas and we actually play on the road for the first time.''
Majsan: ,,We have such a good chemistry and a lot of inspiration you know. From happiness comes creativity.'' 
Filippa: ,,So, we are stoked and have some really good stuff already.''
Not to be released this year I think?
Filippa: ,,The goal is early 2024, we will record it this fall, hopefully.''
That's great news and I would like to thank you for your time, do you have any last words for the readers??
Joan: ,,SHOW up at our gigs and have a good time."
Majsan: ,,Yeah, one life one chance, be there!''
Filippa: ,,We keep on fighting for rock and roll forever!''
Linnea: ,,Ow, wow my brain had a freeze moment. I want to say thank you to everyone for taking the time to come and see us. We're really happy that you are with us out there. THANK YOU!''
Once again, thank you for the music Thundermother and I can say the new line up kicked some serious ass on stage later that day in Dortmund.
All photos by Raymond Helebrand