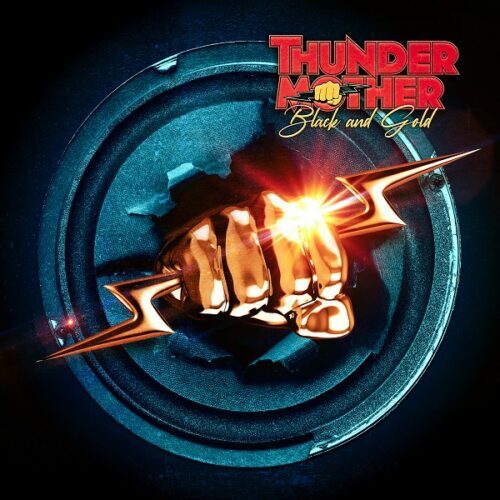 Review | Thundermother – Black And Gold
AFM Records
'Black And Gold' is the 5th album by Swedish rock and roll ladies Thundermother and is packed with some great hard rock songs.
This album is the successor to the successful 'Heat Wave' (2020), which a deluxe version was also released in 2021 with a number of new songs and some live and acoustic versions. Shortly after that release bassist Majsan Lindberg decided to leave the band for personal reasons and was replaced by Mona Lindgren.
AMERICAN MARKET
As far as I'm concerned Thundermother is a band that is constantly busy making new music and more importantly playing a LOT of live gigs. Despite corona, these ladies could be seen live wherever they could and that hard work clearly paid off. More and more people are embracing this band, finding the way to their concerts and the planned tour in the USA as support for Scorpions and Whitesnake will probably also open up the American market for the band.
TALKBOX
The band's musical concept has [thankfully] not changed on this new album. Just top notch hard and heavy rock with roots deep in legendary bands like Motörhead and AC/DC. No nonsense rock and roll, which is presented in a convincing way.
Album opener ,,The Light In The Sky" opens strong with a catchy drum riff, beautiful convincing vocals by singer Guernica Mancini and fat guitars. In other words, just a very tight and fat Thundermother song.
Title track ,,Black And Gold" is a top notch up tempo rocker that also has an earworm of a refrain. Clearly a song that was written with live performances in mind. The use of the talkbox by bandleader and guitarist Filippa Nässil is a new accent and the slide solo part is wonderful.
,,Raise Your Hands" is a mid-tempo track, even a bit more commercial and radio friendly. Here too a recognizable and catchy chorus is used.
GREAT PRODUCTION
Perhaps it is a detail that not everyone notices, but the rhythm section (drummer Emlee Johansson and bassist Mona Lindgren) is just very good and especially super tight, giving guitarist Filippa and singer Guernica the space they need to shine extra. That in combination with a great production by Søren Andersen makes it a pleasure to listen to this album.
With ,,Hot Mess" we slow down for the first time and we hear a classic, memorable power ballad, which has been put down in a very atmospheric way. Like all songs, this one will be a highlight during performances. And here too, singer Guernica knows how to hit the right notes with conviction. What a great singer this is!
,,Wasted" picks up some pace again and we get another delicious Thundermother uptempo song served. ,,Watch Out", the first song released earlier this year as a teaser for the album, is played tight and shows a sleazy side of the band. Yet again a great rock and roll song!!
INSIGNICIFANT
,,I Don't Know You" reminds me of Y&T's ,,Summertime Girls'' in terms of vibe. A straightforward song with a high sing-along content and a catchy melody. A real 'have a good time' summertime song. ,,Looks No Hooks" is certainly not bad, but as far as I am concerned it is somewhat insignificant compared to the rest of the songs on the album.
Fortunately, the ladies quickly find the well-known Thundermother vibe again with ,,Loud And Free", which also rocks to the motto of the band "We fight for rock n Roll". The 'Don't moan, just play' mentality of the band is fully present here.
,,Try With Love" also contains everything why I appreciate this band so much, just very well played, fat rock and roll of the highest ranks.

Is it all original and innovative? No, of course not, but what this band does, they do well and that's what matters.

With ,,Stratosphere" the band manages to put down another cool up-tempo song. Album closer ,,Borrowed Time" is a ballad that is beautifully written and, in my opinion, should be the perfect closing track during their live shows. A lovely song that is nicely broken up halfway through with a heavier part and then slides into a great solo part. A great way to close the album.

QUALITY
The craftsmanship of these 4 talented ladies can be heard on 'Black And Gold' and this album is a feast for the ears for every melodic Hard Rock lover. Thundermother somehow always knows how to conjure catchy songs from their pen and to perform them at a high level. Guernica has a wonderful voice for this type of music, Filippa is a very talented guitarist and songwriter and as mentioned before, Esmee and Mona form a more than great rhythm section. It seems clear to me that with this record the band can win over a large number of new fans.

Mandatory food for the Rock N Roll lover!! And if you have the chance to see the band live…GO!! ! Because this band always delivers quality.

Release date 19 August 2022