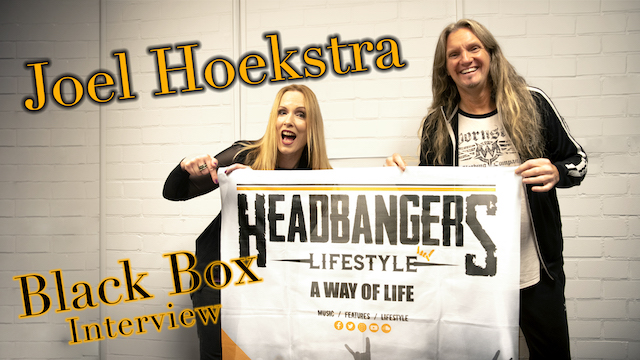 Video | Black Box Interview Guitarist Joel Hoekstra
And live impression acoustic show with Brandon Gibbs
ABOUT THE INTERVIEW WITH JOEL HOEKSTRA
It's been a while, but HeadBangers LifeStyle's Liselotte `Lilo' Hegt took the HBLS Black Box out. This time American guitar sensation Joel Hoekstra, known for Night Ranger, Whitesnake, Trans Siberian Orchestra, Revolution Saints, Broadway's Rock Of Ages, Cher, Joel Hoekstra's 13 and tons of collaborations and projects, got to open it right before his acoustic show with guitarist, singer Brandon Gibbs [Devil City Angels, Poison] at Poppodium Boerderij, Zoetermeer [NL].
If you want to know what's in the HBLS Black Box and how Joel Hoekstra reacts on each item, check out this video.
WATCH THE VIDEO HERE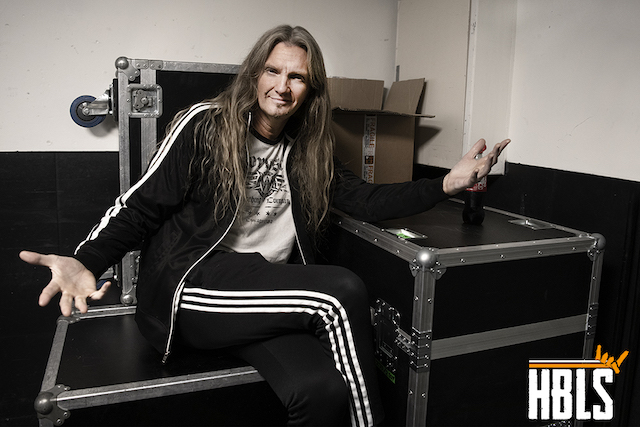 JOEL HOEKSTRA AND BRANDON GIBBS ACOUSTIC LIVE – 22 OCTOBER 2023 – POPPODIUM BOERDERIJ [ZOETERMEER, NL]
Guitar duo and longtime friends Joel Hoekstra and Brandon Gibbs [also vocalist] have been traveling through Europe over the last few weeks, playing acoustic shows in small clubs and pubs in a very personal and intimate setting. Tonight it is their last acoustic performance before heading back home and it all happens in the cozy cafe area of the well known Dutch Poppodium Boerderij.
The cafe is not fully packed but the dedication of the crowd is to the max, singing along with Poison's Billboard Hot 100 number one hit single ,,Every Rose Has Its Thorn" and also Whitesnake's ,,Love Ain't No Stranger" is received with boiling enthusiasm.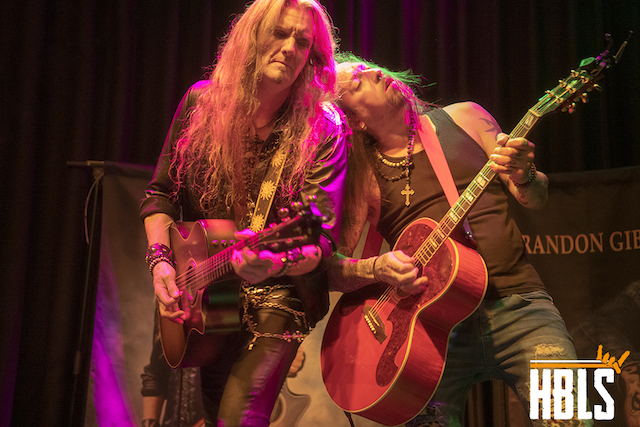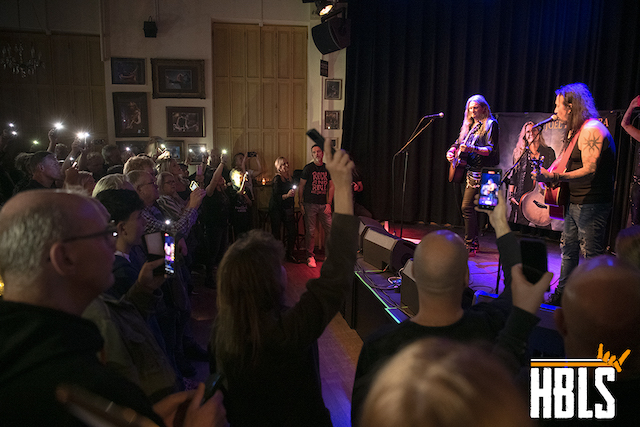 But it's not just big names that are featured in the setlist, their own work is also represented. Like the excellent tracks ,,This Town" [Brandon Gibbs], ,,Hard To Say Goodbye" and ,,Until I Left You" [both Joel Hoekstra's 13], ,,No Angels" and ,,Boneyard" [both Devil City Angels]. Brandon does the majority of the lead vocals and he is absolutely a talent and a very amusing frontman. Joel is backing him up and actually surprises us all by taking the lead in ,,Love Me Two Times" [The Doors]. A song that vocally fits him like a glove.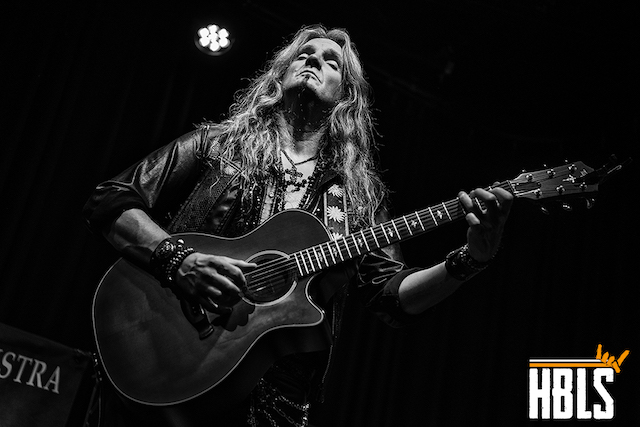 Both gentlemen give an acoustic guitar solo that sounds wonderfully exciting and infectious and with which they prove their talent and skills even in a stripped-down setting. This evening turns out into a cozy living room performance and the funny anecdotes and storytelling in between makes it even more up close and personal. It is a true evening with their fans and after the show Joel and Brandon take all the time in the world to talk, signing albums, and take pictures with the happy fans.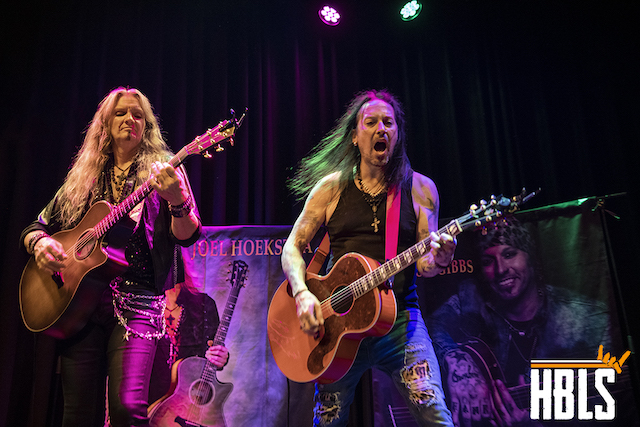 THE SUPPORT ACTS
It is Italian guitarist, vocalist, producer Marco Pastorino [Temperance, Serenity and Fallen Sanctuary] who gets the acoustic party started once he settles himself on a barstool.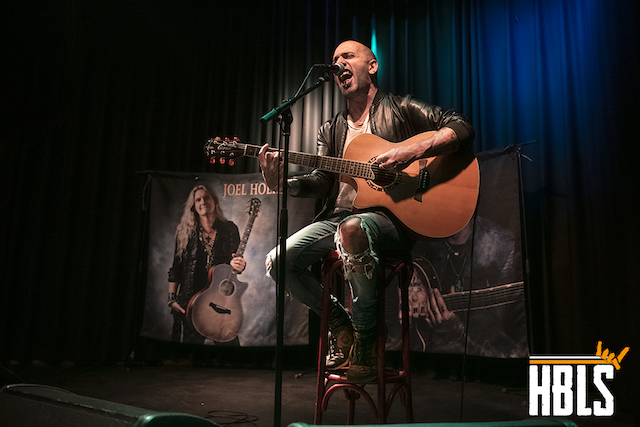 Right after LA based rock duo The Spider Accomplice serves their songs with spark and energy. Especially the pink haired and excellent singer VK Lynne [sometimes also guitar] is rocking the stage and very interactive with the crowd, in which she is frequently very hilarious. Good show.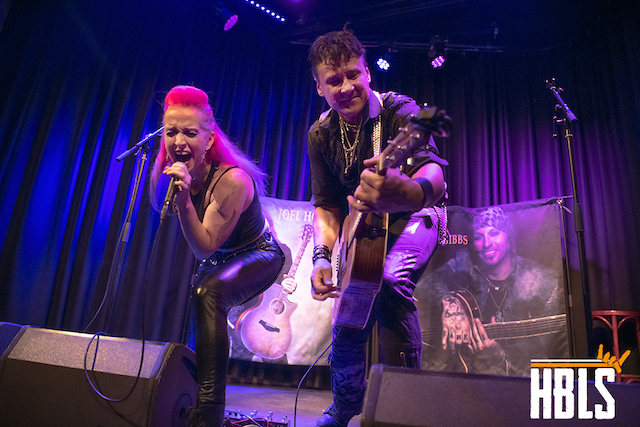 All photos by Dirk van den Heuvel of DCH Photography
Lilo loves wearing Hyraw Clothing