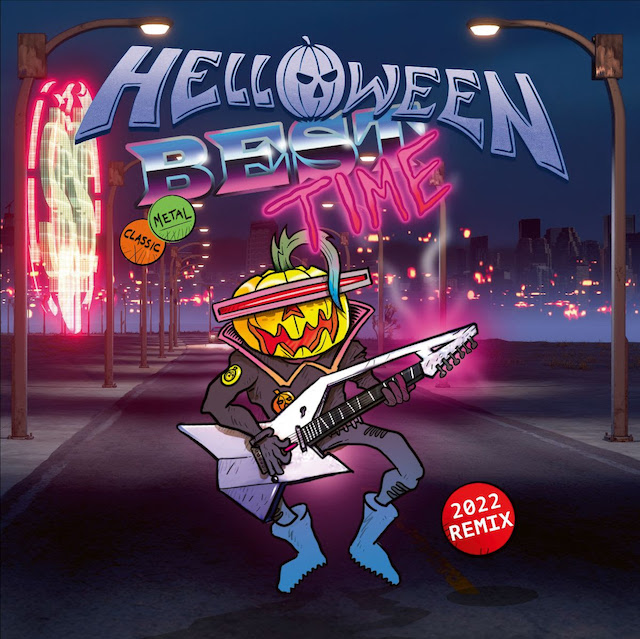 News | Helloween – Brand new single ,,Best Time"
Out Now!
+++OFFICIAL PRESS RELEASE BY ATOMIC FIRE+++
Helloween release brand new single ,,Best Time" and announce new music video including cameo of Arch Enemy's Alissa White-Gluz.
LISTEN/ORDER/DOWNLOAD HERE
The music video for the title track that includes a cameo of Arch Enemy's Alissa White-Gluz to premier on May 27th at 16.00 CET.
WATCH THE TRAILER HERE:
"[We're] feeling better in the neon light!" Oh yes, they are! Helloween have finally entered the stages again and successfully started their »United Forces« tour with Hammerfall at packed venues in the UK about two weeks ago. Reason enough for the German cult metal band to celebrate with their fans in the form of a new limited vinyl single, »Best Time« which is out today via Atomic Fire. Featuring a 2022 remix of its title track — THE party song on their »Helloween« album (2021) — on side A as well as an exclusive alternative vocal remix of the song on side B, it can now be ordered in three different colours via the links below!
Pink Vinyl @ Atomic Fire Records:
helloween.afr.link/BestTimePR
White/Purple Marbled Vinyl @ Pumpkins Store:
https://www.pumpkins-store.com/best-time
White/Blue Marbled Vinyl @ EMP:
https://www.emp.de/p/best-time/532190.html
But there's more to come: in addition, the group have recorded a 3D road movie music video for the single's title track that includes a cameo of Canadian Arch Enemy front-woman Alissa White-Gluz. Directed by Martin Häusler ('Skyfall'; 2021), the video will premier next week, on Friday, May 27th @ 16.00 CEST.
Watch the 'Best Time' trailer over on YouTube here
Set your reminders to not miss out on the video now, here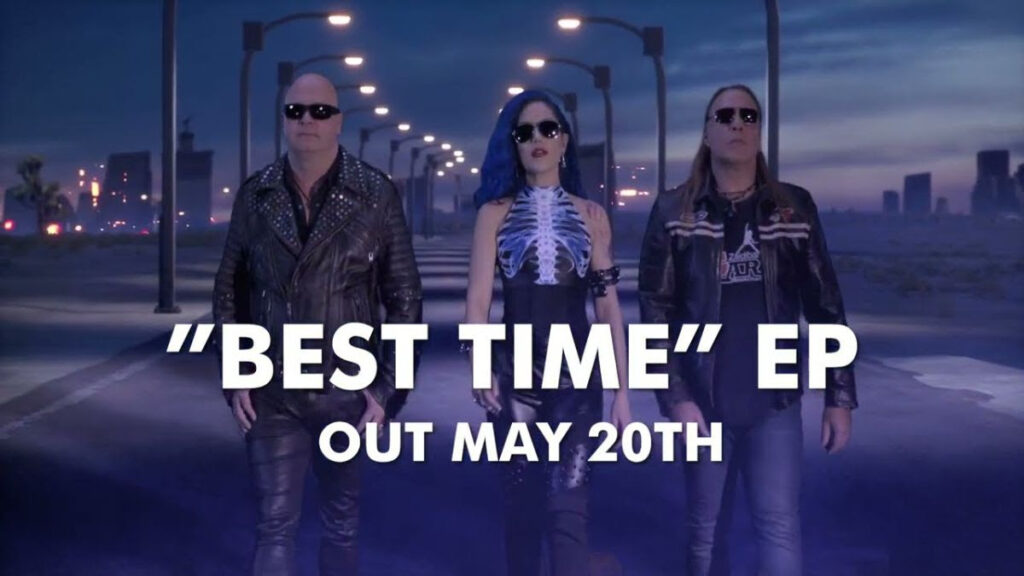 HELLOWEEN ON TOUR
»United Forces« – Info & Tickets: www.helloween.org
w/ HAMMERFALL
23.06.2022 FR Clisson – Hellfest*
28.06.2022 HU Budapest – Papp László Sportaréna
29.06.2022 AT Vienna – Gasometer
30.06.2022 CZ Prague – O2 Arena
02.07.2022 SK Zvolenská Slatina – Olympic Fields
16.07.2022 ES Fuengirola – Metal Paradise*
27.08.2022 IT Milan – Ippodromo Snai San Siro*
28.08.2022 CH Aarburg – Riverside Open Air*
30.08.2022 FR Paris – L'Olympia*
31.08.2022 FR Lyon – Le Transbordeur*
08.09.2022 DE Berlin – Verti Music Hall
09.09.2022 DE Regensburg – Donau-Arena
10.09.2022 DE Bamberg – Brose Arena
13.09.2022 NL Tilburg – 013
14.09.2022 LU Luxembourg – Rockhal
16.09.2022 DE Stuttgart – Hanns-Martin-Schleyer-Halle
18.09.2022 PL Katowice – MCK
22.09.2022 CR San José – Centro de Eventos Pedregal
24.09.2022 MX Mexico City – Arena CDMX
27.09.2022 EC Quito – Coliseo General Rumiñahui
29.09.2022 CO Bogotá – Movistar Arena
02.10.2022 AR Buenos Aires – Estadio Luna Park
04.10.2022 CL Santiago de Chile – Movistar Arena
06.10.2022 BR Ribeirão Preto – Arena Eurobike
08.10.2022 BR São Paulo – Espaço das Américas
09.10.2022 BR São Paulo – Espaço das Américas
13.10.2022 BG Sofia – Arena Armeec
09.12.2022 DE Frankfurt – Jahrhunderthalle
11.12.2022 DE Kempten – bigBOX
13.12.2022 CH Zurich – The Hall
—
03.02.2023 ES Barcelona – Sant Jordi Club
04.02.2023 ES Madrid – WiZink Center
28.04.2023 NO Oslo – Sentrum Scene
29.04.2023 SE Gothenburg – Partille Arena
01.05.2023 FI Helsinki – Black Box
02.05.2023 EE Tallinn – Noblessneri Valukoda
05.05.2023 DE Bochum – RuhrCongress
06.05.2023 DE Hamburg – Sporthalle
*w/o HAMMERFALL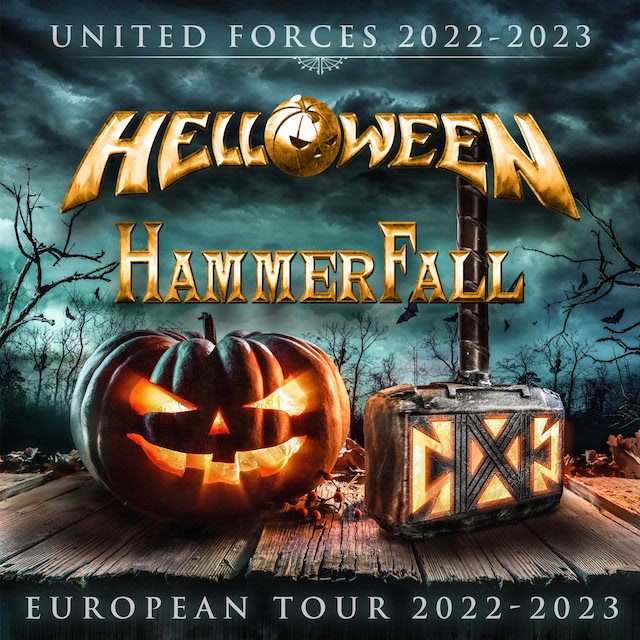 HELLOWEEN ARE
Michael Kiske | vocals
Andi Deris | vocals
Kai Hansen | guitar, vocals
Michael Weikath | guitar
Sascha Gerstner | guitar
Markus Grosskopf | bass
Daniel Löble | drums
About
HELLOWEEN is one of the most respectable German metal exports and pioneers of German melodic speed metal. On the road since 1984, HELLOWEEN performed on all important festivals globally: Rock in Rio, Wacken, Loudpark in Japan or the Polish Woodstock, thrilling more than half a million fans as the headliner. Looking back on a more than three decades lasting world career, the band toured the world countless times and delivered spectacular shows with fellow musicians such as Iron Maiden, Scorpions or Ozzy Osbourne. HELLOWEEN released 15 studio and 4 live records, achieved and was honored with 14 Gold and 6 Platinum-Awards and sold more than 10 million albums. The "Keeper" records are counting to one of the most successful German metal records of all time and are reckoned internationally as absolute milestones of power metal.
Genre
speed, heavy, power metal
Website
https://www.helloween.org/
Social
Tags