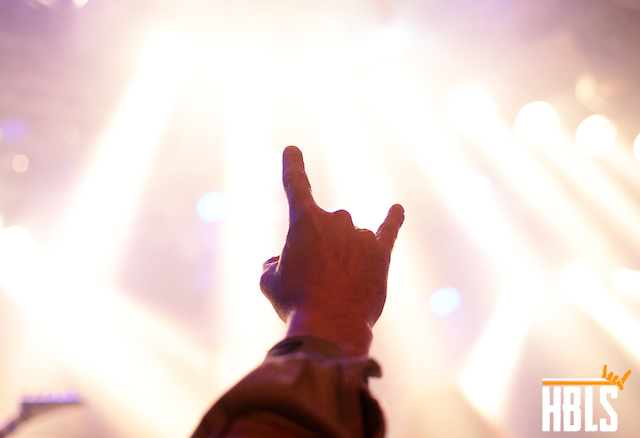 Live | Heathen & support Toxik – De Pul-Uden [NL]
16 June-2022
Louder, Harder and Faster!
Tonight, two iconic thrash bands from the eighties join forces to set the room on fire. Bay Area thrasher Heathen and New York's techno thrash band Toxik will warp us back into the late eighties with a ponderous portion of old school thrash metal, full of scorching riffs and fierce soloing, galloping drums with neck-wrecking tempo, and untameable wallop. Are you ready to go back to Thrashtopia?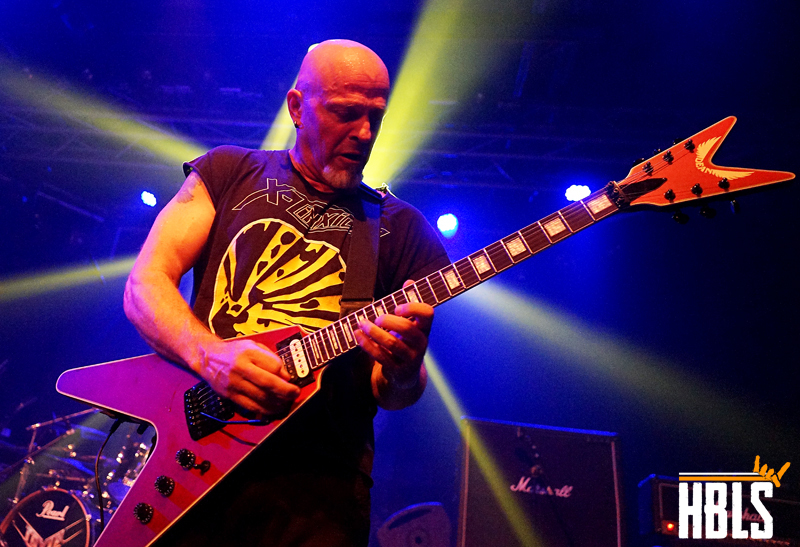 TOXIK
The well packed Uden De Pul venue goes pitch black when Queen's ,,Don't Stop me Now" blows from their sound system, and at 19:30 sharp Josh Christian and his techno thrash squad take the stage by storm with the classic and rousing ,,Heart Attack". It immediately sets the standard for 45 minutes of powerful and wizzardous techno metal with an emphasis on tech. Sung along too loudly, the audience anticipates and enjoys this wonderous evening celebrating the genre. This run of gigs, prior to the release of their highly anticipated upcoming ,,Dis Morta" record, proves to be a perfect opportunity to take the spotlights and get their gears oiled for a return to the stages later this year.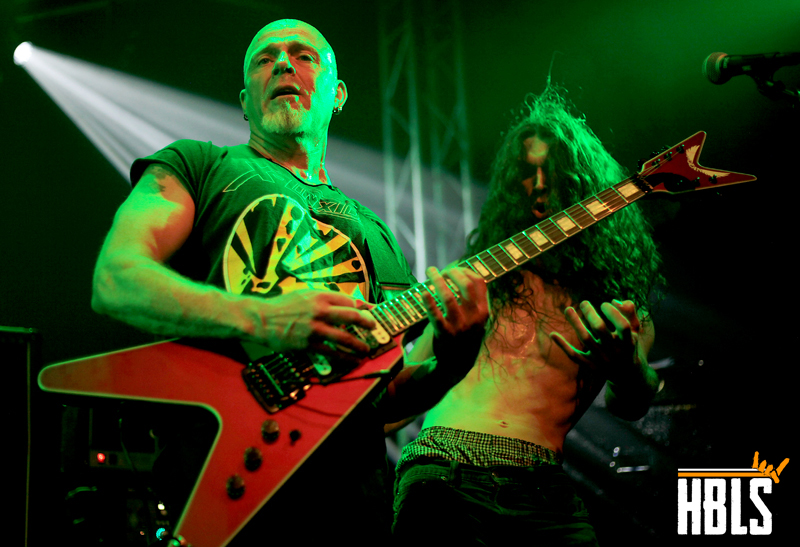 Toxik appears to be in great condition executing their most technical speed and thrash anthems like the impeccable `Think This' tracks ,,Spontaneous" and ,,Greed", all welcomes by a fist pumping enthusiastic crowd. Packing tremendous stride and pace band leader Christian delivers his impressive fretboard wizardry and pulls forward with panache. Switching his wide array of technical riffing interchanged with razor sharp melodies and soloing, the man certainly is still on top of his game. Slinging his brand-new Dean Guitar, it is clearly a perfect match in tone. With van Druten he is also backed by an extraordinary solid riff monster, and both keep interchanging duties. Twins and riffs fired upon on the listener unravelling the expectations for the new album.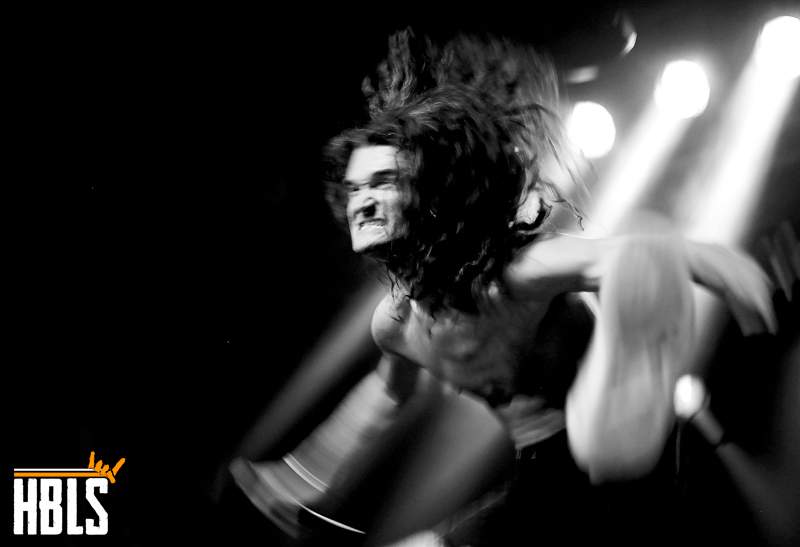 TOXIK TORNADO
Raising the expectations even further is the band's "rage on stage", Toxik Tornado Mr. Ron Iglesias. His vocal delivery is as versatile as his energy packed stage presence, morphing and flexing his vocals around the harsh ponderous ,,False Prophets" and thrash classic ,,World Circus" as easily as he belts the perfect job on the band's 'ballad' ,,There Stood the Fence". The song is welcomed with tremendous applause and proves its timeless pretentions. The song appeals and lures you in, with Ron's pitch perfect vocals adding the inspirational tone needed. Iglesias is a force to reckon with unleashing great energy, not missing a note.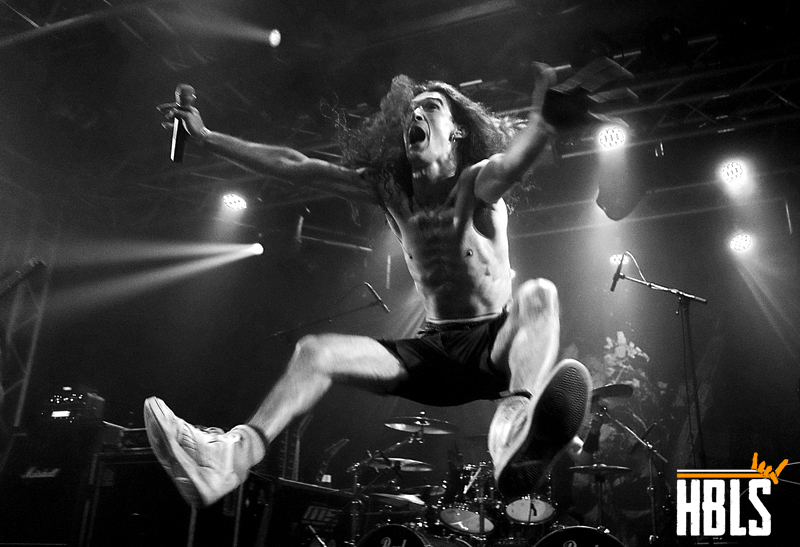 His vocals flex from almost pop edged tone to intense high pitches and loud thrashy roars with intense ruffled edges. ,,Black and White" displays a colorful variety of his pitches and whaling capacities, as where the title track of the new album is the techno thrash bomb he sets the timer for to go off. Pulled forward by his jumping energy it affects Christian's enthusiasm unloading the most intense, ominous of riffs and melodies available in its dark opening. The song combusts when drummer James DeMaria kicks it into gear with some insane double bass pondering fired up by the guitar and riffs interchanged between van Druten and Christian.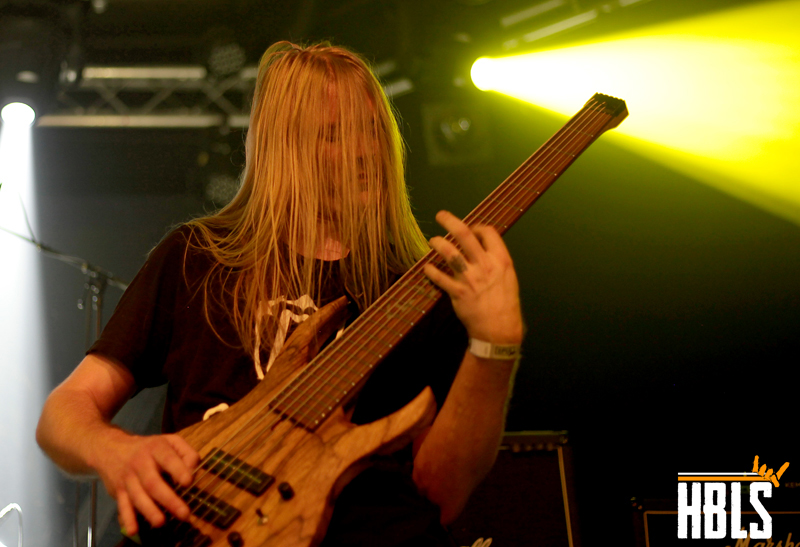 SILENT FORCE
Shooting into gallop while the pace keeps building, the song is the new trademark for the band, with towering melody and hooks over rousing chorus. It displays the most versatile of performances belted in metal to date with Iglesias surprising and overpowering constantly. 'Silent force' of the band is newcomer Jackson Black plucking his dynamic 6 string bass moving back and forth over the stage. His presence is dominating the low end and paces the gaps between DeMaria's dynamic drums and the low tuned riffs unleashed by Josh and Eric. Going out in style with ,,Think This" the band puts a mark on a great performance which proven to be versatile and very much alive, as everything is louder and faster than anything else!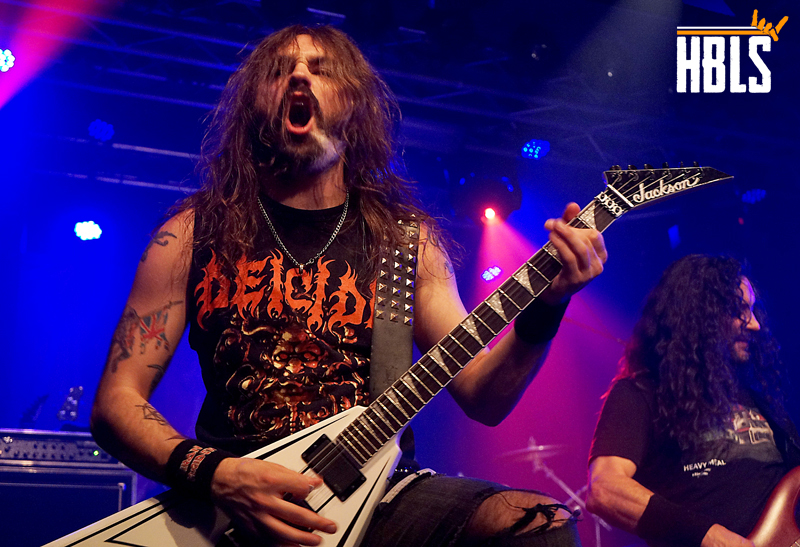 HEATHEN
After a short change over (read: replacing skins on the bass drums), Heathen outdoes Toxik with the intro of ABBA's ,,Gimme Gimme Gimme" that swiftly mixes into the intro ,,This Rotting Sphere". With the majority of spectators celebrating Heathen's return to the stage, the bay area thrashers play an A-game tonight. The opening ,,The Blight" and ,,In Black" from `Empire of the Blind' display their insane and modern thrash assault, backed by Jim DeMaria who only stepped down to refresh. His stoic delivery is tights as a Swish clockwork and he is pummelling his toms and bass drums with ponderous precision, laying down the foundation for the band to fire over. Assisted by bass player Jason Mirza, they enrol the sonic carpet for a night of blistering thrash and star-studded guitar interaction.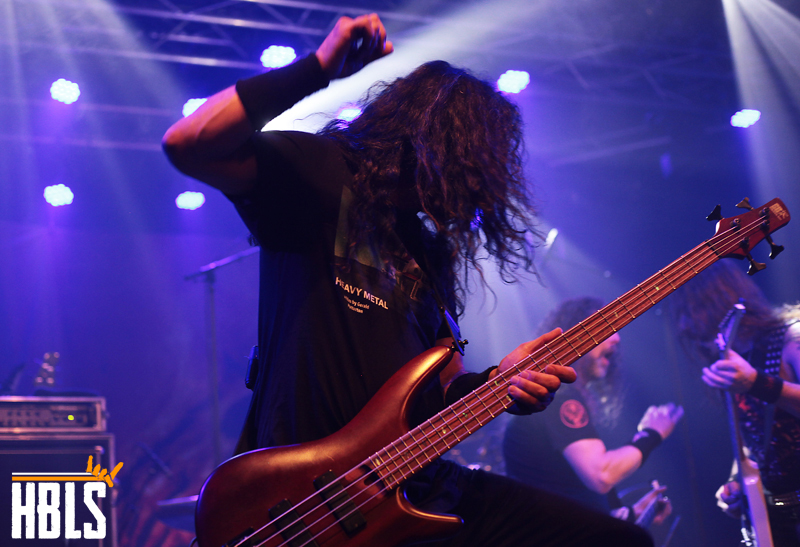 With founding member Lee Altus backing down from both, the Heathen and Exodus Euro tours, Heathen and guitar player Kragen Lum were challenged in finding a replacement to unload their constant bartering of riff and solo duties. With the introduction of Invicta guitarist and vocalist Kyle Edissi, Lum not only finds his match on the guitar, Edissi also proves a great addition as backing vocalist for singer David White. The interaction on both levels is tremendous as displayed on the following ,,Arrows of Agony" and the old school thrasher ,,Goblin's Blade". Belting out the choruses with pristine power he adds to the higher vocals of White who has more room to move, while Lum exchanges riffs and solos in fine-tuned harmony.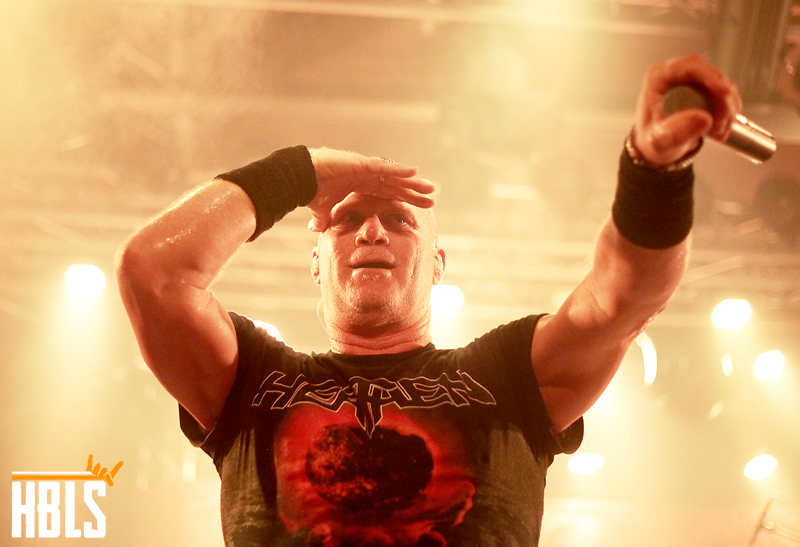 POSES AND FACIAL EXPRESSION
With White at the helm Heathen has a more static entertainer than Toxik, but White makes up for the energy-loss with his typical poses and facial expression. Easily forgiven, as White more than once smiles it off with cringing fun. It all adds up for Heathen as they keep assaulting the audience with one prog thrasher after another.
Especially when they move into the ,,Empire of the Blind" material the music with its featuring odd time signatures, more complex riffs and songs, the band displays immaculate marksmanship. The interaction is tremendous and the audience fires up the musicians for an orbiting performance. Great is ,,Opiate the Masses" with its tempo and key changes, progressive thrash metal at its very best. Twin solos and riffs are fired up to piercing altitude while DeMaria and Mirza access the band's most intricate playing and time signatures. Though it is progressive and succumbing in technicality, it also ponders with thrash urge and precision, warping us back to the eighties and nineties mosh pits.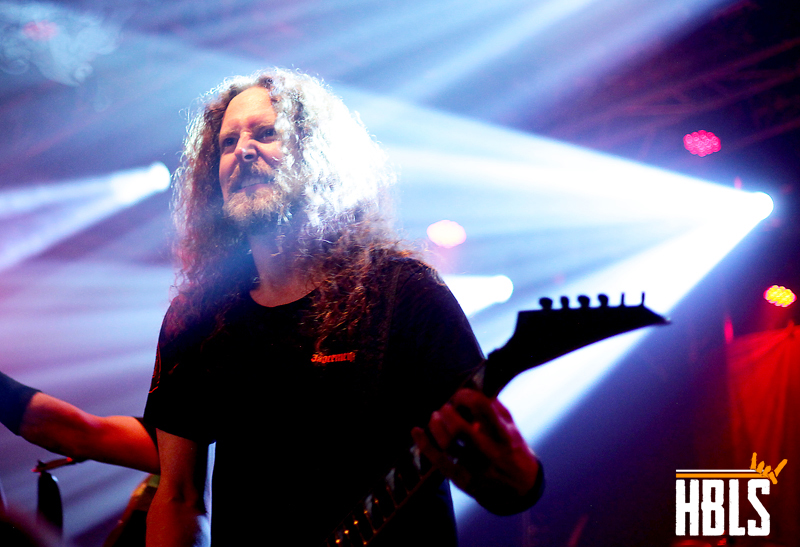 A NIGHT TO REMEMBER
Leaning strongly on their last album, the band also radiates enough confidence to make the music speak, rather than relay on classics. And yet, it all goes down together extremely well. ,,Sun in My Hand", ,,Blood to Be Let'' and ,,Dead and Gone" fit the profile as does the title track ,,Empire of the Blind". With Ron Iglesias joining frontstage enjoying and singing along, we again bear witness to his relentless energy. He moshes in the pit, raiser his fingers crooked during solos, and jumps up and down with unmeasured energy. In the meanwhile, jumps onstage to belt out the thrash 'hit' ,,Death by Hanging". It is the show closer with an audience begging for more. After a short off-stage moment, the intro tune for ,,Hypnotized" launches Lum and Edissi into action with their towering licks paving way to White's power hauls.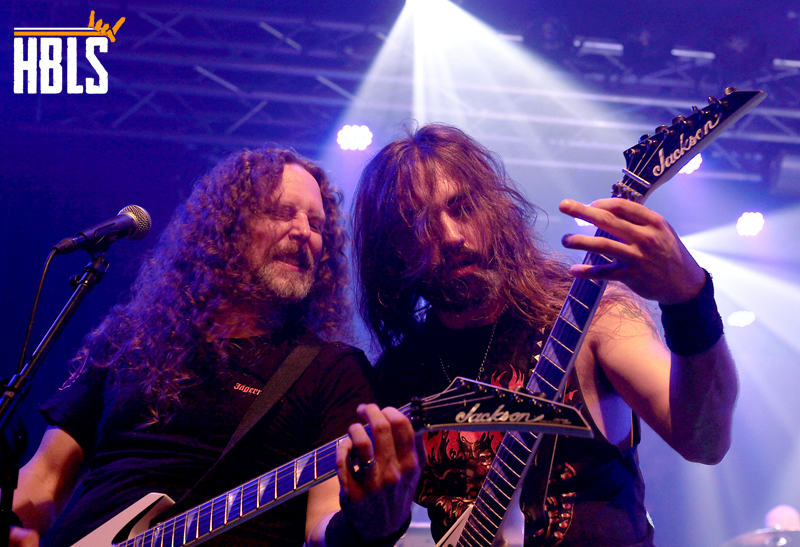 Frontstage the crowd moshes and bangs, and all the way to the back the atmosphere is intensifying electric. Iglesias moshes and bangs, enjoying the company of two youngsters headbanging to the thrashy power chords. Those same youngsters join White onstage for the last notes and one of them gets strapped on Kyle's guitar to sustain the dying notes. Little did he expect that kid would win the audience laying down the riff to ,,Smoke on the Water", elevating this evening above the fold.
Heathen and Toxik thrashed the living sh!t out of the audience. Assaulting the masses with galloping drums and relentless force, they both unloaded insane guitar wizardry and stride. It was a night to remember with both of them going louder and faster than everyone else… Welcome to Thrashtopia!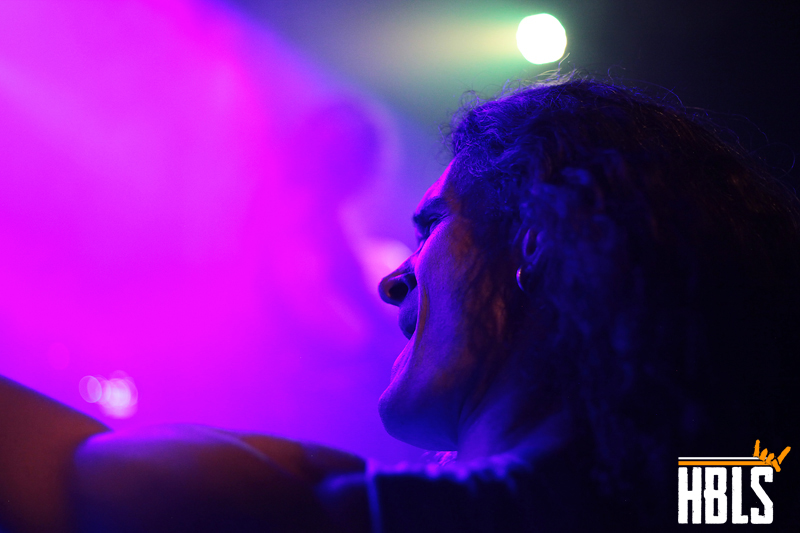 SETLIST TOXIK
Heart Attack
Spontaneous
Greed
False Prophets
There Stood the Fence
Black and White
World Circus
Dis Morta
Think This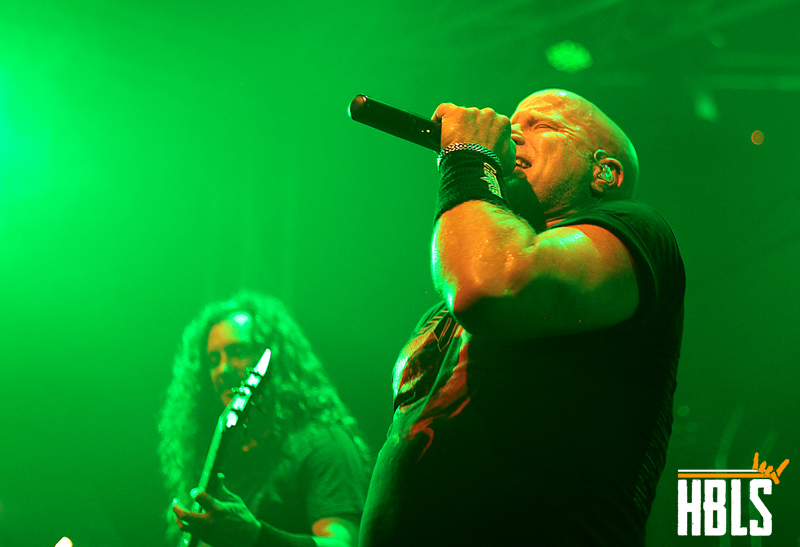 SETLIST HEATHEN
This Rotting Sphere intro
The Blight
In Black
Arrows of Agony
Goblin's Blade
Sun in My Hand
Blood to Be Let
Dying Season
Control by Chaos
Dead and Gone
Opiate of the Masses
Empire of the Blind
Death by Hanging
Encore: Hypnotized
All photos by Edwin van Hoof