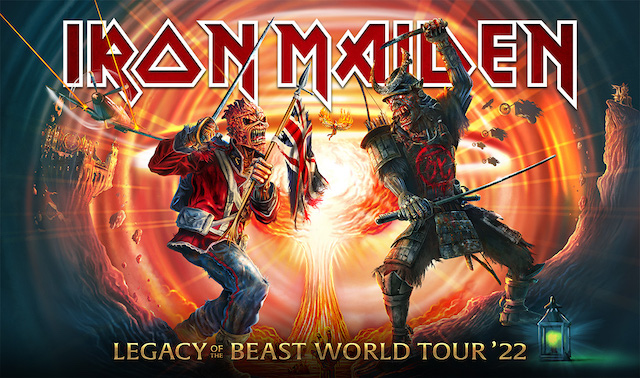 Live | Iron Maiden – GelreDome – Arnhem [NL]
27 June 2022
This is the third time that I see/hear the mighty Iron Maiden in Arnhem and although I utterly hate this venue, the gig tonight is the best one of the three. As we all know that the third time is the charme indeed. Originally scheduled in Weert on July 9, 2020, this gig of the Legacy Of The Beast Tour was brilliant and that was mainly due to the superb vocal performance of Bruce Dickinson (63 years "old", but fit as a fiddle). The setlist was great but why did Maiden again play eight songs that already can be heard on their classic live album 'Live After Death', released way back in 1985? 
SINGALONG
After the obvious intro, ,,Doctor, Doctor" (UFO), three "new" songs from Maiden's last album 'Senjutsu' blasted through the speakers and they sounded impressive indeed. Especially the title track sent shivers down my spine, while ,,The Writing On The Wall" was the first chance for the enthusiastic crowd to singalong to, and they (we) did indeed! First old song was ,,Revelations" followed by the second shout-along-song of the evening ,,Bloodbrothers". ,,Sign Of The Cross," from the album 'The X Factor' (1995), formed another highlight of the evening; this all-time Maiden favourite of Steve Harris himself, was formidably performed by Dickinson; a really second to none vocal performance!
Then the GelreDome really exploded with classic songs like ,,Flight Of Icarus", ,,Fear Of The Dark" (ho, oh oh, oh), ,,Hallowed Be Thy Name" (awesome), ,,The Number Of The Beast" and the most played Maiden song ever: ,,Iron Maiden".
IRON MAIDEN IS LIKE A GOOD WINE
The encores (,,The Trooper," ,,Run To The Hills," ,,Aces High" and ,,The Clansman") were no surprise, of which the latter was the absolute highlight, Iron Maiden at their best. Need I say more? No, an impressive performance as the older Maiden gets the better, they become, just like good wine indeed! However, please, the next time another setlist with songs from albums like 'Seventh Son Of A Seventh Son', 'The Book Of Souls', or 'Dance Of Death' and always look on the bright side of life…..