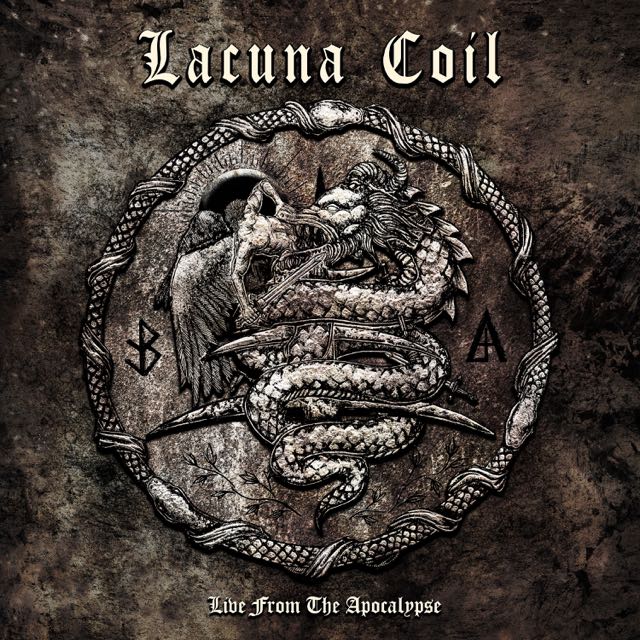 Review | Lacuna Coil – Live From The Apocalypse
Century Media Records
HARD WORKING BAND
Italian alternative, modern metal band Lacuna Coil released their latest, excellent ninth studio album `Black Anima' October 2019 and proved they are still relevant since the formation back in 1994. The band, fronted by power vocalists Cristina Scabbia and Andrea Ferro, always worked non-stop and very hard, living their life practically in the studio and on the road since day one. Over the years Lacuna Coil slightly drifted away from their original Gothic metal sound to explore modern and more aggressive laden territories and it is with `Black Anima' the five-piece sound more harsh, forceful and darker today, unleashing great energy as a significant lifeline, perfect to be taken to the stage. Needless to say the pandemic put tour plans brutally on hold.
Lacuna Coil has always been a true live band and a pleasure to watch, club or festival they always delivered. When it became obvious that touring wouldn't be possible any time soon, Lacuna Coil organized a special live stream in September 2020 to perform all the songs of `Black Anima', plus bonus tracks, for the very first time live in the famed Alcatraz Club, located in their hometown Milan. Of course, without a crowd and being so used to have interaction with fans this situation must have been a real challenge. Eventually it didn't hold them back to squeeze every bit of enthusiasm and dedication out of their pores as if they were facing a real crowd.
BONUS MATERIAL
To extend this unique experience Lacuna Coil decided to release the recordings of this onetime show as `Live From The Apocalypse' in various formats: CD+DVD Digipack, Gatefold 2LP+DVD & LP-Booklet and last but not least as a Digital album.
`Live From The Apocalypse' features all eleven tracks of `Black Anima' but in a slightly different order, having the album bonus tracks ,,Black Feathers'', ,,Through The Flames'' and ,,Black Dried Up Heart'' somewhere in between, which is really cool and totally worth it. This rare set list also features the new track ,,Bad Things'' that was released as Amazon Original for Helloween 2019 and last but not least the show ends with Cristina performing ,,Save Me'' (one of the key songs of `Black Anima') acoustic with only the support of a piano.
ORIGINAL STREAM
As Andrea states: "We like live albums that are not too overproduced. We wanted `Live From The Apocalypse' to sound well but also real and it doesn't have to be exactly the same as the record.''
And that's how this live album turned out: pure and honest without fade in clapping sounds or fake yelling crowd and the raw energy captured. Lacuna Coil is a well-oiled machine and it's no surprise that the performance is strong and convincing.
`Live From The Apocalypse' is a very enjoyable and unique treasure for fans to relive the original stream experience, but offers also a chance to catch up for those who unfortunately weren't able to join at the time. Lacuna Coil sounds fierce and with an untameable drive and I guess this show can be considered as a great warming up for (near) future shows.