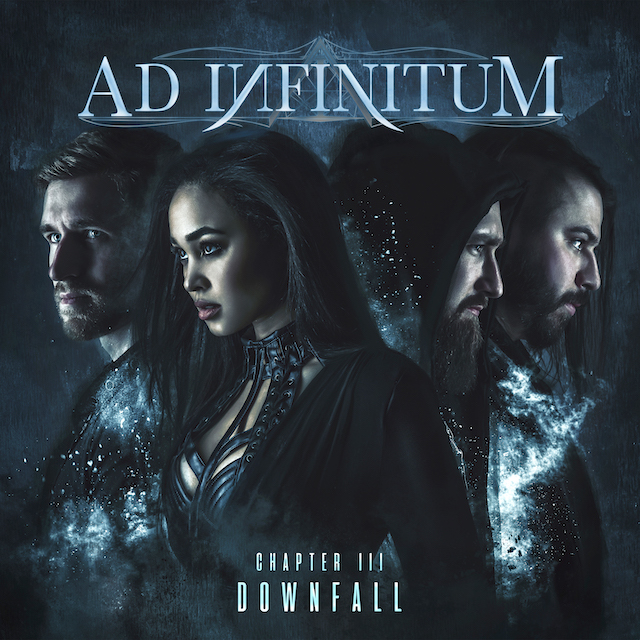 Review | Ad Infinitum – Chapter III: Downfall
Napalm Records
I don't understand the hesitative standpoint of so many in regards to Ad Infinitum. If there was ever a band that fused creativity and perfection to the craft, it is the band around singer extraordinaire Melissa Bonny. Not only that, they also deliver rapidly. `Chapter III – Downfall' is already the third album in this trilogy and it addresses the history tied to the strong mythology of ancient Egypt in a brisk way. Where `Monarchy' was inspired on a fictional tale escaping the black death and the monarchy being crushed during the French revolution, `Legacy' was driven by the tales and legacy of Vlad the Impaler, fusing historic facts to the bodywork of the Dracul myths.
Ad Infinitum creates the musical outlines for historic legends and stories being revived in a unique way. Expect tons of catchy melodies and hooks, memorable nesting choruses and state of the art musicianship. It is the vehicle that carries the brisk performance of one of metal's finest vocalist at this moment.
HEAVY METAL POWERHOUSE VOCALS
Bonny constantly delivers. Whether it is on any of her many bands or projects she lends her impeccable talents to, or to her prime band Ad Infinitum, Bonny fires on all engines! Delving deep with her pristine range, she morphs with the song's structures, belting out melodic slick vocal lines as easily as heavy metal powerhouse vocals, not to mention her insane growls that are on par with the heaviest in the field. Her extreme range and versatile style make her extremely adaptive to the most intricate song structures on offer, a craft the team of Ad Infinitum developed with the creation of this impressive trilogy. They transcend their songwriting on this 3rd chapter, making it a bit more accessible without losing its powerful appeal and heavy edge.
What became inevitably clear since the debut is the creative force of Adrian Thessenvitz [guitar], Korbinian Benedict [bass] and Niklas Müller [drums], and the sterling musicianship they bring to the table. Their music is laden with soaring melodies meld to powerful charging structures. Enchanting orchestration and cinematic section full of drama echoing, make the concoction of styles well together perfectly.
AD INFINITUM – A TURMOIL OF EMOTIONS
The invigorating opener ,,Eternal Rain" wins over hearts with Melissa belting a melodic vocal job the eludes in the building bridge with grunts and memorable chorus transcending. Chugging riffs and head on hitting powerful metal collide on ,,Upside Down" with its scattering industrial breaks. The solo is drop-dead gorgeous, melodic and fierce, adding to the track. On ,,Seth" the band goes full cinematic with middle eastern elements and creeping ominous elements fused to the insane melodies and hooks provided. It is a turmoil of emotions and oozes epic while running under 4 minutes only.
The grandiose melodic lick and pompous orchestrated opening of ,,From the Ashes" takes us into a rhythmic shuffling monster in which bass and drums dominate. Bonny pitches her highest register in fluent and elegant style with commencing appeal. This same elegance is unleashed on the opening guitar melody of the tenuous ,,Somewhere Better", bridging the two perfectly.
The foot goes down on the barnstorming ,,The Underworld". Needless to say, the song shifts melodic shape with profound harsh grunting and slick melodic vocals. Time changes and serrated riffs and drum-breaks inject turmoil that starts to well midway with pompous and dynamic interplay. Spiralling with power and melody is creates an outline for the great melodic guitar solo. Cinematic is the opening of ,,Ravenous" with its Phrygian guitar melody and rancorous soaring chorus.
MUSICAL AND STORYTELLING
,,Under the Burning Sky" is the sheer display of quality in which Ad Infinitum's cinematic creative find accolades in Bonny's gripping performance. Laden with drama it unravels like a classical tragedy, suddenly going metal on you. Loud ploughing bass chords dominate and resonate, powering up for enormous melodies towering.
A Stunner that is endured on the opening of ,,Architects of Paradise" in which keyboards take the helm sailing towards the new dawn. Warming melodies and gigantic chorus do justice to the upbeat of the lyrics. This glorious underscore develops on ,,The Serpent's Downfall" that wells with a folk theme and string arrangements, building for the even more glorious ,,New Dawn". The song feels like the soundtrack of any musical going out on its high. Narratively sung in clean voice, the song fires on all of its melodic engines. High appeal in vocals and orchestration, it transcends in prosperity. ,,Legends" opens with narrative storytelling by Chrigel
Glanzmann before going all in with dramatic overhaul. Heavy harmonies and elegant vocal lines that pitch up over the wall of keys and guitars, it is the intricate album ending many would kill for. Killer, absolute Killer!
AD INFINITUM – THE CONCLUSION
Contrary of the 2nd chapter `Legacy', this third album blends the debuting heaviness with a brisker and prolonging cocktail of heaviness. Maybe my expectations for `Legacy' where too high at the time, but `Downfall' definitely rejuvenates their sonic appeal moving in a distinctive sophisticated direction rather than catchier choruses and hooks. There's a constant progression within the tracks and, much like Queensrÿche during their prime, they stray from the generic paths, cultivating their defining sound. The outcome is this state of the art and elaborate A-F style in which Bonny excels.
Ad Infinitum nurtures their unique style without compromising, realizing a year-to-year growth and constant stream of A-grade metal. `Chapter III – Downfall' is a Trailblazer!
Release date: 31 March 2023