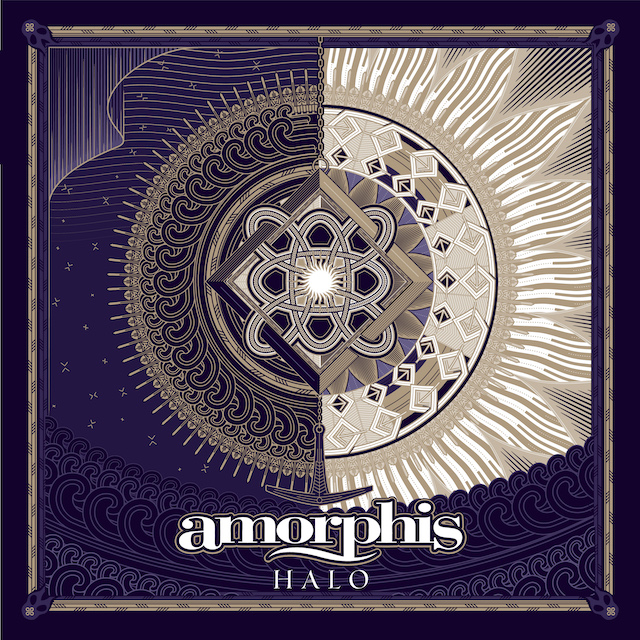 Review | Amorphis – Halo
Atomic Fire Records
Amorphis first hit my scope with their album `Elegy', followed by an impressive gig at the prestigious Dynamo Open Air festival. Dismantling their brutal sound and adding more melody and enticing vocal work, Amorphis broke new terrain appealing to wider audiences. Gradually building their catalogue and fan share, the band's evolution is in line. Gaining momentum with the addition of frontman Tomi Joutsen the Fins got presented the perfect vocalist to grip the upward spiral. `Halo' is another gem in the crown of the band's catalogue.
THE KEY ELEMENTS
Like no other, Amorphis' main songwriter Esa Holopainen knows what his fans want to hear, without lacking the thrive to grow. Trademark intense melodies and chugging riffs are key, as well as Joutsen's intense deep grunts and contradicting melodic outings. But Holopainen ads new lustre. The addition of classic choir excepts complements their music. Opening with classic Amorphis brutal grunts, ,,Northwards" sets the tone. Keenly embedded folk elements are key and wonderful melodic guitar lines are brought forward in great harmony. Powered by monotone droning keys, the song flourishes with intensity when it delves into the organ-guitar section. The addition of the choir works extremely well, deepening and exalting the band's sound, somewhat reminiscent to Therion's `Theli'-album.
Clinging to the momentum of the opener ,,On the Dark Waters" chugs lumps of riffs and Tomi grunts deeper than ever, stretching his prenotes to swing anger into motion. Gripping back to their debuting days, the song is brutal but balanced by the stagnant riffs and warm melodies. Current YouTube single ,,The Moon" again fuses their most melodic being with amical intensity. Welling with emotions the song catapults insane hoovering melodic guitars over the heavy dark rooted subnotes. Warm female vocals add to Tomi's melodic singing. Same goes for ,,A New Land" which tilts the vocal interaction and lines up melodies with insanely wonderful and atmospheric guitar work. Celtic themes are interlaced with middle eastern scales during the solo break, before Tomi makes the melody crumble with his insane brutal power. 
ACCURATE MELODIES
His melodic authority returns on ,,Windmane" also shining with accurate melodies hoovering over the dark and intense drums-pulled heavy sound. Melodic chorus and psychedelic pompous Hammond add an organic touch and larger sound.
,,When The Gods Came" features a captivating riff opening in mosh pit-style with crowds jumping. It is driven by powerful zealous double bass drumbeat and twin guitars, with piano and keyboards augmenting a lighter note. Pumping organs well, leading us into a wonderful solo. Mainly sung in melodic tone the tune is an instant earworm driven by staggering hit potential, and grunts only adding the needed grit and gravel. Much as if the record breaks into a more melodic direction ,,Seven Roads Come Together" enrolls with the same melodics dominating before it finds its progressive drive.
Keys pumping up for another sterling chorus with multiple layers of towering magnitude. Tomi switching grunts and melodic vocals making it an interesting track with Amorphis grandeur. His approach is different and he belts in natural singing tone. Pompous towering keys gearing up wonderful momentum with hoovering light guitars over dynamic drum breaks and grunting vocals. It is the song's (almost) malicious ending that bridges perfectly to ,,War", with insane melodic chorus. Towering with impressive chants from the choir it builds to a Grand finale.
UNFINISHED BUSINESS
The title track again fuses all new ingredients and stylistically grips back to the path explored on ,,Seven Roads…" much like unfin(n)ished business on the track. Blooming in density with heavy multi layered instrumentation it features a meandering melodic section with angelic/Gregorian chants picking up power and pace. The dynamics of the track are impressive and Joutsen again grips back to his melodic voice making it easy accessible for a wide audience. Perfectly lining up to the anger driven ,,The Wolf" that brings high protein energy to the plate for `Halo's memorable last part. Whaling vocals over dense playing, progressive elements generate turmoil, with Gregorian chants magnifying the epic framework.
Former Paatos vocalist Petronella Nettermalm guests on the closing ,,My Name Is Night". An atmospheric song oozing heroic signature in timid timbre with Tomi in frail sustaining magnitude. Folk arrangements color the denser setting with lighter toned acoustic playing of guitars, ukulele (?) and piano underneath tasteful mesmerizing vocal interaction.
TRILOGY AND FINISH POETRY
`Halo' is the closing chapter to the trilogy that starting with `The Red Cloud' and continued on `Queen Of Time'. Overall, the album feels a bit heavier and it spikes with more dramatic elements such as the choirs and more dominant organ section. It also comes across more organic without missing the typical Amorphis turmoil of its predecessors. Thematically revolving around Finnish poetry, again embedded into the lyrical content with the help of lyricist Pekka Kainulainen. The adventurous tendencies of the poetic tales reflect in the diversity of Amorphis' musical variety, fusing past and present with new deeper and richer sections, providing a more mystical (epic) outline. The diversity of vocal styles makes `Halo' more engaging and much richer in tone, adding to the band's illustrious discography. `Halo' displays the band's abilities and thrive without straying from their bare essence. Another excellent album is the result.
The album is also released on vinyl in several different editions. With the wonderful artwork of the record at hand I strongly advise to get your hands on the 2LP version with gold vinyl that perfectly matches the album art.