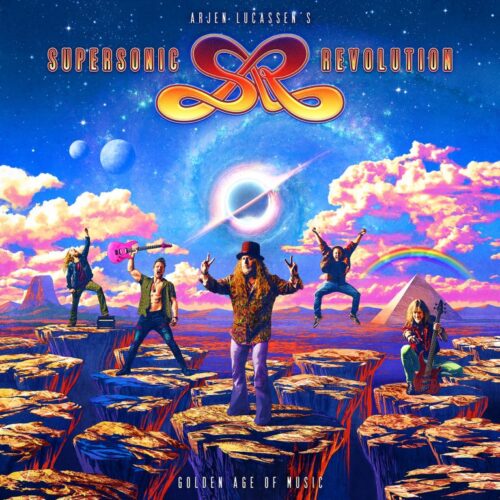 Review | Arjen Lucassen's Supersonic Revolution – Golden Age Of Music
Music Theory Recordings / MLG
He needs no introduction or does he? Every rocker knows Arjen Lucassen from his time in Bodine, Vengeance, Ayreon, Guilt Machine, Star One and… Strange Hobby. Growing up as a young boy in the seventies he listened to the radio discovering bands like Sweet, Deep Purple, Alice Cooper, Yes and so many others. And the boy was dreaming about a career in music, seeing himself on a stage in front of thousands of people rocking their socks off. It took some years but his dreams became a reality, first with Vengeance and Bodine before hitting the big-time status with his prestigious Ayreon project and the rest is history.
STRANGE HOBBY
When he was just done with his second Ayreon record mister Lucassen under the name of Strange Hobby produced a special record. At first it was a secret, as there was no info about the musicians involved. Later it turned out that Arjen was solely responsible for all the recordings and even the singing. It was a sort of a compilation of songs that inspired him as a young lad, top 40 stuff, Beach Boys influences etcetera. Why do I mention this in a review of his latest project? Well, with Supersonic Revolution the man goes back yet again to his days as a strapping young lad listening to the radio, seeing the development of bands like Sweet and Alice Cooper and the glam look they brought to the stage. And he had dreams….
ECLIPSED
Except this time, he has gathered some experienced musicians around him after being asked by a magazine from Germany called Eclipsed if he would like to contribute a song for a project of them. Sure. But it had to be done within a week, so Arjen quickly contacted some close friends to help him out and they recorded the ZZ Top-cover ,,I Heard It On The X'' with his right hand man Joost van den Broek (keyboards), singer Jaycee (Praying Mantis), Vandenberg sticks man Koen Herfst and guitarist Timo Somers (the son of Arjen's former Vengeance mate Jan Somers who passed away so suddenly). And that is when the idea was born to continue with this adventure with as main target to have musical fun and keep it upbeat and positive with Arjen taking on the role as bass player.
ARJEN LUCASSEN – FOCUS ON THE SEVENTIES
Hearing 'Golden Age Of Music' just brings a huge smile to my face. Yes, it is a fun thing but done with quality and with influences from the seventies such as the big Hammond sound, razor sharp guitar work and upbeat songs. Jaycee is the man in the middle with his superb singing, he is the icing on this very well crafted yet enthusiastic sounding musical 'cake'. Lyric wise at stages you have the feeling that Arjen Lucassen tells the story of his youth, his growing up, his encountering glam rock music, discovering all kinds of other sounds and bands. This is his own story in a way without proclaiming that in the seventies everything was better. Please do not compare this band with his other projects, as this is something completely different.
RONNIE JAMES DIO
But believe me when I tell you that this rocks hard as do the bonus tracks. Which are cover versions of songs of T-Rex, ZZ Top, Earth Wind and Fire and of course the top hit of the genre ,,Love Is All'' originally by Roger Glover. You know that song and the famous animated clip with the singing frog with the voice of a singer that was unknown in those days but became a household name in rock and metal, the one and only Ronnie James Dio. He was introduced to the world stage via that song and it is striking that the cover version is now being sung by a man whose big influence was without a doubt Dio.
Compliments also for the energetic and punchy production of 'Golden Age Of Music'. It is a great musical trip and not only down memory lane. Go and check out some clips of several tracks such as the title track, ,,The Glamattack'' and ,,The Rise Of The Starman''. After seeing and hearing these songs you will be hooked and gasping for the release date of the album which is May 19 if I am not mistaken and as always is the case with Arjen Lucassen it will be available in various formats.
Release date: 19 May 2023
About
Dutch multi-instrumentalist, songwriter and producer who is best known for his progressive metal/rock opera project Ayreon. Other projects are: Star One, Guilt Machine, The Gentle Storm, Ambeon and Stream Of Passion. Also known for Dutch hard rock bands Bodine and Vengeance. Active since 1980.
Photo credit: Lori Linstruth
Genre
Progressive rock, metal, rock opera
Website
https://www.arjenlucassen.com/content/
Social
Tags