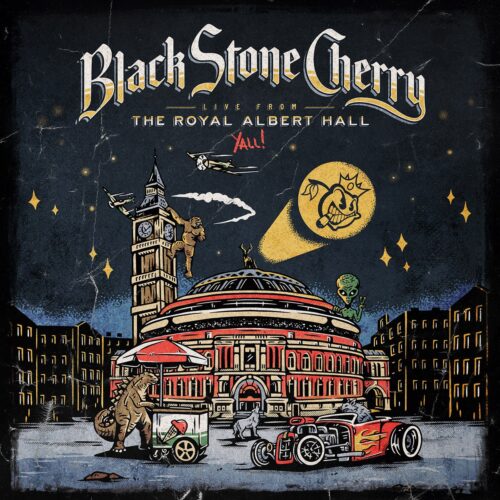 Review | Black Stone Cherry – Live At The Royal Albert Hall Yall!
Mascot Records
With a gig at the very prestigious Royal Albert Hall for Kentucky hard rockers Black Stone Cherry a dream did come true. How many hard-working rockers get an opportunity to play at a place with such a monumental status? Not that many let me tell you as only artists from the big league normally perform there. But Chris Robertson (guitar/vocals), Ben Wells (guitar/vocals), John Fred Young (drums), who now form the core of the band since the departure of bassist Jon Lawhon, did take the stage by storm and were able to have their show recorded and filmed for most likely their most important release in their career that started more than 20 years ago.
HARD WORK AND SWEAT
In those 20 years plus counting the band delivered hard work and poured tonnes of sweat on stages throughout the world. For this show the trio added touring bass player Steve Jewell to the line-up and also percussionist Jeffrey Boggs makes an appearance (most prominently during ,,In My Blood/Island Jam''). I must say that the 19 songs set precisely sums up what Black Stone Cherry is all about.
This is a high energy affair with some very emotional moments (,,Things My Father Said'', where Robertson hardly is in control of his emotions, which adds a special dimension to the performance). It is basically a version that does give you goosebumps and for me maybe I guess the highlight of this performance. But it also becomes obvious that the stage is where this rock and roll machine is meant to be. Guitarist Wells is all over the stage with his antics, John Fred Young bashes his drums that are quite prominent in the mix and Chris Robertson is your cheerleader, trying and succeeding to bring the crowd into the show.
PURE POWER
Black Stone Cherry also stands for pure power. When you hear ,,Blame It On The Boom Boom'', ,,Ringin' In My Head'', ,,White Trash Millionaire'' or a more recent track like ,,Again'', its becomes very clear that these boys mean business and that they are pouring their hearts out on stage. For my liking sometimes the drums are a bit too prominent in the mix, taking away some attention of the guitars but that is just a very small critical note. 'Live At The Royal Albert Hall Yall!' will be released on CD/DVD and although I only have seen some film footage on the website of the group, it looks spectacular and entertaining at the same time. All ingredients that Black Stone Cherry has to offer to you have come together on this release!