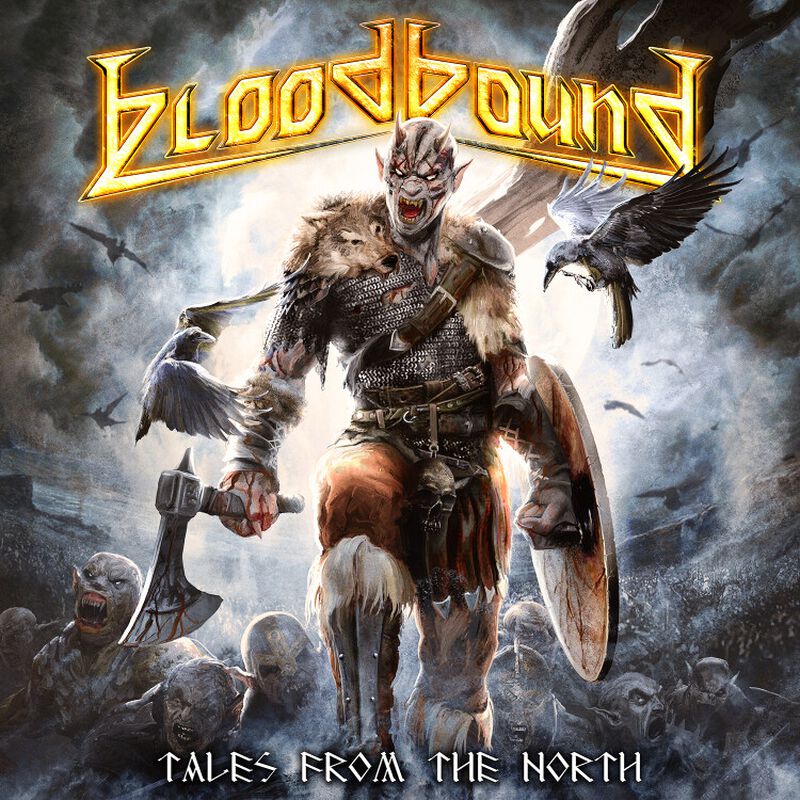 Review | Bloodbound – Tales From The North
AFM Records
Has it really been 19 years already since Fredrik Bergh and Tomas Olsson moved from their polished AOR strut with Street Talk to form Bloodbound?
The two founders and their band certainly worked gradually towards the concept album `Tales from the North' that lands now. Build around the epic era of Vikings plundering and roaming, it lyrically unites legends and myths of those dark and daunting days with their most brutal paced wallop. Not only lyrically and in terms of content they leap, musically Bloodbound stepped up for the challenge.
TRADITIONAL EUROPEAN METAL
The title track makes inevitably clear that Bloodbound create something different on `Tales From The North'. Its lyrical content is created around a colorful opening fusing Celtic theme and folk plucking to set the outline for the album. Its colorful orchestration soon falls prey to the thunder and lightning when they shoot into gear. Dramatic keys jabbing over high paced riffs executed, Bloodbound display their craft. It is galloping, melodically shining. Less brutal roaring than Amon Amarth, Bergh and Olsson lean more on traditional European metal, and (yes indeed) melodic splendor. Just check out those wonderful guitar twin solos and the harmonized vocals and choirs; sheer brilliant.
Diversity is key and songs like ,,Odin's Prayer", ,,The Raven's Cry", ,,Land of Heroes" and ,,Sail among the Dead" are thunderous and powerfully rolling forward with melodic guitars and keys jabbing underneath Patrik Selleby's echoing vocals and pitches. He accepted the challenge created by Bergh and Olsson displaying his most fertile vocal delivery since he joined. When the band injects its pompous accolades, it leads to unmatched opulence with luxurious rich tone and melody, like on the wonderous epic ,,Mimir's Crystal Eye". It is melodic slick but pumping powerful and instantly settles in you for days to come. One of the band's best effort for sure.
VIKING EMPIRE
A growl is spotted over the lute and flute setting ,,Drink with the Gods" in motion. Chanting over a marching heavy beat, the song has polka-drinking-chant written all over it. I see the Wacken moshpit explode while raising glasses and horns to slam another beer or two. Though lesser of a drinking-song, ,,Stake of Claims" opens with identical arm-clasping sing-along tenure but features a more serious lyrical output. The melody however is striking and nests instantly. ,,Between the Enemy Lines" rolls forward in style and the dense chorus is pitch perfect, with Selleby belting out a wonderful rich tone. Guitars in abundance, and bass throbbing, the song is melodic metal galore. The opening of ,,Sword and Axe" is simply wonderful, highly melodic harmonies that start to spit serious fire towards the slick melody line and bridge, with Selleby delving deep to set the pitched close-harmony chorus in motion.
More glorious than anything it makes the perfect song to roll into the fall of the Viking empire portrayed on the album closer ,,1066". The song opens with a dramatic guitar before going all in once more and Selleby screaming it into action. The last battle of the Vikings is captured in a 4 and a half minute running song choke full of drama and marching drums that pitch the chants.
BLOODBOUND – THE CONCLUSION
`Tales From The North' sees Bloodbound challenging themselves fusing lyrical content of the ages onto perfectly matched musical instrumentation aligning with the scenes and atmosphere presented. The pace of the presented tracks remains high throughout and only short breathers are in place to set songs in motion. It is exactly that what is needed to not tilt over on gallop, and Olsson and Bergh are on top of it. `Tales of the North' to me is Bloodbound's most orbiting release to date and balances the cultural richness and themes with the conceptual lyrical content.
Release date: 7 July 2023