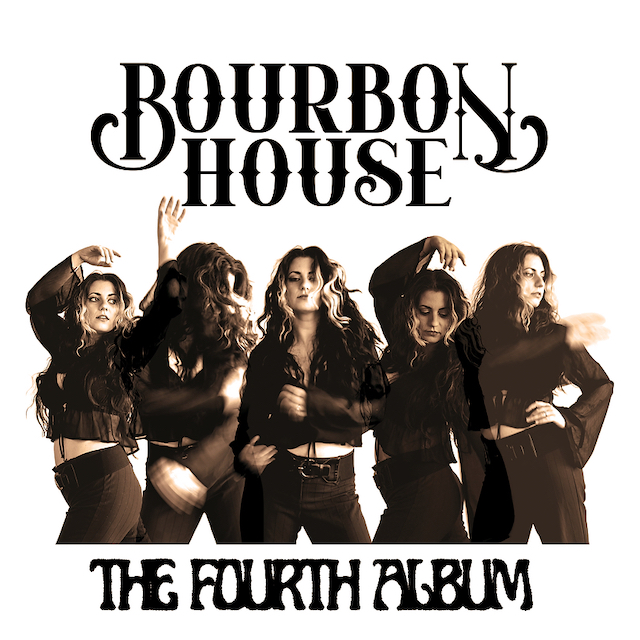 Review | Bourbon House – The Fourth Album
Independent Release
My favorite four albums of the year so far are Colossal Street Jam, The Winery Dogs, Roxanne and Extreme. All contemporary and classic rock albums which shoot above the horizons injecting the contemporary rock vibe with classic elements from the rocking music eras that passed us by. As I noticed, I am strongly leaning towards the classic releases, though many metallic gems don't escape my attention either. That being said, how could it happen the new album of Bourbon House flew by, even though it was handed down to me by the same guy who introduced me to CSM and previously to Blacktop Mojo?
SPAM FOLDER
It is unimaginable how my mailbox plays tricks on me since its migration to a new host. This transfer made me lose a lot of my connections and caused the ones that got migrated to land in my spam folder, automatically erased after 5 days in the waiting. New standards?
I dunno, but I am pleasantly surprised I dug up Bourbon House's `The Fourth Album' following relentless spamming from my friend-across-the-globe. Bourbon House `The Fourth Album' sums up their status in its title while the band name reveals what to expect musically. The cover-art reveals frontwoman Lacey Crowe garnishing attention with wild manes dancing bewitching in 70s style.
It is exactly on par as Crowe's appearance matches her wild and stunning raw voice and performance. She demonstrates how invigorating classic rock tracks benefit from a powerhouse vocal delivery unmatched. Lacey is at the helm of things belting out powerful chants that add to the incendiary riffs and licks from partner-in-crime and main songwriter/guitarist Jason Clark. The groove is raw and spits dirt while the guitars pull forward with bluesy drip and lots of reverb. It all scatters wildly.
Think Black Crowes on acid, Rolling Stones modernized, Bad Company even more badass, and Colossal Street Jam with a female vocalist. Indeed, Bourbon House makes the sonic specter collide!
LACEY CROWE
The opening thunder of ,,Resonate" is a show of hands and pulls forward with intense swagger. The song dies out on a high opening for the jagged blues rocker ,,Love is a Killer" pasting an outline for the dark glooming ,,Out for Blood", with its sinister opening and tempo change to which Lacey pitches her rawest roar and bite. Switching between raw clean vocals and roaring tone, she perfectly swirls around the 'crawling' riff 'n groove. Grooving is also the rolling bass and hands clapping in marching beat. Opening the refrain with howling guitar licks and pulsating bass and drum groove, the song gradually builds.
Bottleneck guitar slides injecting a swamp vibe, much like a Jimmy Page would do in his prime. It echoes a Morricone-like gritty atmosphere that is empowered by the harmonica solo midway. ,,Hotel Bar Blues" is a honkytonk driven booze rocker, justifying the Bourbon in their band name. It struts and swings, all tits 'n ass, so to say.
SOULFUL APPEAL
,,Villain" sees the return of the pulsating groove and ravishing bluesy lows. Again, Lacey Crowe belts out an intense vocal job hitting all the right notes, especially when the gears are shifting and the pace flies up. Turbulence hits with doors slamming and the pulse reverting to the front. Touching hearts is the band's other acoustic warming slow mover, ,,High Road Gypsy". It is subtle and oozes comfort, with Crowe touching deep again. She injects a Joplin tone into the brisk raw palate she brings to the front on `The Fourth Album'. More soulful and graceful Clark penned the wonderful highlight, the colorful ballad ,,Blue Magic", which is laden with soulful sections and vocal harmonies. Lieber and Stoller would have Presley record it instantly. Lucky for us, Clark is able to inject that soulful appeal, bringing a heart touching vocal to the front.
BOURBON HOUSE – THE CONCLUSION
,,Blue Magic" is extended in the timid opening of ,,Wild Days" before exploding wildly with wonderful turbulence. Double kicked drums, roaring and growling bass, and stagnant sharp riffs and lick that pitch up for the raw chorus. Lacey howls and roars, displaying her sonic extravagance. Two acoustic live tracks close the album in style. ,,Devil on My Heels" and the acoustic rendition of ,,High Road Gypsy" are stripped to their bare bluesy essence with railroad stomp bar vibe scattering. Especially The wonderful ,,High Road Gypsy" impresses because of its subtle orchestration, and allows Crowe to shine even more. Her vocals appeal and lure you in right away. This lady is a grand dame!
Bourbon House put themselves on the map with their wonderful `The Fourth Album'. It is packed with classic ingredients waiting to combust, and the album just keeps on giving.