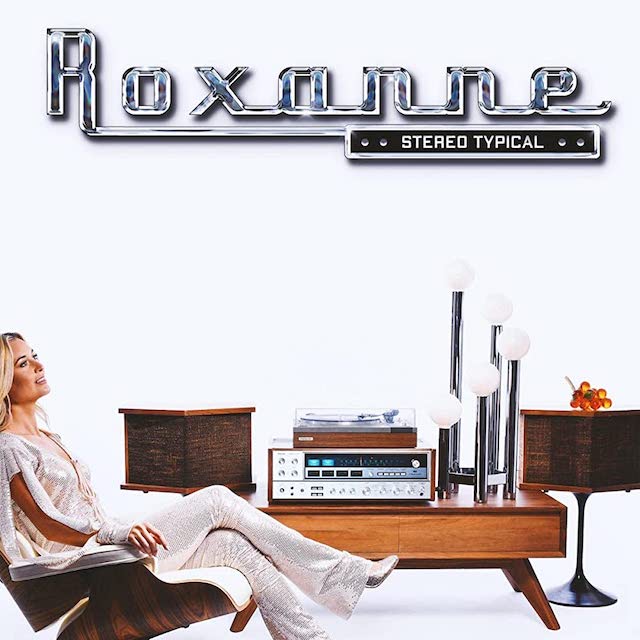 Review | Roxanne – Stereo Typical
RatPak Records
Like a tidal wave crashing my sonic shoreline, the albums preceding video ,,Keep on Keepin' on" immediately grabbed me in a stronghold. Much like ,,Radio Silence" with its in-your-face attituded "Go F*ck Yourself", the song fluently follows that seem but imposes a subtler touch.
So, it caught my attention and psyched me to the max until another album overshadowed my high hopes. Not leaving my player for weeks the Colossal Street Jam record pushed this gem to the back, but now it is time for a proper rundown of Roxanne's new hard rocking release `Stereo Typical'.
CLASS AND STYLE
And by all means, `Stereo Typical' is all but a stereotype for rockers. The album meddles on the lines of classic eras past while gently immerging into the depths of modern rock's finest. There's so much class, so much style to their approach, it wells genuine uniqueness. Given the two split feeling I got, this will not be the typical run through of tracks as I tend to split tempo in this review.
Opening with the title track Roxanne leaves no room for discussion. Slick melodies over poignant guitars and a stop 'n go boosted groove take it forward with Jamie Brown's vocals line/melody in tune with that of Thin Lizzy's Phil Lynnot, yet less menacing it is the line they pursue on the rousing ,,Gotta Live" with its King's X groove 'n vibe, the wonderful ,,The Cost of Living" meld around a wonderful harmonized chorus over powerful cadence kicked strut, and the typical Roxanne track ,,Waiting for Laura". It is all packing wonderful guitar interplay between Brown and John Butler while the groove is parading, fusing Joe Infante's intricate bass licks and chords on Dave Landry's dynamic drumming. Harmonies pristine, it is trademark Roxanne, welling with grandeur. The implemented urging bass and Bryan May guitar plucking provides face.
JEFF SCOTT SOTO
Diversity in tone and dynamics is holding up `Stereo Typical' fiercely. It all comes together in their video single ,,Keep on Keepin' on" featuring a hardly recognizable Jeff Scott Soto flexing his voice around the edges. The song combusts with power and stride constantly and its hook and guitar-riffs are melting. Another great track is ,,Until They Do", again with parading glance and heavier strut and swagger. The raw riff propels it atop of the thunderous drum and bass. Brown belting from his roughest register, displaying his abilities. The slick chorus and vocal interaction is A-grade as always, summarizing their progression as a band on the cover version of their own ,,Nothing to Lose" from their self-titled debut recorded and published in 1988.
Blending styles Roxanne creates a fusion of styles on the psychedelic tinged ,,Without a Robe". Touches of David Bowie on its opening, the song evolves with in colorful instrumentation and harmonies. Vocal interaction and harmonies in place, Brown is countered unexpectedly by a remote mixed in choir to find a duet in Pink Floydian style when embarking on the sonic exploration of 700's styles. An absolutely wonderful guitar section and glorious solo on top of a series of withering 'oohs' and aahs', builds for sonic perfection. It's an uplifting song with depth and variety, fitting the Roxanne catalogue while pushing boundaries. Absolutely amazing!
ROCK BALLADS
Amidst the swagger and action-packed tracks Roxanne touches deep with some wonderful rock ballads. ,,Looks Like Rain" opens with acapella Beatles-esque harmonized vocals. The piano track feels woven to ,,Broken Chandeliers" from `Radio Silence'. Choirs and tone are interchangeable without dubbing any. Guesting Paul Gilbert draws up a wonderful and colorful solo that reminds of Bryan May, especially with the bass and drums jazzy interplay and dramatized choir, before picking up speed with wizzardous fretboard acrobatics. ,,Only a Call Away" is the emotional acoustic heartache ballad with laidback appeal and strings building towards dUg Pinnick's guest part. His moan and soar perfectly adds to the building in welling tension eluding in the wonderful twin-guitar section and soulful touch of the choir.
Stripping down entirely Roxanne brings the heart touching ,,Open Book" to the front displaying their wonderful composing skills in an intimate setting. Lush strings waving subtle with acoustic chords progressing.
ROXANNE CONCLUSION
What makes Roxanne's last two albums so darn great is the total abundance of harmonies on both, guitars and vocals. Reviving my favorite classics from the 70s and 80s Roxanne adds to that sonic scope, and then some. Their unique approach and genuine passion for the classic melodic rock genre is overwhelmingly present and marks for precision. Roxanne creates magical moments with wonderful creative marksmanship amidst technical abilities that are deeply rooted in the history of rock. There's a lot to enjoy and a lot to discover. Rock-ballad-rock-ballad works ¾ in before they build builds for a powerful and flourishing ending. I love it!
Release date: 24 February 2023