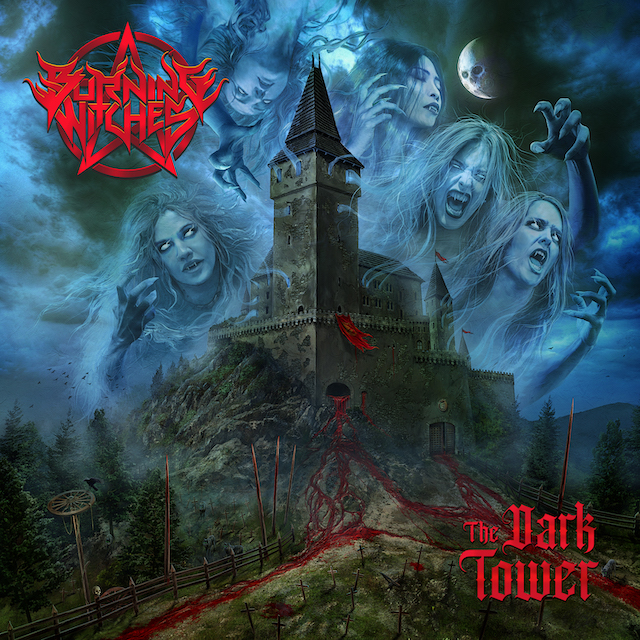 Review | Burning Witches – The Dark Tower
Napalm Records
With `The Dark Tower', the ladies of Burning Witches are back with a new album. Their previous one, `The Witch Of The North', is just under two years old. Consequently, these ladies have hardly any inspiration problems, and in between they also switched record labels to Napalm Records. Shortly after this record was completed, news came out that guitarist Larissa Ernst has gone on maternity leave and will be temporarily replaced by Courtney Cox of the Iron Maidens.
BANGING GUITAR WORK
Then you actually wonder, what else has changed compared to their previous albums? Well actually very little, because musically the ladies pick up where `The Witch Of The North' left off. A delicious mix of heavy metal with slight trash influences (hello Testament) once again comes out of the hex kettle of Burning Witches. And that is exactly what they are good at; pounding drums, screaming guitars, combined with the voice of front lady Laura Guldemond.
After the intro ,,Rise Of Darkness'', ,,Unleash The Beast'' immediately shows what we can expect of `The Dark Tower'. A fat up-tempo song, with a relative earworm of a chorus and a great solo. ,,Renegade'' opens with a guitar riff that strangely enough, immediately reminds me of the riff that Dokken used for ,,Lightning Strikes Again''. But that's where the comparison ends, because it's definitely not a melodic rock song. The tempo remains nicely upbeat even during songs like ,,Evil Witch'' and ,,World On Fire''. What strikes me the most is that the solo guitar work on these songs seems a bit more fiery than on previous albums. But that's just another detail.
THE RECOGNIZABLE SOUND
The quiet ,,Tomorrow'' is a song that for me should not have been, because it is quite boring and drags on and on. However that will be a matter of taste. ,,House Of Blood'' is the prelude to title track ,,The Dark Tower'', and it is fortunately another song that is allowed to rise above average. When this song was presented a while ago with a cool music video, I immediately appreciated it. The recognizable Burning Witches sound, banging guitar work by Larissa and Romana Kalkuhl. So, this has rightfully become the title track of the album.
,,Heart Of Ice'' and ,,Arrow Of Time'' are rather mid-paced tracks. But ,,Doom To Die'' pops out of the speakers at full throttle. Album closer ,,The Lost Souls'' is another fat Bang Your Head song, with nice driving guitars. A great album closer!
BURNING WITCHES – THE CONCLUSION
`The Dark Tower' presents no less than 13 new songs, well, actually 11 because two songs are intros. However, I must honestly admit that not all of these are of the same high level for my taste. With songs like ,,Unleash The Beast'', ,,The Dark Tower'', ,,Doom To Die'' and ,,The Lost Souls'' we are offered some super cool new Burning Witches tracks. But the album also has less strong moments like the quiet ,,Tomorrow'' for example. 
However, the production is once again the quality we know from the band and fans can purchase the album with confidence, as they will certainly not be disappointed. Make no mistake, the musicality of the Witches is of a level that many a musician [male or female] may cut themselves a slice from. Personally, I am going to give the album a few more listens to see if it grows even more on me. However, I am very much looking forward to seeing how the band will perform these songs live, as that is their strongest point as far as I am concerned. 
Release date: 5 May 2023
About
All Woman Swiss heavy metal band. Founded in 2015 by guitar player Romana Kalkuhl.
Genre
heavy metal
Website
https://www.burningwitches.ch/
Social
Related links
Tags