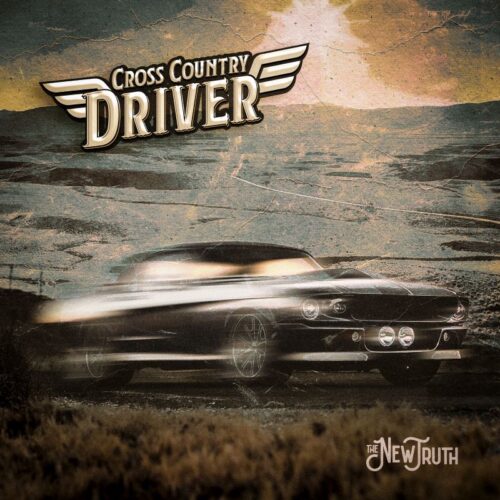 Review | Cross Country Driver – The New Truth
Frontiers Music srl
Whenever Rob Lamothe of Riverdogs gets involved with an album you should pay special attention. This man's voice sounds just as great as it did on that famous Riverdogs debut album from more than thirty years ago. Cross Country Driver is a project that Rob started with his son Zander (drums) and guitarist James Harper (Fighting Friday). The trio has been working for quite some time on this project and it is now ready to be heard by the modern rock world.
IMPRESSIVE LIST
It is not that the trio did everything alone. You can say that there is an impressive list of guests helping out. Like Rob's Riverdogs mates Nick Brophy (who mixed the whole album) and Vivian Campbell (Def Leppard and Last In Line, whose new album 'Jericho' is coming out real soon), who plays guitar on the track ,,Risen''. On bass we find people like Greg Chaisson (Badlands) and dUg Pinnick (King's X), who also contributes vocals on several tracks. Dream Theater's Mike Mangini plays some drums and there are several other musicians playing a role on 'The New Truth'.
MIXED ROCK BAG
'The New Truth' is a mixed rock bag. The thirteen songs all have their own identity and character. Crafted in a rock infused manner Cross Country Driver does make some moves direction contemporary rock as well. There are songs there that could have been on any Riverdogs album (2017 release 'California' or any earlier album) or on a Rob Lamothe solo record like 'Above The Wing Is Heaven'. Taking nothing away from Zander or James this album is dominated by Rob. His spirit, his incredible voice and his ability to take a song into any sort of musical direction as he has always done, it is just out there for everyone to hear and discover. There is plenty of variety. Starting out pretty heavy with ,,Wild Child'' and ending the album with subtle tunes like ,,Risen'', ,,Everything Forgiven'' (with an heavy middle piece) and ,,My Goodness''.
MESMERISING
It is an interesting journey that grabs you and does not let go. This is stuff for people who appreciate their rock with a subtle and rich feel that does not forget to put in a punchline every now and then. 'The New Truth' is an adventure, a journey on which you embark. Wishing that it just does not end as that hypnotising voice of Rob Lamothe is something that just creeps into your mind to stay there for a long time. What is the word again? Mesmerising and that in more ways than one!
Release date: 17 March 2023