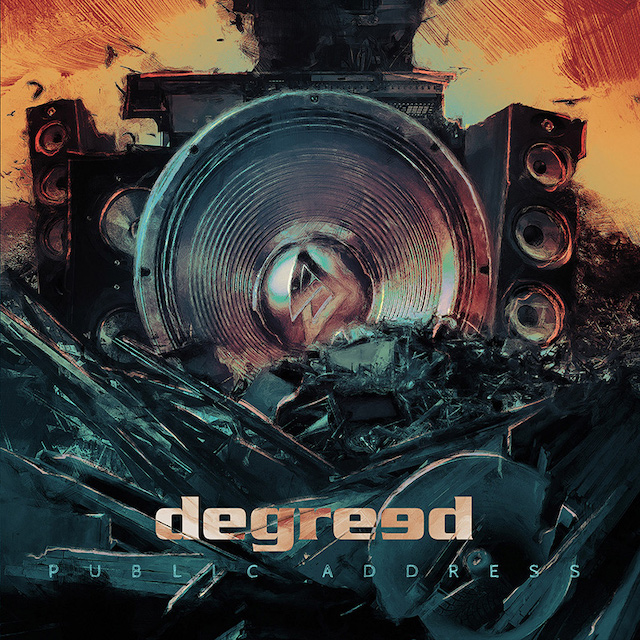 Review | Degreed – Public Address
Frontiers Music S.R.L.
Swedish brothers Robin and Mats Eriksson and their musical comrades in Degreed have been steadily building their career and fan share. Over the course of almost 2 decades, they released 6 excellent melodic rock albums and together with genre mates H.E.A.T. and Eclipse, the band is considered one of the driving forces of the NWOSMR. Modern ingredients injected into the classic arena rock benchmark, spiced up with poppy elements and refreshing electro beats and sampling, make for magic. `Public Address' is their brand-new album 7th album, and second for Frontiers, following the success of `Are You Ready'. `Public Address' to make for 'public access'.
70s HEAVY 80s METAL
That the public hasn't yet picked up on the band baffles me. Though their potion is sticky, sweet and driven, for some reason the band has gone under radar for at least a decade. Switching labels prior to Frontiers picking up on them might be a defining factor, but it has to be said Degreed defies all possible obstacles over and over.
Storming to the front ,,Big Plans" opens the new album with fierce force. Roaring rough vocals atop the wall of melodic sound blasts from your speakers, gradually building towards the doubled-up harmonies welling into the nesting chorus. It is typical for the band. The solo midway, opened to with its ,,Whole lotta Love" brisk drum break enrols a modern twist and swirling fretboard extravaganza. All these ingredients keep returning to the fold, whether Degreed shifts forward in pace, or hit the brakes.
Speed demon ,,Who are You (to Say)" has a rousing tenure combusting with slick melodic bridge and chorus while Daniel Johansson's guitar riff is classic rock firing at us, ,,Ride Along" has tremendous strut and groove with guitars raining in to fire into the wonder of its ponderous dynamics, and the 70s heavy 80s metal toned ,,For You" creeps onto you with fist pump, vocal effects and sterling guitar interaction. Its Bon Jovi-reminiscent chorus is psyched up with modern vocal appeal and heavy guitar throb. The keen melodic outings find accolades on the powerful ,,Pressure" that is packed with intense drum rolls, low end bass fills and ravishing heavy (melodic) guitars. The vocal melodies are impeccable whilst Erickson belts out heavy without losing his heart-warming grandeur. Versatile he ensures the song's tremendous appeal, raising the standard.
A MODERN SOUNDSCAPE
,,The Way of the World" has a dynamic groove with subtle interplay mixing prog, AOR and classic rock into a fantastic earth-shaking potion full of in-your-face turbulence. It checks all boxes of refreshing melodic rock. ,,Free Again" is glorious and makes waves with its wonderful fine details and building melody and groove. The hook and melody are astounding, as is the wonderful pitches guitar melody. It borders with pop and this cocktail is shaken up for ,,Resist the Urge" with its proggy drum rolls and fills, focal low pulsating bass and modern wailing chorus.
Blending melodic and electronic Degreed displays their impressive ear for slickness and melody without straying from the root. ,,This is Love" is simply astounding, pushing the envelope towards high-tech without straying from the generic rock idiom. ,,No One" is techno-laden and heavy as hell, switching back and forth in pompous tech-overhaul while west coast melodies are constantly inflating and deflating the song. The riff and guitars are tremendous and heavier-than-hell, with Degreed managing to shift back the gears, from overdrive to 2nd without smoking the engine. Hook-laden, ,,A Safe Place" fuses an interesting spirited groove to a modern soundscape with anthemic section reverting brisk and short.
DEGREED – THE CONCLUSION
The mandatory ballad is yet another accolade of the band's intrinsic skills, with Robin touching deep. His voice flexed around Mikael Blanc's piano melody and melancholic string arrangement. It all gels well and Eriksson is a perfect fit with his fine tone and dramatic feel. Top shelf!
`Public Address' again explores the boundaries of modern melodic rock without straying from the bare essence of intense melodies and appealing choruses. Heavier guitars and powerful grooves are holding up new record and it is amazing to see how Degreed manages to keep stirring the arena rocking elements with modern twists. More than before the band unites styles and creates a daunting and daring melodic fusion of modern rock containing everything to appeal to a wide audience. The album is better as a whole and outdoes ,,Are You Ready". Let's hope they finally gain more 'public access' with this new `Public Address'. REMARKABLE!
Release date: July 7, 2023