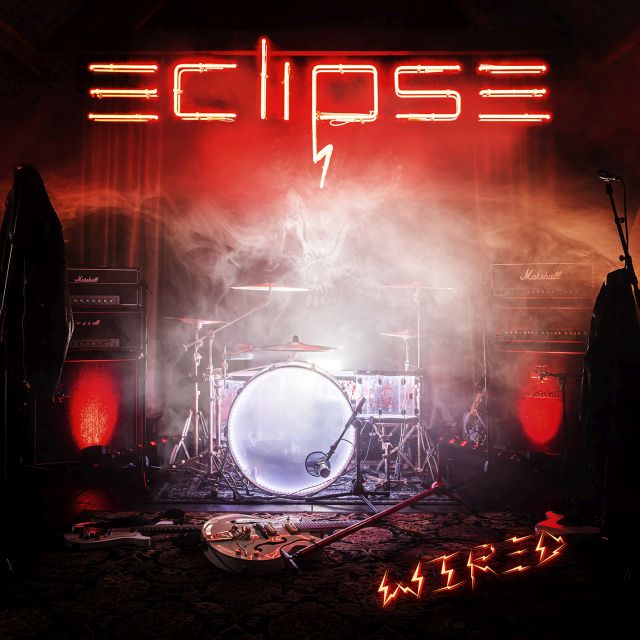 Review | ECLIPSE-Wired
Frontiers Music srl
Swede (pronounce: "Sweet") hard rocking squad Eclipse report back for the follow up to their acclaimed 2019 release, delivering high potent melodic releases bi-annually since 'Armageddon'. Not only steadily rounding their catalogue, the band also consistently invested in refining the benchmark Eclipse sound. Towering choruses with nesting hooks and melodies molded into fist punching melodic arena hymns, they grip back to the heydays of hair metal and inject it with intense drive and passion for the genre. 'Wired' is the next chapter in their book of melodies.
Multi-Million Plays
'Paradigm' was by far their most acclaimed record to date, packing only high quality polished melodic tunes. Not a filler inhouse. Eclipse instantly proves to pick up where their last album stopped. You hear high energy melodic rock with larger than life choruses and memorable hooks, slick as a Baywatch chick. ,,Roses On Your Grave" reveals the band's well working potion with exquisite melodies and great hook that instantly captures the imagination. A sizzling solo adds to the joy and the track barges in as the 200% proof track opener. Possibly not breaking the 15 million streams of ,,Viva La Victoria", the song should land in those multi-million plays easily.
The song pitches the album perfectly followed by the intensely melodic and sticky ,,Dying Breed" that balances on the verge of predictability without ever going over. Guitarist/singer Erik Mårtensson juggles 9 without dropping 1. He is keen on keeping the Eclipse sound close to its root and injects tremendous panache vocally and musically. Guitars in fine tune he pulls forward together with his guitar peer Magnus Henriksson and their rock-solid rhythm section Victor (bass) and Philip (drums) Crusner.
Grease
The cocktail at hand is action packed melodic and oozes confidence. Slick as Travolta's hairdo in "Grease", studded as his leather jacket, Eclipse unite melodies with driving rock. ,,Run For Cover" is benchmark Eclipse, close to being tacky.
Memorable tracks are the rousing party-anthem ,,Saturday Night (Hallelujah)" with its ponderous drum kicks and swirling guitars underneath the monumental chorus, ,,Bite The Bullet" with its sterling riff and hard knuckle punching chorus, or the pulsating English tinging ,,We Didn't Come To Lose" and the invigorating ,,Things We Love" with its glorious Lizzy guitar harmonies.
,,Carved In Stone" is the mandatory ballad that shines with frail moments mid-section. Subtle keys and oozing harmonies set aside the lurking predictability card before exploding with towering riff and melody in glorious ending. It contradicts with the fragile ,,Poison Inside My Heart" which is more elemental and could have been featured on any of the classic Bonfire albums. The song also suddenly explodes in memorable Eclipse tradition shaking off comparison. Great chorus and powerful beat unload empowering energy and drive.
Memorable
Staying with their benchmark the band delivers the rousing ,,Twilight" firing on all engines delving captivating arena-rock hymnic accolades. Concluded by a CD and digital bonus track the ravishing ,,Dead Inside" Eclipse closes another gem in style. Memorable hook and ditto chorus propel the song elegantly but with pristine power. It nests on the spot as usual making 'Wired' a welcome treat for all fans of the genre and in specific fans of rock worldwide.
Note that the vinyl release of 'Wired' has a different running order that its CD counterpart and different bonustrack in ,,Ain't No Fun". A striking difference completely in line with the large and more bombastic vinyl outcome. Spin it and enjoy the little cracks and ticks…. Bias galore!
Supreme Melodic Potency
'Wired' is another thane to the throne. Exquisitely well executed melodic rock with bedazzling harmonies and melodies that nest on the spot. Packing tremendous appeal and energy the album keeps combusting with elemental choruses and memorable hooks that have audiences bouncing. Slick and melodic it evolves, but whether it outshines its V.V.S.I. graded predecessor can only be proven by time. The artwork in this case doesn't help nor does it over the supreme melodic potency of the album.