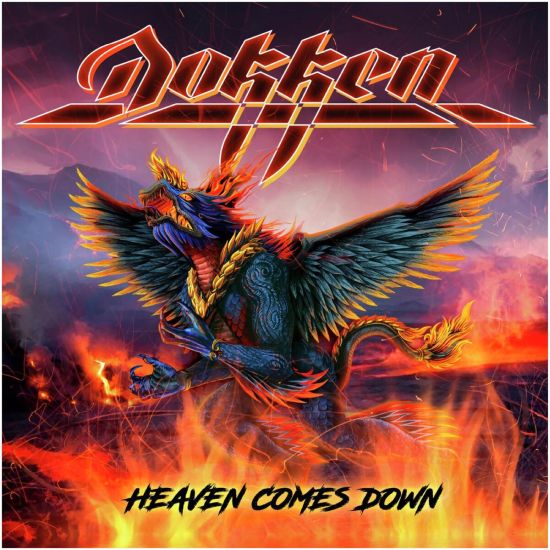 Review | Dokken – Heaven Comes Down
Silver Lining Music
It has been more than ten years since Dokken released their last studio effort 'Broken Bones' (2012). In between the classic line-up reunited one more time for the live-album 'Return To The East Live' (recorded in 2016 but released in 2018) and it is safe to say that the line-up with guitarist George Lynch, bassist Jeff Pilson, drummer 'Wild' Mick Brown (who retired from music in 2019) and Don Dokken is done and dusted. Don continues his journey with a 'new' line up, although guitarist Jon Levin joined some 20 years ago, while bassist Chris McCarvill and drummer BJ Zampa (House Of Lords) have been with the singer for several years as well.
NEW ERA
Don Dokken sees the release of 'Heaven Comes Down' as the beginning of a new era, a new chapter where there is no room anymore for old conflicts and negative thoughts. Don and the classic line-up of the band haven written history but time moves on. Dokken started his liaison with his new record company Silver Lining Music a couple of years ago with the release of 'The Lost Songs: 1978-1981', where old songs and demos were bundled together in their original versions recorded many moons ago. A nice record to have if you are a Dokken fanatic but sound wise it was nothing more than mediocre sounding tracks that did showcase in a way the things that were to come later.
DON DOKKEN
Working together with producer Bill Palmer and having the album mixed by Kevin Shirley the big question is if Don Dokken as singer is still cutting it or not. On 'Return To The East Live' there were several new studio songs on which he did great but the live vocals were nothing more than just par (or maybe even below par). So how has he performed on 'Heaven Comes Down'? Well, I think Don realises that time waits for no one, not even him and by singing in a lower key he has managed to solve the problem as good and as bad as he could. I think he is doing okay and he surely has not lost his identity.
He knows his limitations and has worked around that resulting in a solid all-round singing performance. And with the surprising closing song of the album called ,,Santa Fe'' he has added another dimension to his performance, resulting in a subtleness that we never heard before of the veteran. In fact, this is an acoustic song that you might expect from a guy like Chris Isaac as the track has a 'tex mex' feel to it, that gives the album a certain extra charm. I must say, this track is growing and growing on me and the lyrics are autobiographical it seems.
JON LEVIN
Guitarist Jon Levin joined Dokken in 2003 and on this album, he really puts his stamp on the procedures. His playing gives the album a certain boost and Levin is also the key factor that 'Heaven Comes Down' has some classic Dokken features. It is not just the voice of Don Dokken that creates a certain familiarity, Jon Levin is also largely responsible. Still this album is not an obvious attempt to go back to the roots or to rekindle the past. It is a modern sounding heavy rock album with a powerful production but it is based on good songs.
Okay, there will be people that will compare this record with the old stuff, but that is unjustified. With songs such as ,,Gypsy'' (that has a colourful animated video clip, so check that one out), ,,Fugitive'', ,,Over The Mountain'' and ,,Saving Grace'' (bit in the Led Zeppelin style) there are enough heavy rockers there and ,,I'll Never Give Up'' is your obligatory ballad with a monster solo by Jon Levin.
DOKKEN – THE CONCLUSION
My conclusion is simple. Don Dokken and his band have surprised me in a positive manner indeed. My expectations were not that high as I started listening to the record, but slowly but surely Don and Co. have won me over. It took them a while I guess to record this album but the result is in and the result is good!
Release date: 27 October 2023