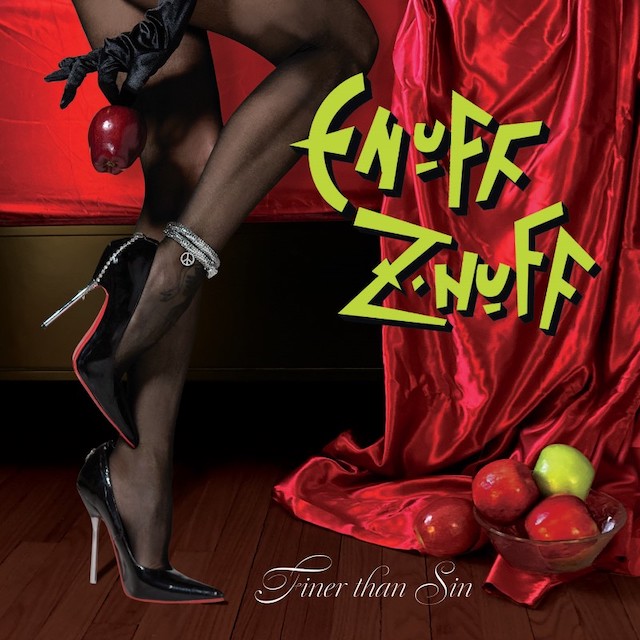 Review | Enuff Z'Nuff – Finer Than Sin
Frontiers Music s.r.l.
`Finer Than Sin' applies to the band's sound more than any label one can apply. Fine is their choral phrasing sinful their implementation of the slickest melodies ever being injected in hard rock. Enuff Z'Nuff reports back for another stab at melodic rock. Their brand-new album is the typical cooked up potion of melodic rockers with insanely melodic, Beatles-esque choruses and towering melodies, executed with panache, by the band around founder Chip Z'nuff.
EXPLORING THE POPPY SPECTRUM OF ROCK'S PREMISES
Their blend of pop melded rock is unmistakably eminent in rock's development. Where counterparts King's X explored the sonic boundaries going into the progressive grooving direction, Chip and his mates Vie and Frigo explored the poppy spectrum of rock's premises. `Finer Than Sin' again is an action-packed popping rock bomb that is propelled by insanely melodic choruses and melodic phrasing. Opened with the rocking instrumental ,,Sound Check", the band injects a groovy vibe, that is continued on a handful of tunes rocking heavier. Crafted around the melodic backbones and upward spiralling vocal interplay, the rockier of those go down memorable.
,,Steal The Light" pushes forward with impressive interplay, before ,,Lost And Out Of Control" goes full throttle. Swirling are the scattering guitar melodies and roaring riffs, blended with the intense offload of nesting lyrics in this high paced rocker. It is especially interesting to hear how well the melodies and choruses are fused to the ponderous drumbeat driving forward. As if the Beach Boys and Beatles got injected with a dose of Night Ranger's finest guitar spectacle. It swirls, twists and turns.
THE EAGLES AND BEACH BOYS
,,Trampoline" is staggering. Great vocal melodies in the Eagles and Beach Boys vein and a groove that oozes a southern vibe. Feelgood vibes waving in, the song is packed with excellent interplay and layers of musical density, making the contrast specifically appealing. Enuff Z'Nuff moves forward through an interesting album chockfull of their trademark songs. ,,Catastrophe" is typical Z'Nuff, and on ,,Intoxicated" the band delves deep into the most psychedelic Beatles vein possible. Welling kaleidoscope soundscapes and a low pumping bass line with echoing guitars and reverbing vocals. Those ingredients are shaken up for ,,Hurricane" that excels with its unload of ,,Lucy in the Sky with Diamonds" Hammond swirls and hypnotizing lucent vocals.
,,Temporarily Disconnected" struts with upward guitar licks aligning with Chip's melodic vocal lines that flower in a non-defined pre-chorus that is subtler that the actual chorus itself. Surprising is the band's punky ,,God Save The Queen" with Chip belting out with floral English accent. Striking similarity between the riffs and vocal lines of this song and Sex Pistols' rousing ,,Anarchy In The UK", crossing boxes of controversy and its tongue in cheek content and controversy.
ANOTHER SOUND EXPERIENCE
The album is closed by summarizing `Finer Than Sin' ingredients in the short instrumental ,,Reprise" that is constructed around the riffs and melodies of the opening ,,Sound Check". Enuff Znuff checks in for another sound experience that fuses the finest melodies and choruses onto linear melodic riffs and guitar melodies. The interplay between long time members Tory Stoffegen and Tony Fennell adds to the melodic combustion of this irresistible rocking cocktail, and with Chip on bass and Dan Hill on drums, the band lays down the rock to roll, while the vocal interaction and welling appeal is nesting on the spot, it is all embellished by gorgeous melodies in fine deliverance.
`Finer Than Sin' will not land them a lot of new listeners, but fans of Enuff Z'Nuff and fanatics surely have another album to embrace.
Release date: 11 November 2022