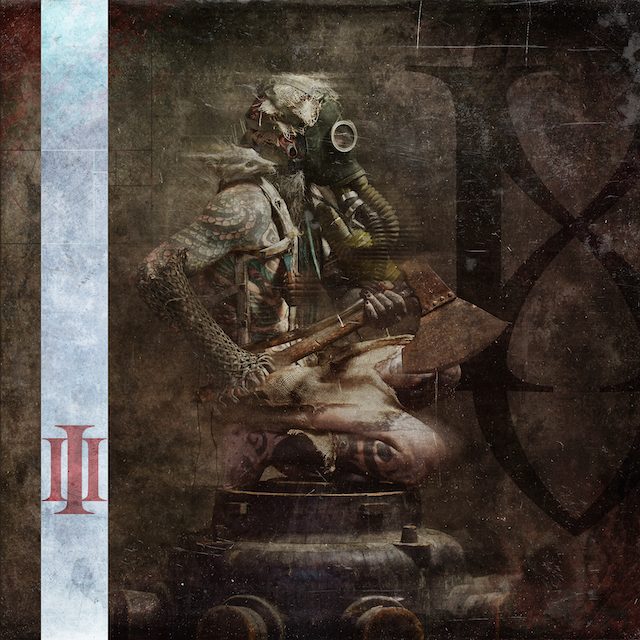 Review | Gemini Syndrome-3rd Degree – The Raising
Century Media Records
BAND HISTORY
Truth be told, until now I had never heard of the American Alternative Metal band Gemini Syndrome. For those uninitiated to this band, here's a brief synopsis of the band's history: Gemini Syndrome was formed in 2010 in Los Angeles, California by vocalist Aaron Nordstrom (former OTEP guitarist), drummer Brian Steele Medina (former TOIZ) and bassist Alessandro Paveri. The former guitarists Rich Juzwick and Mike Salerno were both replaced in 2017 by Miguel "Meegs" Rascón and Nicholas Paul Arnold.
Gemini Syndrome has, to this day, two studio albums to their credit. Their debut album, titled 'Lux' was released in 2013 and taps in the same musical vein of Tool, Mudvayne and Five Finger Death Punch and gained quite a bit of notoriety within the American underground metal scene. Their sophomore album 'Memento Mori', released in 2016, managed to do even better and reached the number one position in the US Billboard Heatseekers Charts.
THE MYSTERY OF LIFE
With the release of '3rd Degree – The Raising', Gemini Syndrome closes the third and closing chapter of their 'Synner Society' trilogy. A trilogy that started with the release of their debut album 'Lux', (meaning "Light" which dealt with the concept of birth) and continued with the release of 'Memento Mori', (meaning "Remember That We Must Die," and dealt with the finite nature of life concept). Gemini Syndrome's latest studio album is lyrically focused on traversing Death, being Reborn and reintegrating with our true self, and thus being raised into the next degree of experience. Well, that's some heavy food-for-thought, don't you think?! Well, that's exactly the band's intention. Gemini Syndrome wants, as they put it themselves; "To provoke the listener to think about the mystery of life, the nature of reality, the roles we play therein, and the masks we wear in this world."
HEAVY RIFFS AND CATCHY CHORUSES
It will therefore not surprise you that Gemini Syndrome also tries to challenge their listeners with their musical offerings. And they succeed very convincingly with this mission. The album openers ,,Reintegration'' and its follow-up song ,,IDK'', immediately set the mood for this album; bouncy heavy riffs and catchy choruses, all blending seamlessly together with the beautiful and versatile voice of Aaron Nordstrom. There are no real surprises here for the dedicated Gemini Syndrome following as both songs already had been released as promotional videos months ago. But this doesn't detract from the fact that both songs are killer openers for this album. 
,,Die With Me'' differs considerably from the previous songs due to its high sing-along ability and it may come as no surprise that this song was chosen for a promotional video as well. With a bit of luck, this might well be the hit single of this album.
AMERICAN RADIO
I assume that quite a lot of marketing budget is spent on the promotion of this album because there has also been a video made for the song ,,Abandoned''! This song also happens to be one of the heaviest songs on this album. Especially the breakdown in this song is out of this world and once again it is singer Aaron Nordstrom who steals the listener's attention, but now with his hysterical and manic screaming. It's certainly one of the highlights of this album.
I already mentioned Aaron Nordstrom's versatile voice and he demonstrates his most vulnerable singing side during the beautifully written ,,Best Of Me''. This well executed rock ballad has all the characteristics to be a huge success on American radio and it baffles me a bit that this particular song was not chosen to be featured as a promotional video. Another fine example of the band's ability to write an excellent rock ballad is the song ,,Hold The Line''. Both these songs are welcome breathers on this predominantly intense album.
CLEVER AND EXCELLENT
The album runs for 46:50 minutes and is varied enough to keep the listener captivated. This is also due to its clever song sequence. A good example is the aforementioned ballad ,,Best Of Me'';  this song is preceded by a short bass interlude entitled; ,,Sum Quod Eris'' (Latin for 'I Am what You will Be"). This soundscape sounds rather odd (think of a mix between Gene Simmons' "bass" solo or Michael Anthony's 'Ultra Bass') but it lends itself as the perfect transition between the rather heavy ,,Broken Reflection'' and the much softer ,,Best Of Me''. 
The only song on this album which is a bit redundant is the album closer ,,Fiat Lux''. I'm sure that this track is necessary for the narration of its concept but it sounds more like a concert intro tape and serves no real purpose to the overall listening experience. This is, so far, the only song I have often skipped and also the only flaw I can think of about this generally excellent album!